The discovery by Australian Agriculture Minister Barnaby Jones that movie star Johnny Depp and wife Amber Heard snuck their two Yorkshire terriers into the country made global headlines this week. Barnaby announced that Depp's dogs must leave the country by Saturday or be euthanized. The actor has complied and the dogs are out of the land down under.
While the penalty may seem harsh, it doesn't surprise me the Australian government wanted to make an example out of this illegal entry, especially a highly public one, as they do have strict quarantine laws — pets can't enter without proof of rabies shots and must be quarantined for 10 days.
Related: Johnny Depp's Dogs Could Be Put Down in Australia If the Actor Doesn't Act Fast
Pet owners, even movie stars, need to respect the government's rules. And if people don't know what the proper procedures are, they have to do their research before taking their dog to a different country. Trust me, I should know.
Last fall I decided to follow my dream and move to London. The first thing on my mind was my French bulldog Elle. She is my five-year-old love, and I wouldn't have moved anywhere without her. So I needed to prepare and prepare and prepare to get her ready for the big move (far more than myself).
And now as Elle and I are making ourselves comfortable across the pond, I wanted to provide fellow dog owners that are thinking of traveling overseas some tips to make the experience as seamless as possible.
Do your research online
The easiest way to determine what you need to travel with your pet into a particular country is to use a search engine and type in phrases like "traveling with pet to [country's name]." Often the government's site is one of the first to appear in the search engine, and it could provide the most detailed and up-to-date information.
Also, there are plenty of websites out there that share animal regulations including Pet Travel that can provide useful information.
Once you find what you need, print out the requirements, as this can be used as a checklist to make sure you have all your ducks lined up.
Talk to your veterinary office
If they are not versed in overseas travel, call a vet. For local New Yorkers, I highly recommend West Chelsea Vet in New York. They answered my questions for half an hour before I was even a client. They handle a dozen or more dogs traveling a year, the most frequent destinations being London and Paris and the furthest being Japan.
Working with the West Chelsea Vet team, I had to supply proof of Elle's microchip; her rabies certificate signed in blue ink by the original vet who gave it to her, get her tapeworm treatment within 120 hours of flying (that's five days) and get the paperwork stamped by the USDA at JFK airport prior to leaving. Fortunately, HARC pre-approved the paperwork for Elle, but I was still nervous.
Know the airline
Make sure you call any airline you are flying and read all of their rules carefully before booking a ticket. From airline to airline, there can be discrepancies in what the rules are. For instance the airline I flew Delta, which allows emotional service dogs in the cabin but its partner Virgin Airlines does not.  If it's a Delta flight operated by Virgin, your dog could become an issue at the airport. (For the UK, another one to check out is United Airlines)
Related: Delta Debuts Its Pet-Tracker Device
Get in touch with the receiving airport
For the move to London, I was also in touch with Heathrow Animal Reception Centre (HARC) at the suggestion of Delta's website, as they can help set up and prepare you for what it will be like when you arrive. You should do the same. When contacting the receiving airport, make sure to ask questions like:
What is the process?
Which shots are required?
Is there a landing fee?
Which airlines do you recommend (especially important for smush faces)?
When booking the ticket think about what time of day your pet is the calmest, which flights would have a fewer amount of passengers?
What are the dog bag size regulations?
Does my dog count as my carry-on?
Can I still bring a personal item?
How long prior to a flight should I stop feeding my dog?
Does the airline allow the dog out of the bag?
Does my dog have to travel in the carriage below and, if so, what is the fee for that? Are there crate-size restrictions?
This may seem like a huge laundry list, but it is imperative that all your concerns and questions are addressed.
For people that are making the move or trip to London, HARC also has a pet fee that is separate from paying the airline for a ticket for your dog. (Service animals do not have to pay for an airline ticket.) it is £350 (roughly $522 U.S. Dollars.)
Prepare for landing
My biggest concern was the mystery of what happens upon landing. Was there a pet relief area? Would Elle relieve herself on the plane? Would we be rejected for some odd reason by HARC? We were asked to remain on the plane, where the paperwork was looked over by a HARC agent.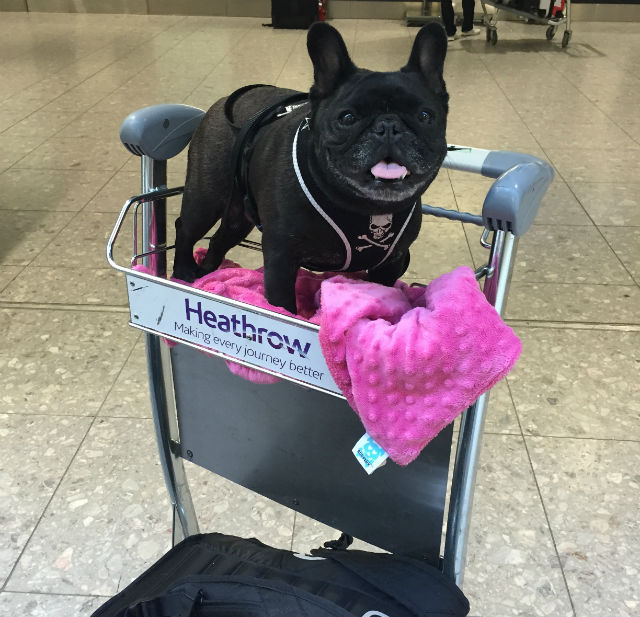 Related: New York City's JFK Airport Will Open Animal Terminal
To calm your nerves, do your research. Ask people who have gone through the experience.
Thinking ahead
If you continue to travel from country to country, try to see if there are things you can do to make it easier and avoid fines and or denied entry.
For example, I can obtain a pet passport for Elle (£40 plus vet fees) so I don't have to go through the extensive paperwork again. I was told it can be issued within 15 minutes — a huge time and stress saver, given the amount of times I was contacted by my vet and HARC in the U.S. prior to travel. Plus, is is good for the lifetime of the animal and can only be issued by a vet in the UK and Europe.
Two weeks in, Elle has adjusted to London life where she is allowed inside gastropubs and most other pubs and does not have to be in a bag on the tube or bus.
One of the most rewarding afternoons was spent at the local French Bulldog meetup in Regents Park where more than 100 Frenchies and humans strolled around the park.
The reward for all that stress and paperwork? Sharing life in London with Elle.
Related: The 10 Must-Buy Necessities for Traveling With Your Sidekick