Halloween is 10 days away. It's hard enough to come up with a witty costume for our human selves but when we have a four-legged entourage attending the parties with us it because even harder.
We recently found ourselves in an Instagram vortex delving deep into the pages and pages that are made up of the dogs of Instagram for inspiration. We know you don't really want to go as ketchup again just because you feel the need to dress your Dachshund up as a hot dog for the fifth year in a row. So, from Trump to Steve Jobs, we have some topical costumes coming in much hotter than that tired Oscar Mayer Wiener look.
Related: New Yorkers Get Ready for One of the Biggest Halloween Dog Parades in the World
1. The 'Transitional' costume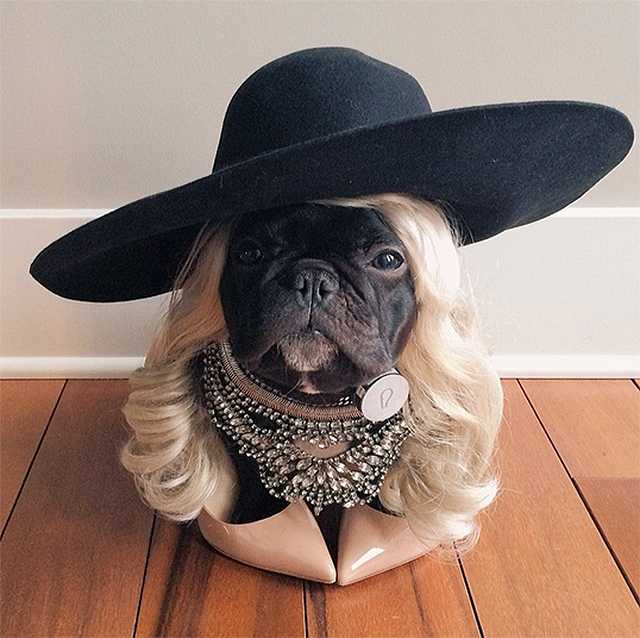 Part one: Start off the night as a gold digger.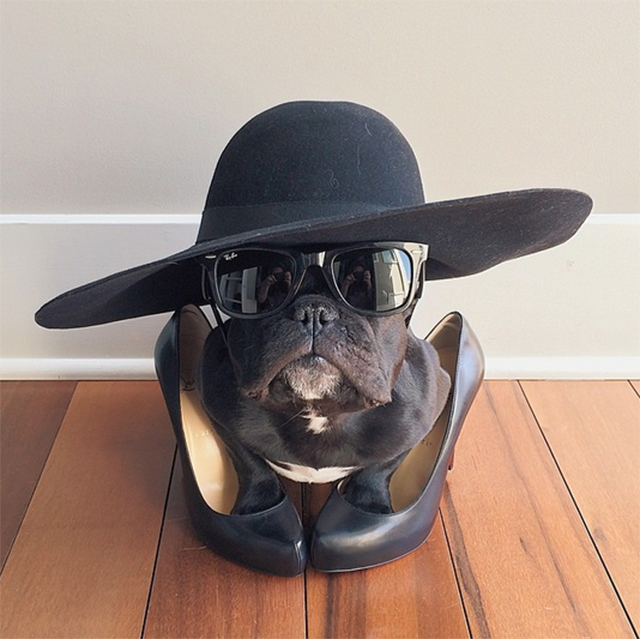 ​Part two: End the evening as a seriously sassy unapologetic widow who took that senior dog (or human) for everything he was worth.
2. The 'Orange Is the New Black' costume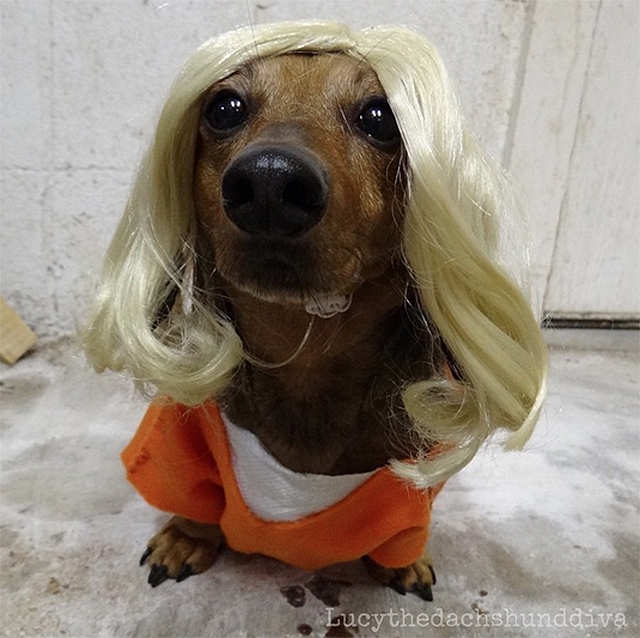 Piper Chapman. Sigh. There's a lot we could say about her, but we'll let the dogs of Litchfield do the talking.
3. The 'Shark Week Extended' costume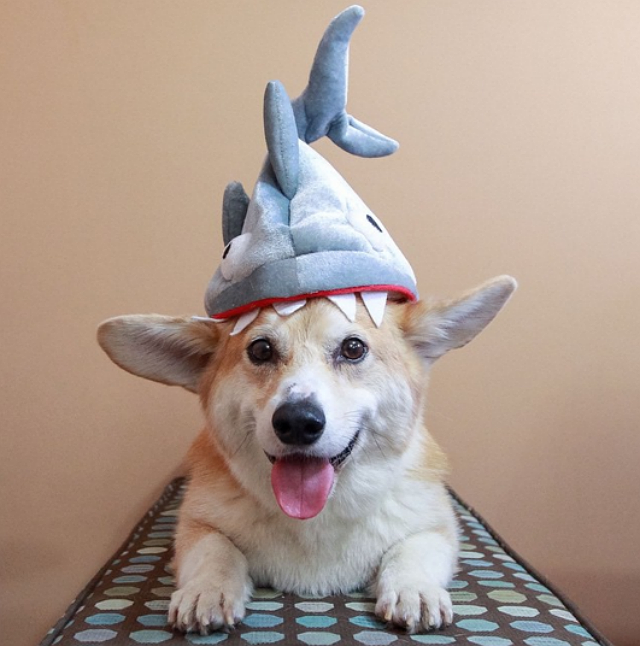 Because shark week is too short and not that many people "liked" the photo of your dog dressed up during shark week, Halloween is the perfect time to whip out the costume. Reduce, reuse, recycle. For the love of sharks.
Related:
4. The 'Simply Scary' costume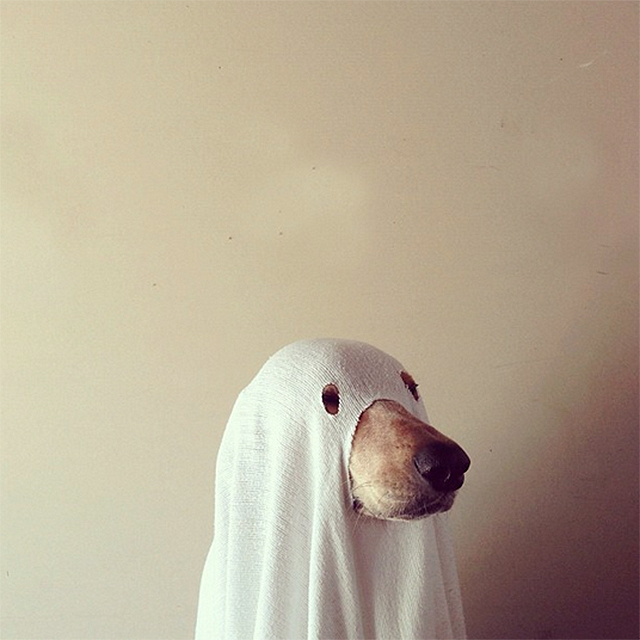 ​This is an easy one. Calls for one white sheet, a pair of scissors and a seriously scary dog who is willing to haunt every party she tags along to with her human. Rawr.
5. The 'Classic Pumpkin Done Right' costume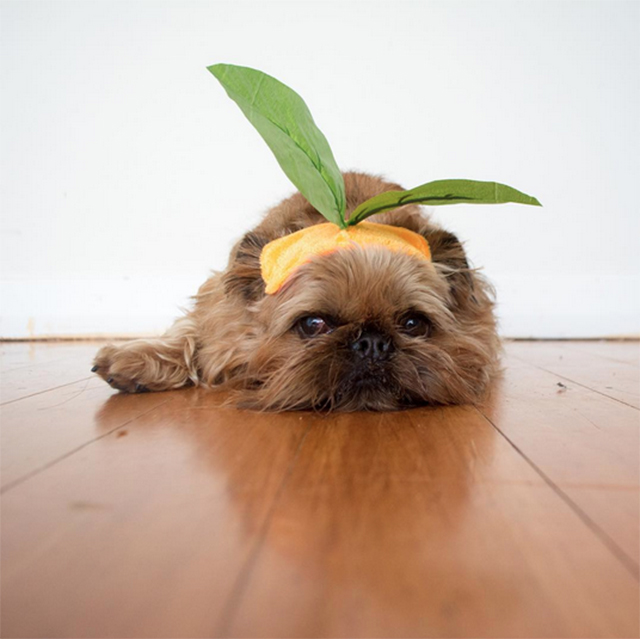 Sometimes when you try really hard to be something it just doesn't work out, and you end up as, say, an apathetic peach or an orange rather than the Jack-o'-lantern you were hoping to be. Moreover, a fruit or any kind is a juicy costume!
6. This 'Is This Really a Costume' costume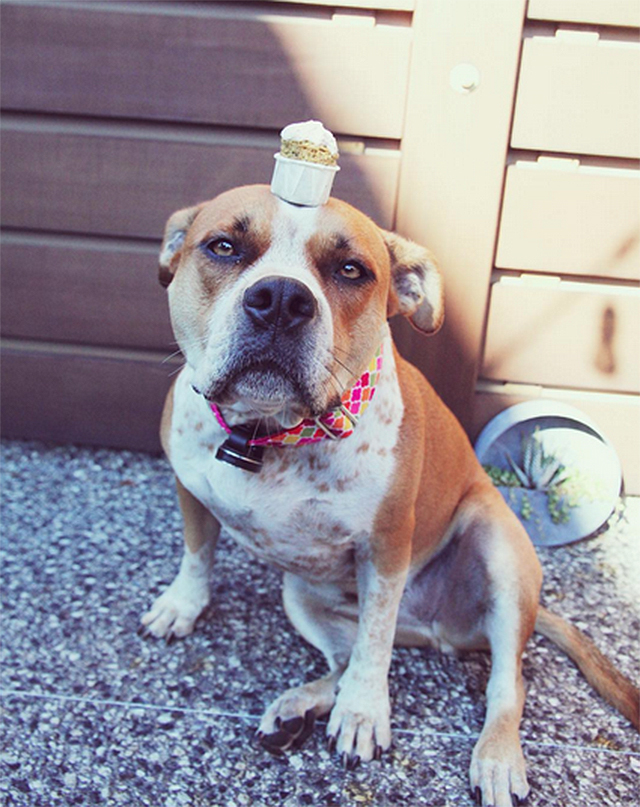 There's always that dog that shows up to the party and all the other dogs are like is that really a costume? But in the end it turns out to be a total mind trick and usually wins a crowd for how clever it is. That being said, this costume is a bit more challenging — one for the more advanced dogs perhaps. It takes much focus and balance. We call it "the little cupcake." All dog eyes would be on your pooch at the party if he can pull this one off.
7. The 'Effortless Gandalf' costume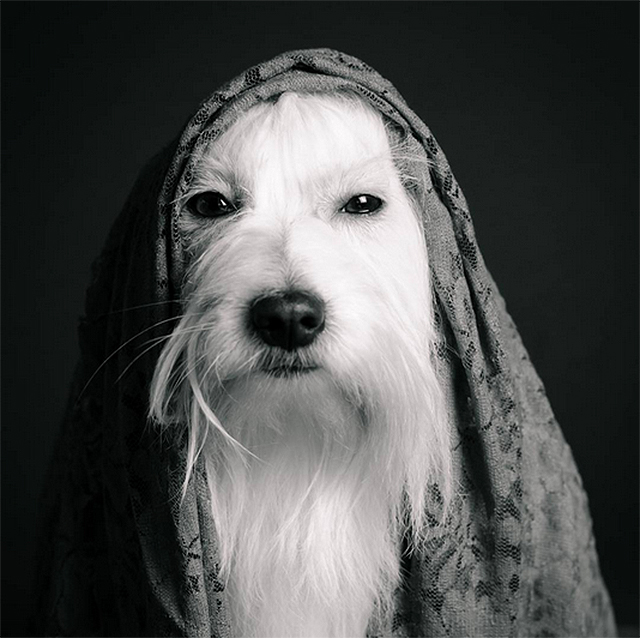 If your dog has a beard as sweet as Gandalf's. Throw a shawl on him and you're set.
8. The 'Rocky Part 7' costume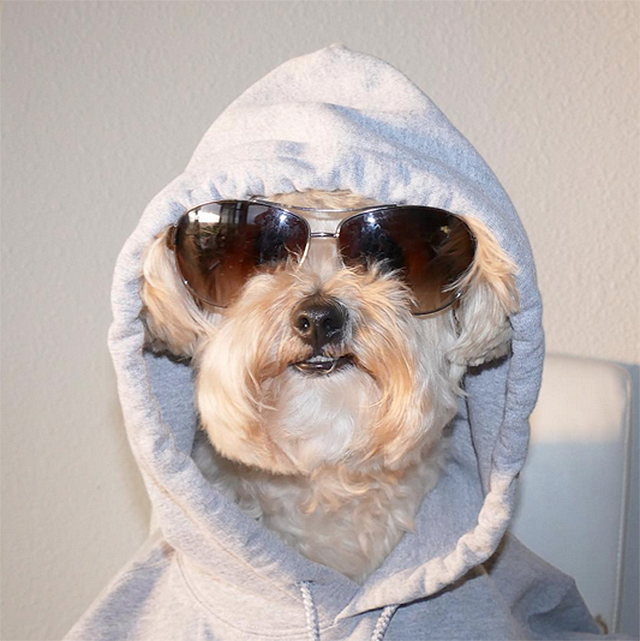 Maybe your dog is a huge Sylvester Stallone fan. Maybe your dog saw all six Rocky movies, didn't like the last one much but still wants to show their respect by going as Rocky Balboa for Halloween.
9. The 'Steve Jobs' costume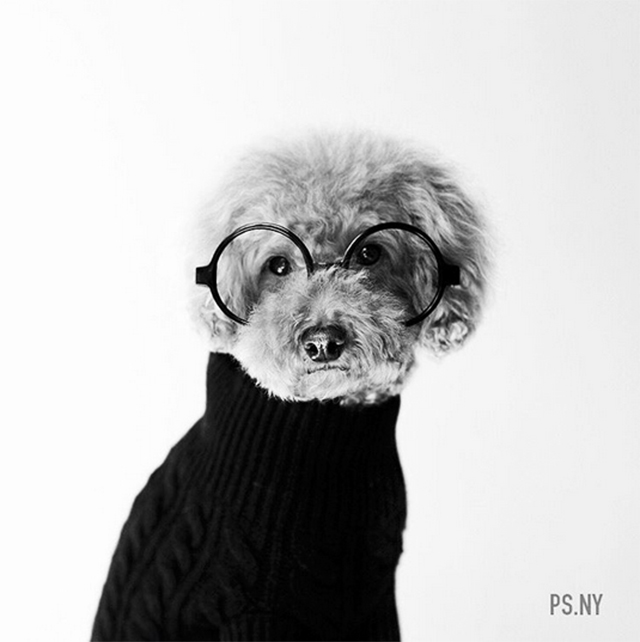 This costume is more than meets the eyes. Adorable, yes but with a slight jackass undertone. Maybe? Many people, mostly those close to Steve Jobs, were not impressed at how the new biopic Steve Jobs portrayed the technological genius in "full jerk mode." Was Jobs the tyrannical leader that many say the movie played him out to be? Well how about we forget about the film critics and the Apple CEO's and leave it to the dogs to decide.
10. The 'Sad Yankees Fan' costume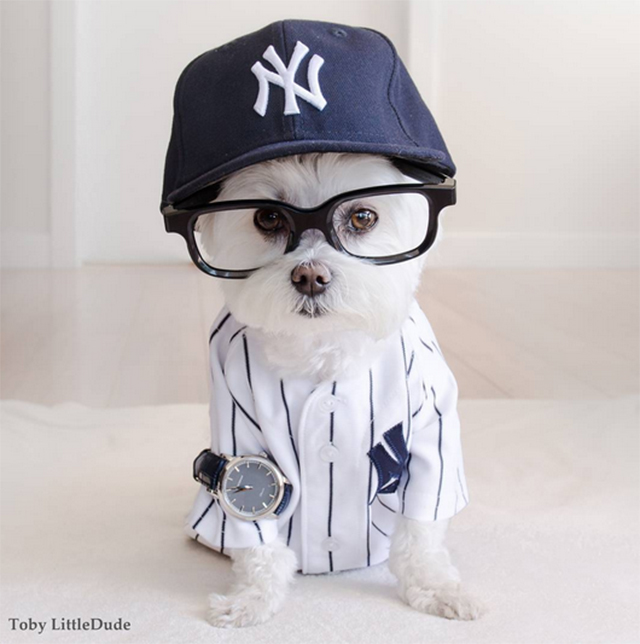 Because a Yankees fan would never just hop on the New York Mets bandwagon right? Perhaps some would. This costume is for the diehards who have no shame despite the fact their team is no longer in the playoffs. Also you bought your dog this souped up Yankees outfit thinking they could go to the playoffs — may as well use it for something.
11. The 'Trump Your Dog Again' costume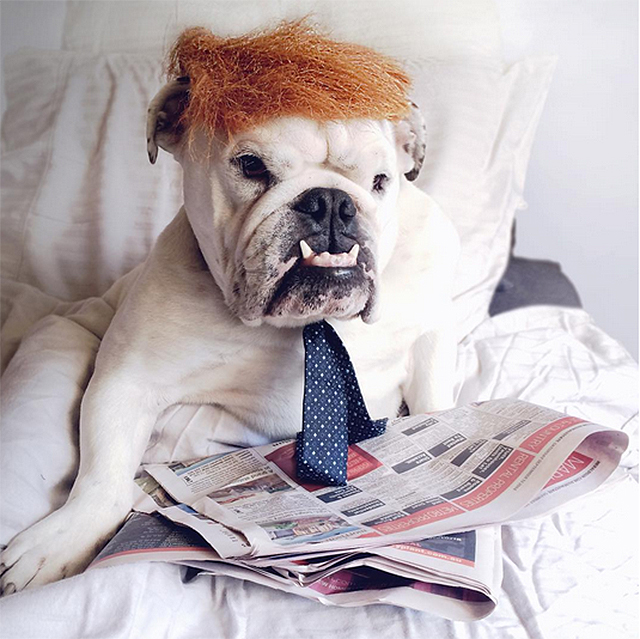 We have been extremely impressed at how well the dogs of Instagram have been "Trumping" themselves. Their looks have been blowing Trumps toupee off his head. (We still don't think it's real.) If you've got a political pooch, this costume is sure to be a hit and a relevant party conversation starter.
12. The 'Holier Than Thou' costume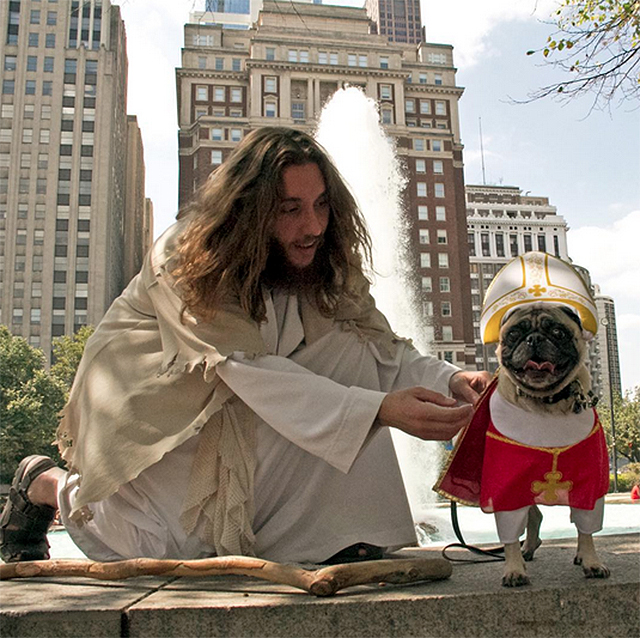 If your dog can roll with someone as holy as Jesus, he better be getting his pope costume ready.
13. The 'Bad Gal Rescues' costume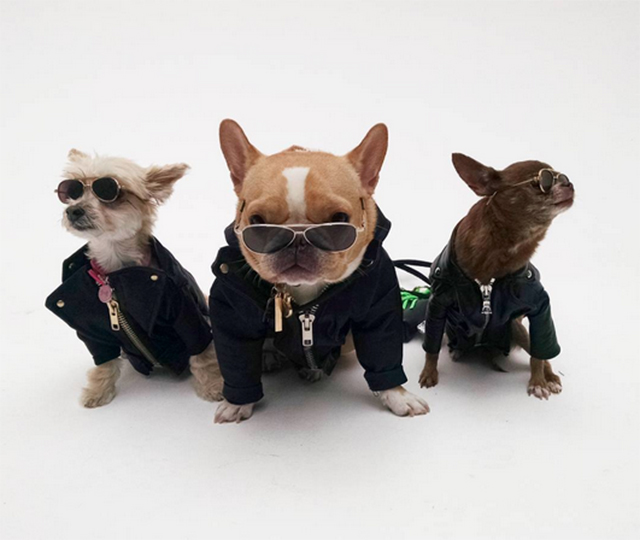 Famous Instagram dog Chloe Kardoggian dubbed this trio "Destiny's Bitches" — and we like it. Simple and effective. Throw together the right rescue-pup squad together, a couple pairs of aviators and some bad to the bone black (preferably leather) jackets and boom. This squad will be stealing the room's attention as the rest of the party whispers and slyly chews on their raw hide bones while shooting jealous glances at "Destiny's Bitches," only wishing to be a part of their rescue bad gal crew.
Related: 8 Stars Tell Us How Having a Dog Changed Their Life