The "dogtor" is in the house.
After a medical student couldn't afford the veterinary bills for her therapy dog's surgery, colleagues at the University of Maryland chipped in to help cover the entire cost.
She has now decided to pay it forward, spreading joy to those who need it most during the COVID-19 pandemic.
Caroline Benzel and her Rottweiler Loki had been doing therapy sessions at the University of Maryland Medical Center since December – visiting people, including during the holiday season. But after the spread of the coronavirus and social-distancing guidelines went into effect, the duo had to change things up.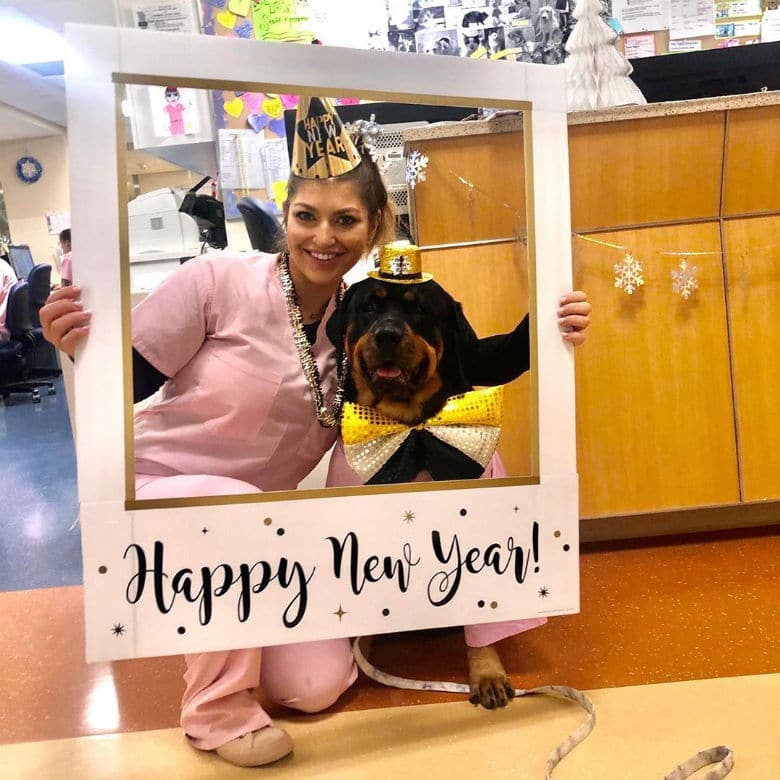 To help the patients and staff who needed a reason to smile, Benzel and Loki started virtual check-ins with video conferencing.
Related: How Dogs Are Comforting Us During the Coronavirus Pandemic
But when Benzel was talking to the medical staff, she noticed how much the work was wearing on them – mentally and physically. Besides being emotionally drained, she saw how the PPE equipment was irritating their skin, their face was raw and lips were dry.
So, Benzel decided to do something about it – with the help of Loki.
She began assembling "Hero Healing Kits" with self-care essentials including chapstick, lotion, Vaseline, Gold Bond, snacks, gum and coffee – all travel size, so those in the hospital can easily carry them. And of course, a sticker of Loki with a note: "Your job isn't always easy, but just know you are incredible and caring and compassionate and selfless."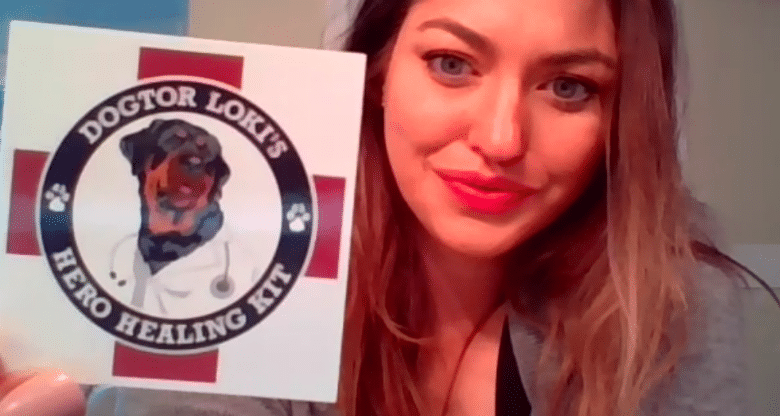 "This was a simple gesture to boost morale and give them the love that they deserve," Benzel tells This Dog's Life.
She ensures her kits get to everyone at the hospital, including the cleaning staff, cooks and security.
"The hospital can't run without everyone. Everyone is risking their lives, everyone's job is important and everyone deserves a kit," she tells us.
Related: Could Dogs Sniff Out the Coronavirus?
Her Hero Healing Kits really started to gain traction when she reached out to people on social media to ask them to share her story. She'd urge people to make purchases on Amazon through her wishlist to help fulfill the kits. To date, she has assembled and delivered more than 4,000 kits, with more in the works.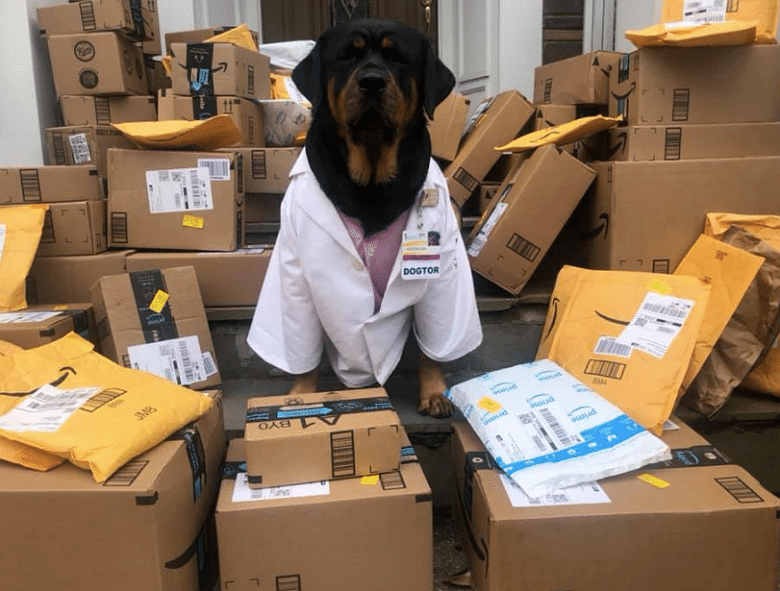 And Loki gets in on the action, too, sometimes tagging along to deliver the kits.
"There have been so many positive things that have come out of this process. There's been a lot of attention on the simple things people can do from the comfort from home but that have the power to make a difference," she says, noting there has also been a lot of love for Loki.
As a medical student, Benzel doesn't necessarily have free time; rather, she makes time for things that are important to her, she tells us. And as her Hero Healing Kits have grown into a nationwide initiative, she's unable to create kits for all the hospitals across the U.S. Fortunately, people have been reaching out to ask how they can start their own Hero Healing Kits in their states. Benzel suggests looking at what is on her Amazon wishlist, as she asked for a ton of feedback from medical staff on what they need before creating the kit. And then it is all about soliciting donations from your community to help those who are putting their lives at risk to keep us safe.
"You are safe in your home, but you can still do simple actus of kindness that can mean so much," she says.
Related: Dog Delivers Wine to Customers to Help With Social Distancing During the Coronavirus