Every day thousands of people tune into Instagram Live at 11 a.m. (EST) for celebrity fitness instructor Isaac Calpito's jam-packed "Torch'd" workouts. With his high energy, sharp humor –"You can still be a spiritual person and shop at Prada!" — and positive vibes, Calpito has developed quite a cult following, including Kelly Ripa, Vanessa Hudgens, and Lisa Rinna, who because of her devotion has an exercise, "The Rinna" named after her. The New York Times has dubbed him, "The breakout star of virtual fitness."
But he's not the only star. His poodle Davis (named after Bette) is right by his side providing a boatload of entertainment for workout enthusiasts across the globe.
"He does get 'Torch'd' with me every morning," Calpito, known under the brand Isaac Boots, told This Dog's Life. "He's the real star. Everyone is just really happy to see him and play with him and take screenshots."
Related: This Nurse Turned Sculptor Helps People Heal Through Her Insanely Realistic Dog Sculptures
But Davis plays a bigger role than being Calpito's furry sidekick during the workout sessions. The 2-year-old Poodle has helped Calpito manage the intense stress (which can trigger horrible migraines for him), pressure, and craziness that comes along with being the go-to fitness trainer for people all around the world.
We caught up with the pair to learn more about their special bond and how Davis has been Calpito's rock throughout his wild journey.
(This interview has been edited for clarity and brevity.)
You are a very passionate dog lover. Have you always been?
I had two poodles for 15 years, Oliver Pickles and Ducky Waddles. They were my first babes, and I loved them so much and still hold them very dear to my heart. They sadly passed two years ago, and it was really hard.
Davis was a gift from one of my clients and friends in New York. When Ducky passed, she was like, 'You know Oliver had Ducky for his whole life, and he needs a brother because he is going to feel lonely." I was a little trepidatious because Oliver was an older boy, but when Davis came into the picture, it was like instant love. Oliver taught Davis the ropes. It was very, very sweet. I am glad I have those memories, videos, and photos of them snuggling together.
Have you always been a fan of Poodles?
I feel like I look like a poodle; we have the same hair.
I have always gravitated towards them, and this little angel is always on me. He goes everywhere with me; I even created some Davis merch. He's my boy.
How would you describe Davis' personality?
He's a Leo, and his birthday is the same as Madonna's, August 16, which is why he is a little bit of a diva, but I like it.
[But] he is also very calm; he is very regal. I bring him to restaurants, like Pastis in the Hamptons, and all he requires is his own chair. He just sits there properly. He doesn't bark. He looks very sensible, and the waitstaff are always utterly obsessed — rightfully so.
Is he as athletic as you are?
I exercise him every day. So, here in the city, I run him in our long hallway back and forth, and he loves playing fetch. In the Hamptons, he's on the beach and is obsessed. He just runs like a maniac.
Related: How to Exercise Your Dog Inside When It's Freezing Outside
I can imagine your job can be stressful at times. How does Davis help you deal with it?
It is high stress. I am prone to migraines, which thankfully, I have found a relief for them, but I have to say Davis is my familiar. Just smelling him, feeling him, looking in his eyes, it's really calming for me. He knows when I need a bit of TLC. He curls up, licks my hand, and looks me in the eye.
He breaks my heart every day. He is just so beautiful I actually can't take it. He makes me feel like I have my heart outside of my body.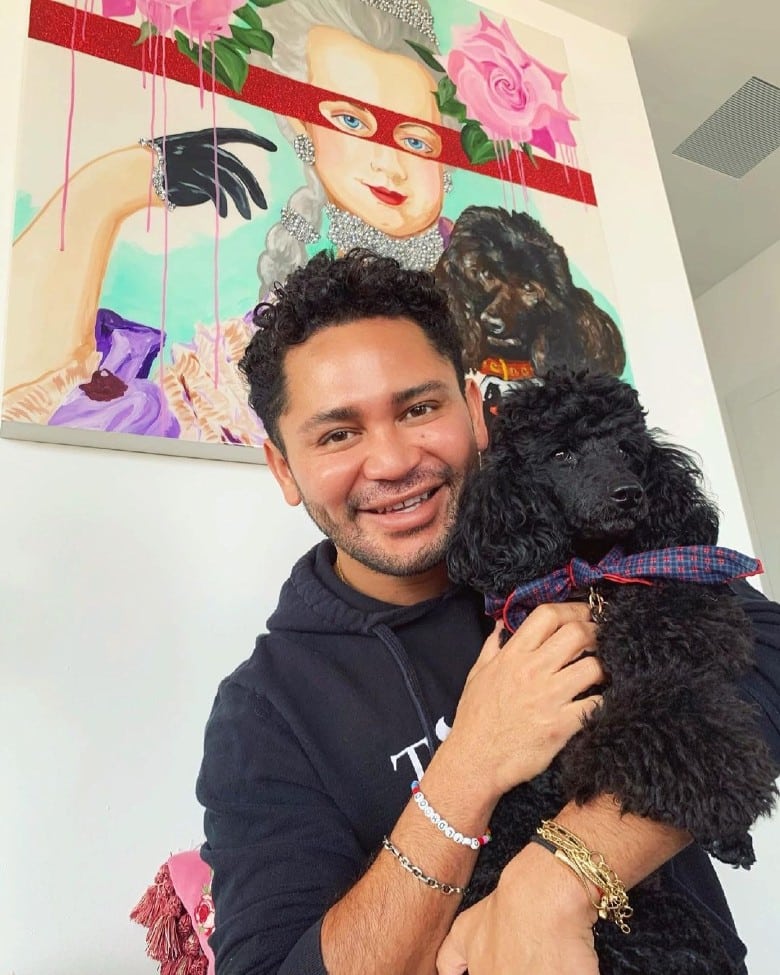 As a celebrity trainer who focuses on staying fit and healthy, does Davis also have a self-care routine?
He is a very active dog. I brush his teeth once a day, we bathe him once a week, he gets groomed once a month.
I also try to keep his environment safe, quiet and beautiful. He has anti-anxiety beds in every room, in the bathroom, too, as he likes to be there with me as I get ready for my day.
I think that is the most important thing is creating consistency.
Any favorite products like to indulge him?
I use Pride + Groom. It's my favorite. The owners are great friends of mine. It's the most fabulous shampoo, conditioner, grooming sensation. Love them. He smells amazing and loves it.
He also has a copious amount of toys. He particularly loves his Lamb Chop. I have to get him a new one every month. One of my 'Boots Babe,' as they call themselves [the people who work out], sent us an immense Lamb Chop, like bigger than he is. He is obsessed with it, and he drags it in his mouth. It's hilarious.
What is your favorite thing to do together?
He loves playing fetch. He picks one toy every day. We devote a lot of time to that. And just interacting with him. He sleeps with us in the bed. He has his very specific routine. He starts in my right arm, then travels over to Jeffrey, and eventually ends up on my right calf. Every single night, the same thing, which I love.
Ultimately, we are just blessed. As you know and anyone that has the honor and privilege to take care of any of these magical creatures, which is really what they are, it's a privilege. He is a priority, and every animal should be – it's not an afterthought. They are your family, and he's synonymous with anything I do.
Related: Owners Share the Special Bond They Have With Their Senior Dogs in New Book
To see the full interview, check out the video below: