Both born with dwarfism, a dog and boy share a special bond that has helped the boy gain confidence and self-esteem.
Quaden Bayles of Brisbane, Australia was born with achondroplasia, a common form of dwarfism. People with the condition are shorter in stature, have a larger head with a prominent forehead and shorted midface – all of which made Quaden feel insecure.
"Quaden didn't like us using the words 'dwarfism' or 'achondroplasia,'" his mom, Yarraka Bayles told InsideEdition.com. "He has been really struggling lately, and has a hard time accepting the fact that he has dwarfism," adding people pointed out to the 5-year-old that he was different. Fortunately, fate stepped in for the boy.
Related: Senior Volunteer Adopts Elder Dog, Shares Sacred Last Days in Photo Series
A week ago, Yarraka received a call from a friend, who is a vet, asking if the family would be interested in adopting a shih tzu dog, who also was born with dwarfisim.
While the vet suggested the family take in the dog and give it a few days to see if was a match, Yarraka told the outlet, "My kids fell in love with him. So we just had to have him."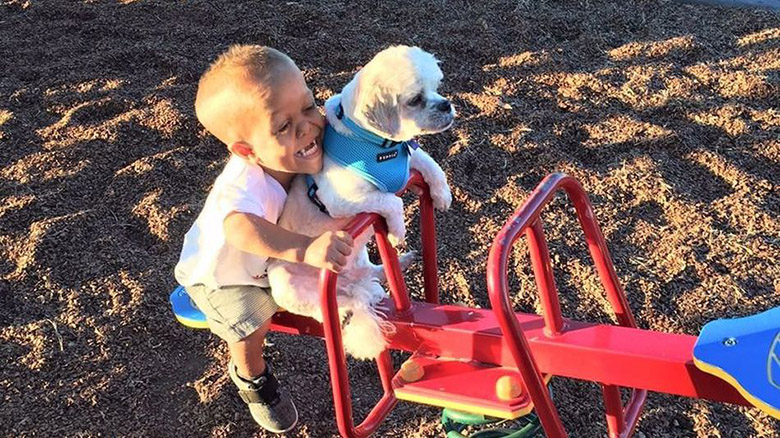 Named Buddy, the 9-year-old pup has helped Quaden come out of his shell and the two are inseparable.
"They already look after each other in their own special way," Yarruka said, "but, [Quaden] gets a little jealous if anyone else gets too close as he is very protective over Buddy already."
And now Quaden is beginning to accept his condition and be okay with it.
Related: Dog Defies Odds, Walks Again for First Time in 5 Years
"Buddy has helped [Quaden] embrace his differences," the boy's mom told the outlet. "He doesn't worry about the people staring in public, because [people] just see a cute puppy with a cool, confident kid."
Images via Facebook