Nineteen brews on taps, regular specialty beer releases, brewery tours seven days a week, tap takeovers and brew masters to chat up, what could be better for beer enthusiasts? How about enjoying all these offering with your four-legged friend by your side?
Located in the heart of the Los Angeles downtown Art District, Angel City Brewery has a welcoming environment for dog owners looking for a place to saddle up and enjoy an ice-cold beer with their canine sidekick.
"The brewery is a large, open space, so dogs don't feel confined," says employee Melissa Corbin. "We have a lot of regular pups, so people enjoy seeing a familiar furry face. It all lends itself to a laid back and inviting atmosphere, and we think the dogs appreciate that."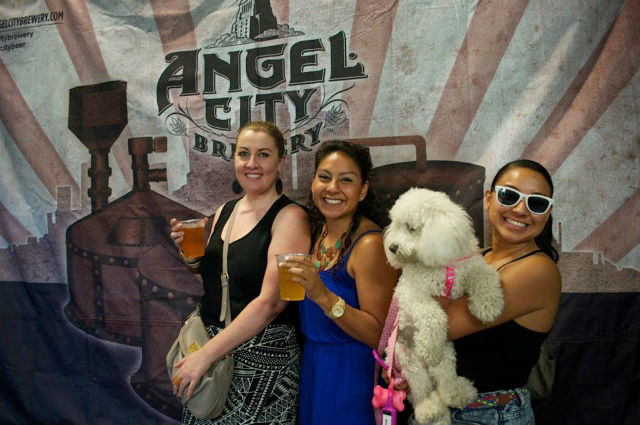 Related: Bowser Beer Lets Your Dog Enjoy a Cold One, Too
The huge establishment in the John A. Roebling Building on Alameda Street is home to both its brewery and Public House, a place for people to enjoy beer and learn about the company's offerings. The old industrial metal factory building has plenty of room to roam with your dog. It is split into two levels, with the main floor offering a more open experience comprised of concrete flooring, exposed beams, old wooden barrels and studded leather studded pillars, allowing people to grab a seat at a picnic table or high top.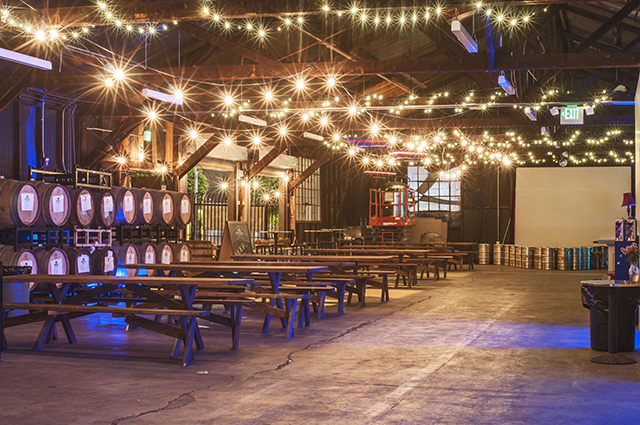 If you are looking for a quieter vibe, head on up to the second floor. With a lounge-like feel, the area has comfortable leather couches and chairs to spread out and relax.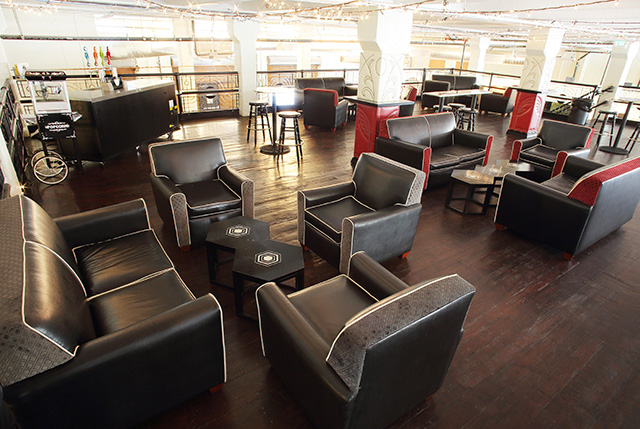 Whether you are looking to just chill or want a more social scene for you and your dog, you can find a beer for your mood. Angel City Brewery has a 19-tap bar and serves a continual rotation of classic and newly inspired beers — everything from Angel City Pilsner to Avocado Ale and For the Sake of Ale — to quench your thirst. Can't decide? Talk to the friendly staff about what you like and don't like, sample beers or try out a flight of five beers. (For those that aren't into drinking, they can help themselves to complimentary fruit-infused seltzer water.)
Related: Eveleigh: Where Dogs Can Enjoy Fine Dining Like the Rest of Us
Angel City Brewery doesn't serve food, but there is an array of food trucks right outside where people can order and bring food back inside. Kai Kai Dumplings , DogTown Dogs, Market Burgers and Taqueria El Severo, are just a few of the trucks that make an appearance for hungry (and hungover) drinkers.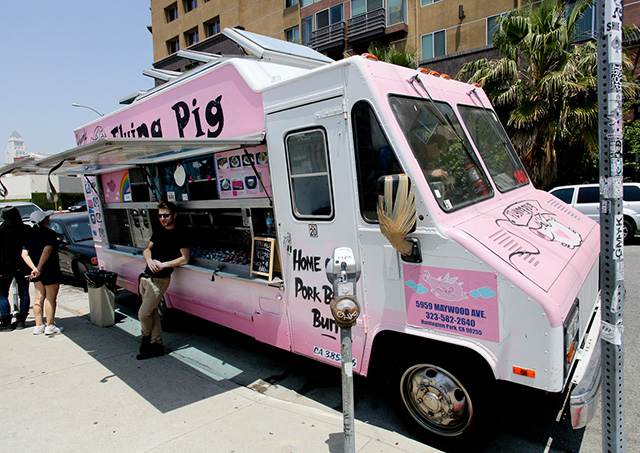 And while you are enjoying a brewski and some comfort food, dogs can lap up water from dishes sprinkled throughout the vicinity and if available, can enjoy dog treats made from the spent grain used in brewing the beer. There are also leashes and collars available in the gift shop.
For those interested in seeing the brewing process, Angel City Brewery does have brewery tours every day (but for safety reasons dogs aren't allowed).
To keep things fresh and people entertained and having a good time, Angel City Brewery has an active event calendar that includes Bingo, game night, tacos and trivia and run, yoga and beer. On occasion, there will be dog-focused events like barks, bubbles and brews.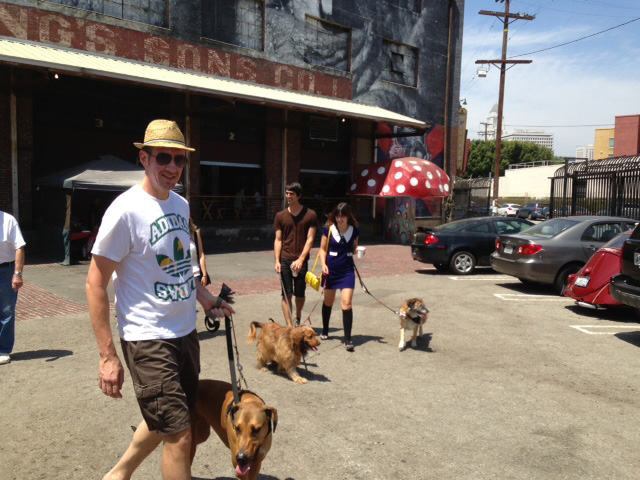 Besides providing an amazing place for dog owners to bring their pup and drink a cold one, Angel City Brewery is also known for giving back to the local community. In 2012, the business moved to the downtown district, an area that had been a bit of a ghost town as people deserted it for other neighborhoods. Since putting down its roots, Angel City Brewery has held community cleans up, had neighborhood artists featured at its gallery and local musicians perform at the Public House.
Because of these amenities and Angel City Brewery's community support, people (including dog owners) keep coming back."Angel City lovers appreciate the craft of our artisan brews and also the culture and ethos we create," says Corbin. "We aim to capture the spirit of LA's different cultures through music, art, performances, among other activities and that really resonates with people."
Related: The Kombucha Tea Company That Gives Back to the Dogs
Images via Facebook and Angel City Brewery