For many, running a rescue organization is a dog lover's dream. Getting to spend time with lots of furry, waggy-tailed friends — what could be better? For many, the answer is nothing. And while the plethora of rescue organizations in the U.S (Petfinder alone has more than 12,000 agencies on its platform) is certainly a testament to how many people have turned this dream into a reality, it isn't an easy endeavor.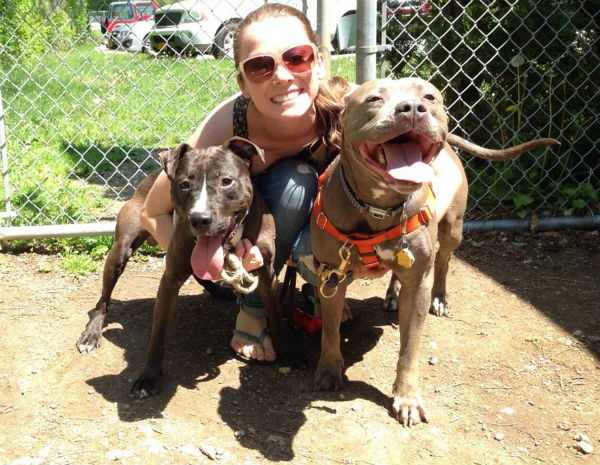 "There is a LOT more that goes into rescue than meets the eye," says Katherine Good, one of the women behind New York-based nonprofit Rescuzilla. From fundraising and marketing to the more day-to-day tasks — event logistics, maintaining financial policies and tracking records — running a rescue can seem like a full-time job.
"You don't give much thought to the administrative responsibilities until you realize what a large part of the process it is," says Good.
Related: Rescue Chocolate Is the Sweetest Way to Save a Dog's Life
For each adoption, Rescuzilla has to countersign adoption forms, gather medical records, sign off on microchip registrations and provide licensing information to new owners. On top of that, though, there is the paperwork involved in keeping a non-profit running: documenting financial and donation records, as well as submitting Rescuzilla's "numbers" (how many animals were taken in, where they were taken from, and what the outcomes of each adoption were) for their partner organizations, such as the Mayor's Alliance for NYC's Animals and the Best Friends Animal Society. Ironically, this sort of need is what initially got Good, along with her co-president, Carolina Leon-Duarte, more involved with assisting Rescuzilla's founder Susan Cava — and they eventually took over for her in 2013.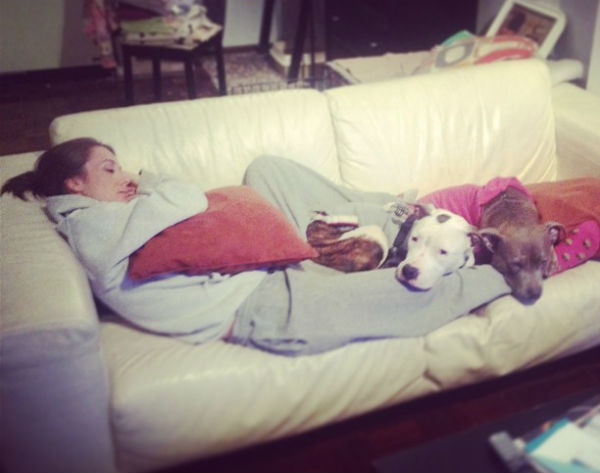 Aside from the paperwork aspect of running a rescue, though, Good explains how important it is to make connections. Of course, rescues need to have a strong network of shelters — Rescuzilla works with four shelters spread across New York City, Long Island and New Jersey — but they also have to connect with local veterinary offices.
"I've been lucky enough to have a great relationship with my personal vet, where I used to work part time," Good says. While the dogs Rescuzilla takes from shelters have already received basic medical care and are vaccinated, spayed or neutered and microchipped, dogs that stay in foster care for longer periods of time sometimes end up needing return visits to the vet, and it's up to Rescuzilla to foot the bill. "Some examples have been anything from eye infections or parasites, to dental cleanings, to amputations or fracture repairs and everything in between," says Good.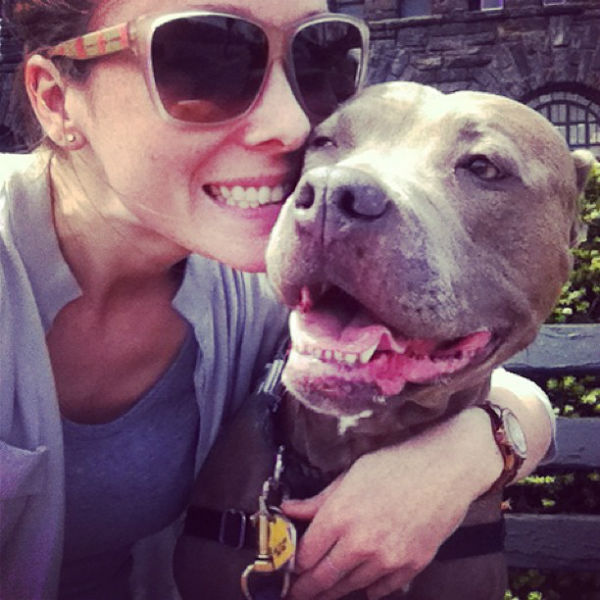 Besides making sure Rescuzilla pups are physically healthy, the organization needs to ensure they are emotionally ready for adoption. Sometimes these pooches come from stressful or traumatizing situations and need rehabilitation. Many of Rescuzilla's fosters are experienced enough to handle basic obedience training, or just reminders, since a lot of the dogs already know the basics. "For me, half the fun of fostering is seeing a dog grow and become even better pets than they already would have been," says Good. After all, sometimes all a pup needs is a stable home and some gentle reminders to remember what a good dog he is.
Related: Coffee Company Grounds & Hounds Wants You to Wake, Brew, Rescue and Repeat
Other times, though, professional trainers need to be involved. "Beyond basic training, we've consulted outside trainers for things like leash reactivity, fear aggression and handling issues," she says.
So how does an organization like Rescuzilla manage to fund all the good work they do? "In the beginning, we relied heavily on small DIY fundraising events like online promotions or bar nights with cover fees or drink specials, trivia nights, things like that," Good says. But hosting many small events took a long time to plan and didn't yield the kind of donations to make them worth it. Now, says Good, Rescuzilla relies more on larger events spaced out over the course of a year, as well as adoption fees, to make up the bulk of what they need to cover veterinary bills (the largest expense by far). "I do still like to do smaller bar events here and there to maintain contact with some of our most loyal and longtime supporters who have always been there for us," Good adds. Resuzilla also relies on non-monetary donations from supporters – things like leashes and collars, donations of dog food, wee-wee pads or toys and gifts from their Amazon Wish List (and their foster wish list!) — to make ends meet.
The most challenging aspect of running a shelter, however, doesn't have to do with paper work or fundraising but rather with picking which dogs to pull for foster care and adoption. "It can be truly heart wrenching. And it's always so hard to leave a dog behind that you have spent time getting to know," says Good. To have the best results, Good works backwards: She focuses on the needs and household of the foster or adoptive family (Were they dog owners previously, or is this their first pet? Are there cats or dogs in the household? Do they have small children?), then tries to find a dog who will be a good match.
"I might fall in love with a specific animal and try my best to find an appropriate placement but that's rare," she says. "I think the self-restraint I've held onto in that arena is directly responsible for me being able to continue to do this kind of work."
Even with a full plate of responsibilities and the emotional toll that running a rescue can take, Good wouldn't swap it for the world. When asked about her favorite rescue success stories, she has a soft spot for a pit bull named Farley. Farley came to Rescuzilla after he was rescued from a large hoarding situation in New York City. "I'll never forget the photo of him, just a young puppy, sitting on top of a filthy dining room table surrounded by other animals."
Since he was raised in a house with so many other animals, says Good, he was very dependent on the company of other animals. "He was extremely fearful of cars, wind, new objects, walking up stairs or even just a crowd of people talking," she recalls. He stayed with Good for another two months after this, and then was finally adopted by Danny and Teresa, one of Good's favorite rescue families.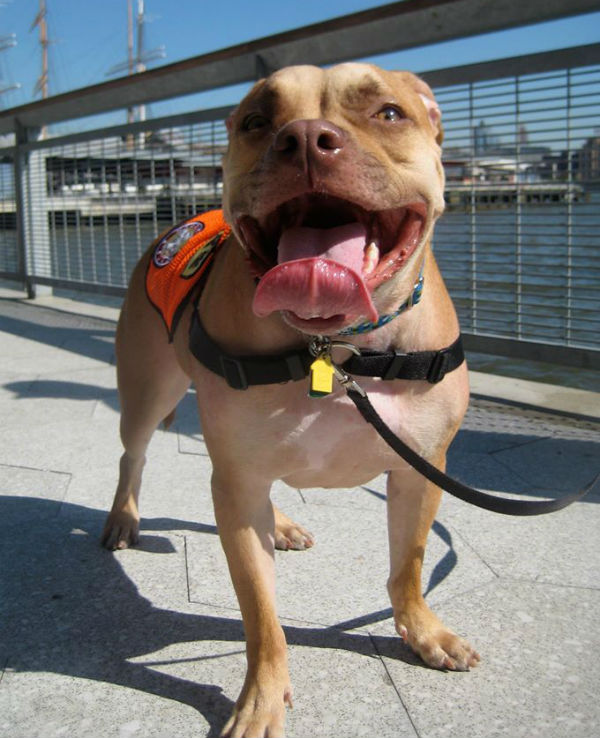 "Danny and Teresa had an older epileptic Lab named Casey who immediately became Farley's best friend, and I remember being struck with awe when, as we were explaining some of his quirks to them, he trotted up the stairs of their home without an ounce of hesitation, as if he had lived there forever." The right family can make all the difference, and it's a change Good sees frequently at Rescuzilla.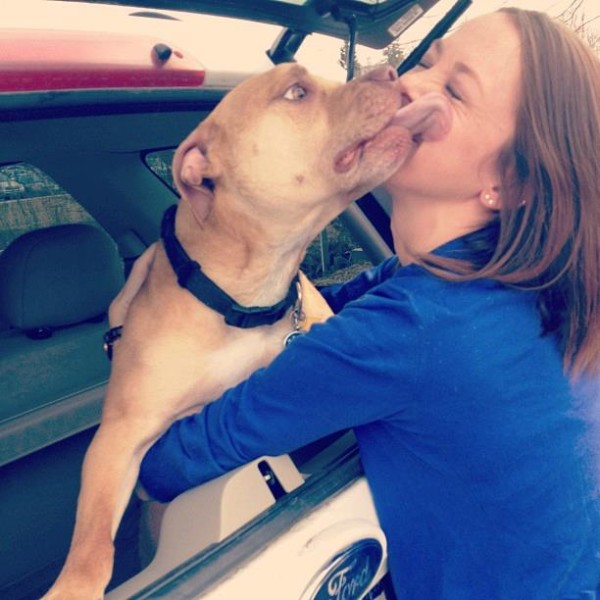 "To me, his story represents the beginning of my interest in working with fearful dogs and reminds me of the power of teamwork within the animal welfare community."
So what advice does Good have for This Dog's Life readers with aspirations of starting rescue organizations all their own? "Volunteering with a rescue would absolutely give you a huge leg up," Good says. Not just the fun stuff — taking the dogs home, snuggling them until they're adopted — but also learning the ins and outs of the administrative and financial aspect of running a shelter.
Other than that, Good's most important advice is to maintain perspective and look at the small picture rather than the big picture. "It's so easy to get overwhelmed by the gravity of the problem, bite off more than you can chew and burn out. But each animal's life matters, and for each one that you save, and you forge a relationship with, and you find that successful, forever home for — it's something to be proud of."
We couldn't agree more.
Related: Dog That Lived Under a Car for 7 Months, Finally Gets Rescued