A hockey team may have a new four-legged player in its future.
The St. Louis Blues hockey team posted a video last week of them practicing. Not very exciting. But then you see a super cute puppy on the ice, chasing the hockey stick and playing with it. Once the puck gets tapped to him, the dog takes off – maybe thinking this is how hockey is played.
Related: Move Over Pele, the World Has a New Soccer Star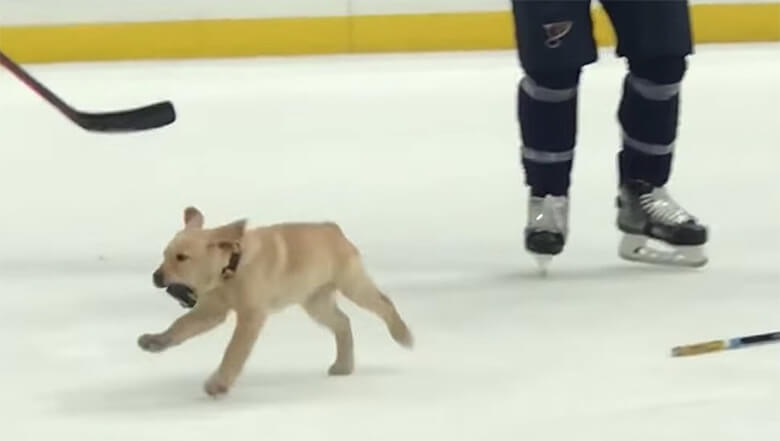 Who knows? But what is known is the antics were absolutely adorable.
Social media agrees.
Forget hockey. We'll pay money just to see this for the rest of the season.

— Fabbri's Hair (@FabbrisHair) December 13, 2018
This is the only thing I ever want to see on my feed from now on. Nothing else

— Erica (@ericahassien) December 14, 2018
Great puck control here, changes directions very well! Get him in the line up

— Alex Carew (@arcarew13) December 14, 2018
But what is even more amazing is that the puppy, named Barclay, is actually a service-dog in training. The St. Louis Blues have partnered with Duo, a non-profit organization that trains service dogs, to help raise the puppy and provide basic obedience training, along with adjusting to different social situations, for the next 18 months.
Related: After Missing the Final Penalty Kick at Olympics, Women's Soccer Player Gets Cheered Up By Dogs All Across Twitter
"We're unbelievably excited for this and the office is through the roof about it," said Randy Girsch, the Blues' vice president of community development and event management, said in a statement. "It's a new way to give back to the community in ways we haven't been able to give back before, and the way these dogs work and give back is special.
Watch it here for yourself:
Ruff practice #stlblues pic.twitter.com/5czhpopgrc

— St. Louis Blues (@StLouisBlues) December 13, 2018