At an innovative substance abuse program in San Francisco, a friendly Labrador retriever named Cassie is often cited as the "favorite therapist" on client feedback forms. What makes this remarkable is the fact that Cassie is a trained narcotics detection dog who works to keep people struggling with addiction on the path to recovery.
"We wanted to have a dog who could help us keep the environment safe for people. But there's the additional benefit of therapeutic support," says Joe Schrank, president and founder of Remedy Recovery. "We lead with compassion. We're not trying to make people institutionalized. I think a dog really helps to warm an environment and make it more comfortable to come to rather than an institution."
Related: An Abused Pit Bull Named Sugar Mama Teaches an Ex-Con How to Love
Remedy Recovery is a medication-assisted program. Although they use a variety of standard FDA medications, they have pioneered the use of cannabis as an "exit drug" to reduce or eliminate opiate use.
"But medication assistance is only as helpful as medication assistance compliance," Schrank explains. "The dog helps us keep people on point. In other words, if people were trying to bring in street drugs, or even other pharmaceuticals that were not on their plan and were not doctor-approved, Cassie would help us keep people organized."
A Working Dog
Cassie was trained to work at an all-day job at the typical places that narcotics detection dogs work, says Schrank. But as the runt of the litter, she wasn't attracting any interest from airports and customs. "I always say, she didn't make it in police work, so I made her a social worker."
Cassie lives at the center 24/7. "This is her home," Schrank notes. "For the most part, she does what Labs do. She waits for her tennis ball and wags her tail and begs for food."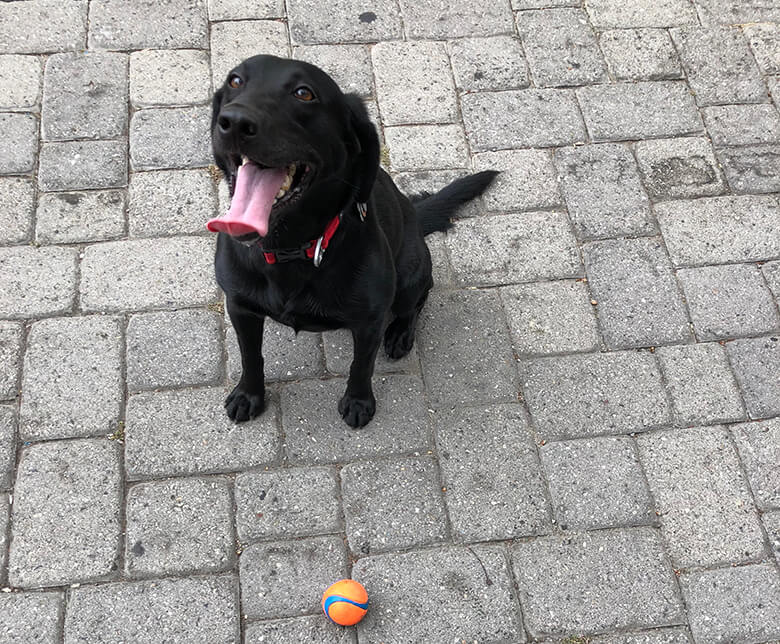 The challenge was initially to balance her work-life because it is not a job where she's detecting consistently. She acts as a therapy dog (and a pet) with residential patients and in group sessions, but she has to switch into her detection role when necessary. Luckily, Schrank reports, Cassie is always eager to work and never resists when she's needed for detection.
The key to being successful with medication-assisted program, Schrank explains, is compliance with the medication protocol. If clients are misusing substances, it's harder to recover. "We don't like to come off looking like the police, or like we're trying to catch people or set them up," Schrank says.
Her presence is particularly important when it comes to "messaging because it just takes a minute to go one way or another." If clients realize there's a dog at the center, they will usually decide not to bring in drugs that aren't prescribed.
Related: 15 Reasons Why You Should Consider Giving Your Dog CBD Oil
Labrador as Therapist
Cassie is particularly helpful to the men in the program, Schrank says. "Culturally, men don't respond to individual or group therapy. A lot of the theories and philosophies and applications are developed by women for women. It may be the one area of the culture where sexism is the other way."
He believes that by bringing the dog into the process, the dynamic is shifted. "A dog normalizes the situation enough that they don't feel so pathologized." Sitting and petting the dog while they're talking makes the situation feel more normal than the traditional therapy environment.
At first, many people in the program are very shut down emotionally. Cassie acts as an icebreaker. "We can always start with the dog," says Schrank. "Here, pet Cassie. Let's see how we do. Here's her tennis ball. You're her best friend. And then you have your first relationship of empathy. That's how she fits in with us."
Cassie helps the center maintain a healing presence rather than a place where people feel punished. "We don't think people with substance-abuse issues are bad people. We don't think that they're criminals," Shrank says.
Additionally, he says, there's a lot of anger directed at those with addiction. "The community is angry with them, as well as their family, their spouse and their workplace. The dog is never angry with them. So it's nice for people to be around that energy."
Related: How a CBD Treat Line Changed the Life of Tater Tot, the Celeb Dog From 'Pit Bull and Parolees'
Schrank believes that a dog will help anybody working on recovery, whether they're in a program or not. People in recovery struggle with isolation. If they have a dog, they have to go out to walk that dog, and during the walk, people will often stop to pet the dog and say hello. "It really does help with the momentum of interaction and breaking isolation," he says.
Schrank admits he can't imagine his life without a dog. "I don't think that everybody is like that, but I think that it's an option that people should consider and not trivialize." He doesn't agree when people say that Cassie is "just a dog." He believes that dogs can be very effective — and powerful — in any recovery process. "People in recovery should consider dog ownership. Make sure you are stable and can provide and care for the dog, but a dog is always going to be helpful."
Remedy Recovery is looking to expand their centers in the future in states where cannabis becomes legal for adult use or medical use, particularly for the treatment of opiate addiction. And they plan to have at least one dog at every center. "Dogs do a lot for people with their energy and their spirit. Especially Labs. I don't think Labs ever have bad days."