New York City is about as dog friendly of a place as one could hope. From shops to eateries, and even festivals designed with Fido in mind, our furry friends are welcome to join us just about anywhere. While convenient for us, "going out" from a dog's perspective means something entirely different. Tagging along to Sunday brunch and being confined mostly to sidewalks, along with being enclosed in tiny dog runs can take a toll on even the most metropolitan of mutts. One company is here to expand the horizons of our citified canines.
My Dog Hikes provides your dog the opportunity to get out of the city for several interactive hours of sniffing, swimming, running and exercise in the country. Along with structured pack hikes, the company is also a full-service dog walking and pet sitting service, with a highly trained and carefully selected staff available to cater to anyone's needs, all year round.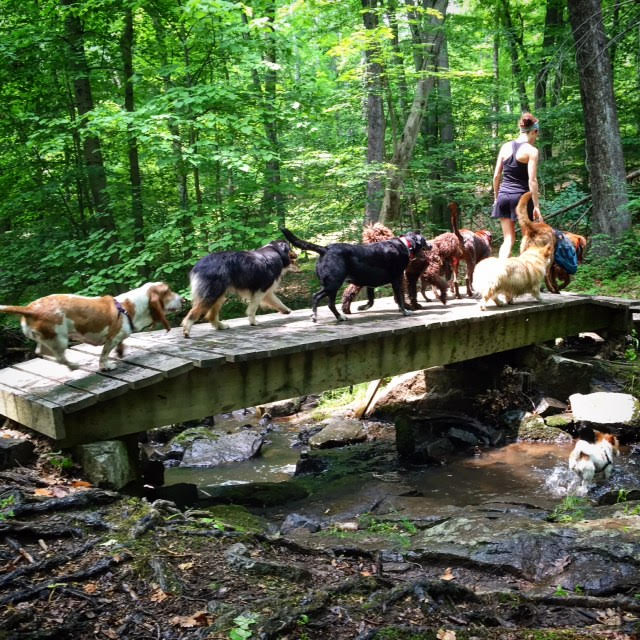 Related: Williamsburg's Eclectic Cafe Colette Has Something for Everyone — Including Your Begging Dog
Founded in 2007 by owner and operator Andrea Klein, the unique service, loved by both dogs and their appreciative owners, was born solely out of her own love for dogs. Freshly transplanted to New York City from upstate New York, Klein noticed a man walking several dogs one morning in Central Park. It was her first glimpse into the dog-walking world. "I could not believe this man's job was to walk dogs; it was really foreign to me," recalls Klein. Upon learning that many dog owners needed help exercising their pets while at work, Klein began offering to take her friend's dogs on hikes just outside of the city at no charge. "Within two months, a few people began insisting on paying me," she says. "I kept thinking this was so bizarre. I never thought that was something I could get paid to do."
Within that same year, Klein quit her desk job, and My Dog Hikes was born.
Related: How to Make it as a Dog Owner in New York City
As dogs are pack animals, meant to trek over long distances, the hiking program offered by My Dog Hikes is designed to encourage socialization, while exercising the mind and body simultaneously. Leaving the city between 8:30 and 10:30 am, dogs are taken about an hour outside of it to enjoy a four-hour hike in nearby Pennsylvania, Connecticut, New Jersey or upstate New York, and returned the same day between 4:00 and 5:30 pm. Visits to nearby lakes are included on summer hikes, and all dogs receive the utmost attention and supervision by a well-rounded staff. "We keep a four-to-one ratio of hikers to dogs, so with larger groups it's me and two additional hikers, while our lead hiker and trainer Christine is usually in charge of smaller groups, or private hikes," says Klein.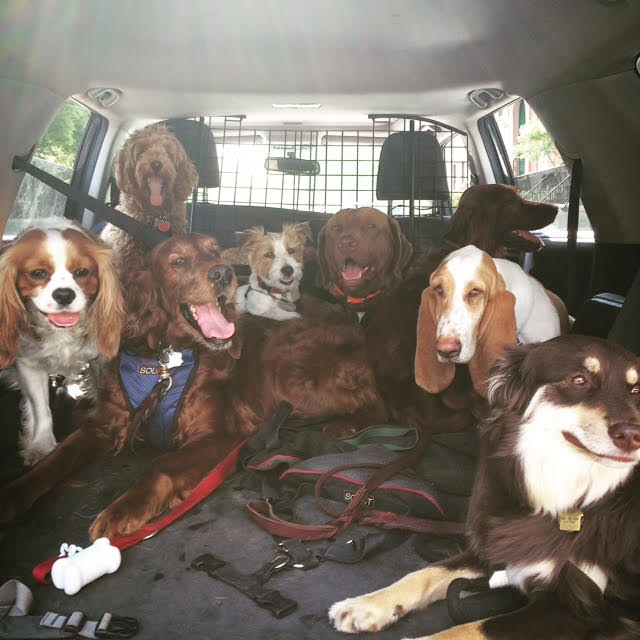 Dog owners are welcome to join their pups on weekend hikes, an offer many people are excited to take advantage of. "It's almost like a club — a lot of the hikers know each other, they're neighbors and friends," says Klein. "It's a lot of fun and very rewarding."
The care that Klein has taken into assuring that all dogs are in the hands of a highly capable staff during their outdoor excursions is what really sets My Dog Hikes apart from more traditional pet-care services. "Each time we look for a new walker I interview around 100 people," says Klein. Currently working with a somewhat small staff of between seven and 12 walkers and hikers (not including the 10 or so pet sitters kept in rotation,) all of Klein's employees are required to pass an extensive background check, undergo pet-first aid, safety and CPR training, and once employed, become insured and bonded through the company. Even lead hiker Christine Dmitriev was required to train as an intern for a year before earning her title. When it comes to the safety of her staff and clients, "I can be a bit of a control freak," jokes Klein.
The selective process does not stop at the staff, as dogs must also meet certain requirements in order to join hikes. Klein personally meets every dog, first in home before moving to a community dog park, so she can witness how well the dog interacts in a social setting. "In order to join the pack, they must be able to take cues from the senior dogs on the hikes, and we have a zero tolerance policy toward fighting," she says.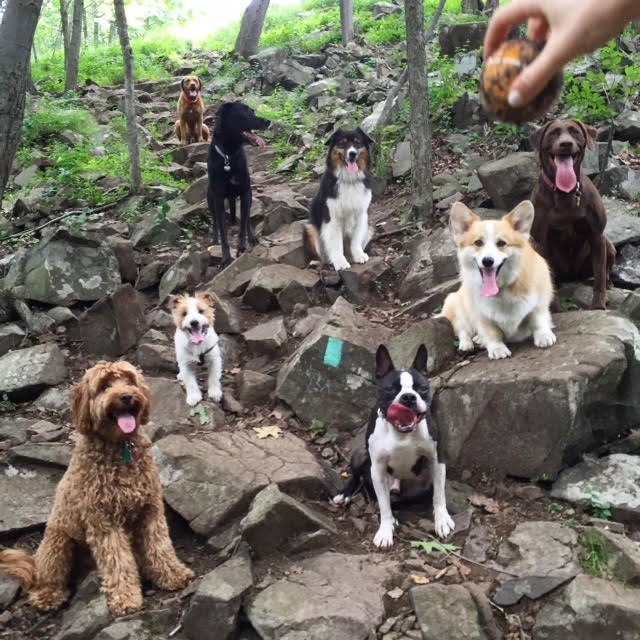 In regard to seeing if hiking services are for your dog, Klein suggests dog owners keep the needs, and limitations, of their pooch in mind. "Get to know your breed. Listen to what your vet and breeder recommend, and keep in mind what your dog can really handle," suggests Klein. "Basically, go by what the last 24 hours have looked like for your dog, consider the weather and your dog's health, and really consider all of those things before scheduling a hike."
The future of My Dog Hikes is looking bright. With a recent feature in W Magazine, and flawless user reviews on Yelp, more and more people are becoming aware of the services Klein and company has to offer. "We still have our regulars, who typically join us on two to three hikes per week, but recently we've noticed a lot of people interested in dropping in," Klein says. As weekly hikes are booking fast, advanced scheduling is required.
"I feel extremely blessed, says Klein. "The clients are incredible, they care so much about the outcome in a different capacity than in the business world."
The phrase "do what you love and you never have to work a day in your life" could not ring more true than for the company that got its start hiking dogs for free, simply out of the love for both.
Related: Running Paws: For Dogs That Aren't Okay With Just a Walk