This year has been unlike no other. It has been defined by heartache and loss. It has shattered our communities, the economy and country. It has forced us to adapt to a new normal none of us ever wanted.
During these trying times, our dogs have not only remained loyal but provided some much-needed comfort. From a wag of the tail to a cuddle on our lap and a kiss on our cheek, having our furry by our side takes some of the stress out of our everyday lives and helps us forget for a moment the questions we have about the future.
And while we wait for what 2021 brings, we reached out to a few dog parents to ask how having a pup in their life helped them survive (and in some ways thrive) this year.
Related: How Dogs Are Comforting Us During the Coronavirus Pandemic
Here is what they had to say. (The answers have been edited for clarity and brevity.)
Taught Me to Follow My Heart.
This was a year of changes for us. When the pandemic caused the world to basically come to a standstill, we took the opportunity to realize what was most important in life. We had each other, we had our health and we had Henry. We finally had the time to pause and enjoy our time with him. Having a dog has given us an excuse to go outside at least once a day and enjoy some fresh air, take a break and rest our minds.
During this time of reflection, we were able to make important decisions about our future as well, and Henry (indirectly) had an important role to play in making those decisions. In June 2020, we launched our dog lifestyle blog Henry the Smol, born from a passion for being a dog mom. In fact, having a blog was something I have wanted to do for years, I just never had the time—or never made the time. With my previous business now closed due to COVID, there truly was no better time to start. If it wasn't for Henry, I wouldn't be able to call myself a dog mom at all.
In a funny way, Henry has given us both the boost of confidence we needed to propel ourselves forward and throw ourselves in to projects we've always wanted to do!
— Cara Carosielli, Henry's mom
Related: Gazing Into Your Dog's Eyes Helps the Two of You Bond
Realized What Really Matters to Me.
As an active dog family, shelter in place and lockdown was difficult for me.

We went from daily four-mile walks to not leaving the house at all for a solid 3.5 weeks. I learned patience and to accept things as they are.
Prior to shelter in place, I filled my calendar with our outdoor activities. I was busy, being busy. But when I found myself stuck at home, I observed my two settling into their beds to enjoy their naps with complete acceptance.

Watching them stay calm helped quiet my own mind and realize that having a home, a warm bed, and my family around me was all I needed. I learned to be content, and I found a piece to surrender to this moment in time.
— Hannah Zulueta, Orbit and Maggie's mom
Helped Me Enjoy the Little Things.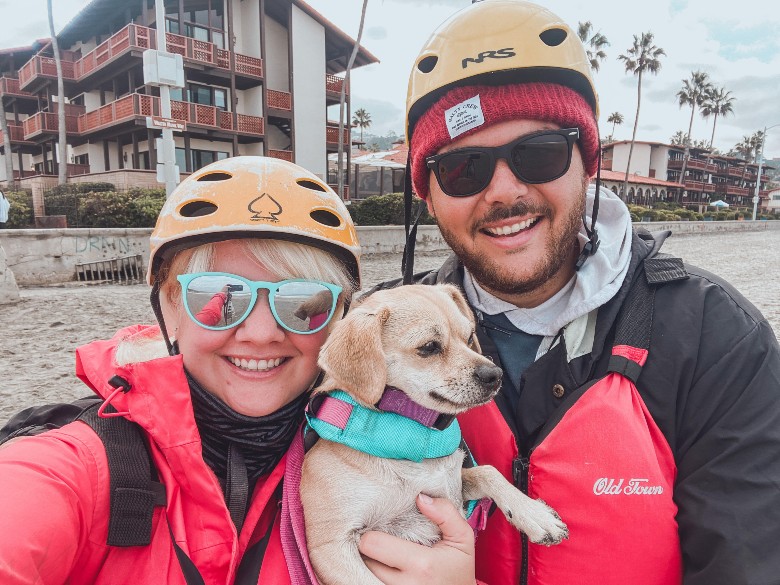 Sunny is my emotional support animal. I have been living with anxiety and depression to varying degrees for quite some time, and Sunny gave me something to focus on instead of myself.

For instance, I sometimes have a habit of getting lost in my phone or bingeing on a show when I lack the emotional energy to get up and move. Sunny does not stand for this. If she is restless and needs a walk, she will actually grab the blanket with her mouth and pull it off of me to persuade me to get up. She reminds me on a daily basis that there is still fun to be had and fresh air to breathe in. And it turns out there are many things you can do responsibly and with your pup — from cleaning up trash in the ocean to camping to practicing agility at school or at home. We are rarely at a loss of things to do.
— Sherrie Rohde, Sunny's mom
Showed Me How to Embrace the New Normal.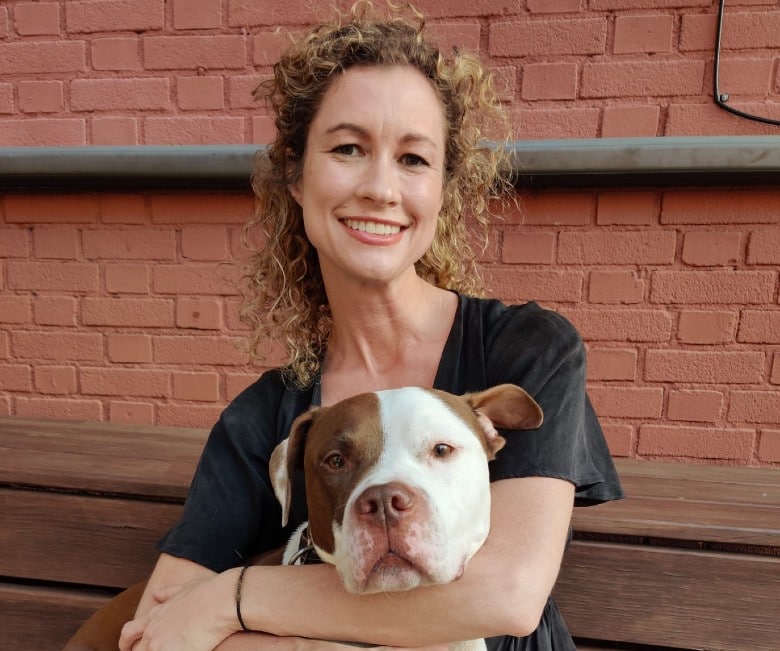 I am an extrovert who loves being around people. I feed off people's energy, crave community, and enjoy a good laugh with friends. So, when the coronavirus caused us to halt all social engagements and be in lockdown in our one-bedroom Brooklyn apartment, it really took a hit on my soul.
My partner could only do so much – there were only so many board games to play, puzzles to solve, virtual happy hours to attend and shows to binge on.
And for me, the stress of running This Dog's Life, means I desperately craved an outlet to decompress, which in the past has always involved being around friends and collogues. With that not being a possibility, I really had to take time and learn to enjoy being isolated, away from people. It was Milo, our bully mix, who helped me through this. Not only was he there to hug when I was feeling lonely (I swear he liked it, too!), but also forced me to take a break from work to play tug, fetch and run around the backyard. And while dog playdates were put on pause, we still took him on walks, talked to fellow dog parents during our neighborhood stroll and greeted people who needed a little affection from our friendly pup.
Lastly, he reminded us to control what we can control – and let go of everything else. Thinking about how he sees this world – a simple schedule of food, walks, cuddles and naps – reminded me that I can control how I feel about things, understand that my schedule, too, has been simplified, and embrace it, not run away from it.
— Andrea Huspeni, Milo's mom
Related: The First Command You Should Teach Your Dog to Build a Lasting Bond
Helped Me to Keep Going.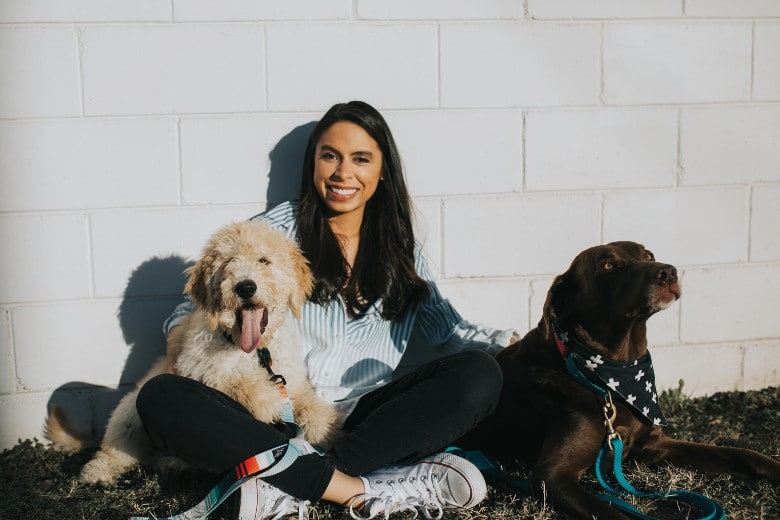 I make YouTube videos about my dogs, and when the pandemic hit, I felt zero motivation to create. I couldn't turn the news off, my already worry prone brain struggled to mute out the weight of the world, so the last thing I wanted to do was turn on the camera and make my dog vlogs.
As I was figuring out how to navigate the new world, Ben and Fin inspired me to find new ways to enrich their daily life when I had to stay home (or candidly didn't have the energy to run).
We tried new brain games and indoor nose work. It was a blast! They showed me how much fun we could have with everyday household items, while mentally stimulating them.
But my boys' presence never wavered. The more I felt like it was too much to handle, the more they nudged me to get up and move.
And that's when I started seeing social media comments rolling in, asking when I'd post next — "Where had I gone?"
And when I went to film again, Ben and Fin sat beside me. Ready to shine as they always do. Their resilience is amazing. They helped me by being a constant during a time when things changed daily.
In that moment I remembered the importance of putting one step in front of the other. Baby steps until I can run again. And it's okay if that takes a while. I have good company along the way.
— Rachel Fusaro, Ben and Fin's mom