This article has been updated.
The cool, crisp days of fall are here … and while these are great for longer walks and playing in leaves, the season can also bring some dangers for our dogs.
Here are five things you absolutely need to keep your dog safe this fall.
1. Stock Up on Joint Supplements
As the weather cools down and the nights draw in, dogs are more likely to struggle with their mobility. "Dogs who coped relatively well in the summer are suddenly stiff and limping now that the weather is cooler and more damp," says Dr. Linda Simon, a veterinary surgeon.
Your dog may experience inflamed joints or arthritis flare ups during the fall and winter seasons. This is likely to be worse first thing after getting up in the morning, according to veterinarian Dr. Amanda Takiguchi.
"Dogs become increasingly less able to climb stairs and onto furniture, need a boost to get into the car, and don't feel like walking as far, among other issues, things like that," Dr. Takiguchi adds.

For advanced arthritis and inflammation, you might need to talk to your vet about pain relief and anti-inflammatory medication. Otherwise, joint supplements can be a great way to support your dog's joints. "The most common joint supplements are collagen and glucosamine, but you can also look into chondroitin, omega-3 fatty acids, and vitamin C," Dr. Takiguchi says.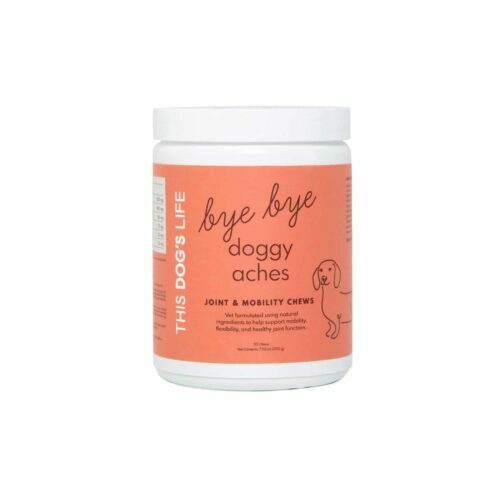 Rooted in nature and vet formulated, these chews have more than 1,000 mg of powerful natural ingredients to help your pup deal with occasional discomfort. Glucosamine HCl, MSM, green-lipped mussels, and chondroitin support mobility and flexibility while also stimulating cartilage growth and maintaining joint lubrication.
She adds that fresh basil and fish oil both have fantastic anti-inflammatory properties and are easy to use. "Just add them to your dog's meals to help with arthritis," she says, but to make sure you consult with a professional before introducing anything new into your dog's diet.
Related: The Most Common Bone and Joint Issues in Young Dogs
2. Invest Reflective Gear
As days get shorter, the incidence of traffic accidents related to low visibility rises. Statistics tells us the time around sunset affects visibility for drivers, meaning they're less likely to see somebody walking on the side of the road — and even less likely to see a dog. Add rainy, foggy fall days, and these conditions worsen visibility even more, creating a potential recipe for disaster.
To protect yourself and your dog, it's a good idea to wear reflective clothing and put a reflective leash, harness, collar tag, and/or jacket on your dog.
Even if you have a dog with great recall, avoid off-leash walking in the dark. It only takes a couple of steps into the road to cause an accident and a lot of damage; it's just not worth it. And take your headphones off or keep on very low volume, as you want to be able to hear cars coming.
Related: 4 Unexpected Fall Dangers Dog Owners Need to Know About
3. Grab a Jacket
Fall's higher humidity, frequent rains, and strong winds can cause dogs to feel cold even if temps are still comfortable. Particularly for short-haired dogs, a waterproof jacket or cozy sweater is a must-have to ensure they don't get chilly. (Keep in mind dogs with a thick coat will probably stay warm, but they will also take longer to dry after a rainy walk.) Look for gear that can protect against both low temperatures and moisture.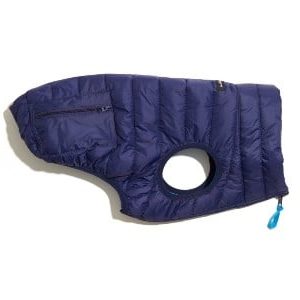 Perfect for those wet or chilly walks, this water-resistant and wind-proof reversible puffer jacket vest will keep your dog warm, dry, and looking trendy. This jacket vest has a nylon outer shell and alternative down poly that won't weigh down your pup and is easy to compress.
"We can help minimize the effects of fall weather by using appropriate dog clothes, going out when the weather is at its mildest, providing an orthopedic bed, and keeping the home warm," Dr. Simon says, adding you should avoid pushing your dog too hard on cold, damp days and staying away from cold water swims.
4. Keep Allergy Products on Hand
Allergies are not just a "spring thing." In fact, the transition into the fall season might result in a whole new set of allergies. Along with grass and dust, two major irritants in the fall are ragweed and mold, according to Dr. Takiguchi. "Watch out for symptoms including hives and rashes, as well as itching, biting, chewing, sneezing, and coughing," she adds.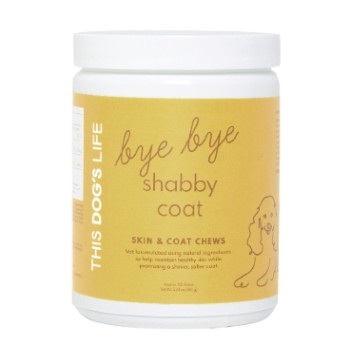 Bye Bye Shabby Coat nourishes your dog's skin and coat from the inside out. Veterinarian formulated and using powerful natural ingredients, including healthy omegas, salmon oil, and vitamin E, our chews help heal dry, itchy, irritated skin, while also promoting a shinier and softer coat. All our supplements are proudly manufactured in the USA.
There are a number of amazing skin, coat, and allergy supplements on the market – just make sure you read the ingredients. If your dog has severe allergies, talk to your vet about using antihistamines and whether he's a good candidate for allergy shots.
Related: 4 Ways to Stop Your Dog From Having Itchy Skin
5. Wild Mushrooms
Fall provides the perfect conditions for wild mushrooms to grow, and while many of these fungi are safe, some are toxic to dogs. Because it is hard to tell which ones are okay and which ones to stay away from, the best bet is to have a no-mushroom rule. (Check out this slideshow for some common poisonous mushrooms to dogs.)
Keep a close eye on your dog if you see her rooting or digging in areas that mushrooms tend to grow, including the base of a tree, in shadier areas, under leaves, and on your lawn.
With observation and planning, you can still enjoy everything the fall season has to offer with your dog. So, go out and enjoy the leaves!
Related: Here Are the Most Common Travel Injuries Your Dog May Encounter in the Car – and How Much They'll Cost You