For the Bessys, Christmas was hardly a time for celebration, as it was the day their family dog, Scout, disappeared into the cold winter.
At the time, neighbor Ellie Bouffard was taking care of Scout and getting ready to walk the pooch, along with the Bessy's second dog, Molly, and her own. But before getting a leash on Scout, she dashed out into the wild in Colchester, Vt.
"Scout just flipped out," Bouffard told USA Today. "No one saw her go, and we didn't really know in what direction she went. We kind of fanned out looking for her, and then I saw her crossing U.S. 7, but I couldn't keep up with her."
Related: St. Bernard Dying of Cancer Gets a Very Special Last Experience: Her Own Snow Day
Fortunately for the family, a Christmas miracle happened. After 52 days of being out on her own, Scout has made her way back into their home. But it couldn't be done without the help of the whole community. Mother Erin Bessy and Bouffard set up a Facebook page, posted flyers around Colchester and set up a Front Porch forum. And these outreach tactics worked. Neighbors began posting sightings of the skittish dog, who seemed to be staying within a two- to three-mile radius.
Once they discovered where Scout liked to hang out, the Bessys and neighbors began placing humane food traps around trail cameras.
After spotting the dog on camera on Thursday, the crew kept checking on the traps. Finally it paid off when Scout was caught on Sunday.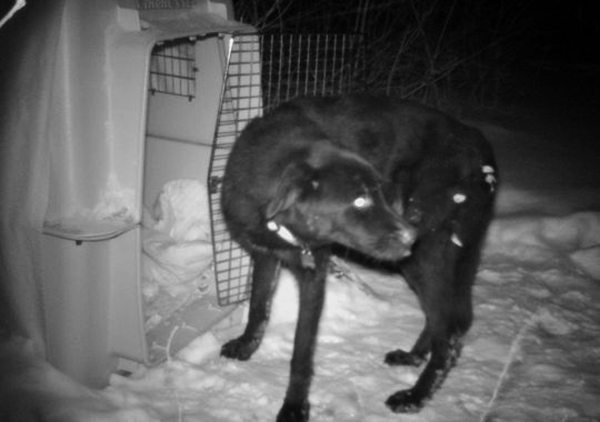 While the dog was dehydrated, malnourished and needed to be monitored by a vet, Scout is very glad to be home.
Related: Here's Why So Many Dogs Absolutely Love the Snow
"She was very happy to see us, wagging her tail and whining in excitement," Erin told the outlet.
H/T USA Today