Earlier this year, Midwestern Pet Food came under fire twice after dogs reportedly died from eating its food brand Sportmix, while its other brands were later recalled due to potential salmonella contamination.
Now, the company has found itself in more trouble. The Food and Drug Administration released a letter warning consumers that Midwestern Pet Food's brand Sportmix may be linked to more than 130 deaths and potentially caused 220 pets to become sick from the food.
Related: Company Behind Popular Dog Brands Once Again In Trouble with FDA After Another Recall Issued Due to Salmonella Concerns
Steven Solomon, the director of the F.D.A.'s Center for Veterinary Medicine, said in a statement that certain violations at its facilities "likely contributed to the illness or death of hundreds of dogs."
Midwestern Pet Food first got on the FDA's radar in December after reportedly 28 dogs died from its dog food brand Sportmix due to high levels of aflatoxin, a toxin that is produced by mold. In January, additional Midwestern Pet Food brands, including Earthborn Holistic, Meridian, Pro Pac, Sportstrail, Venture, Wholesomes, and again Sportmix, were voluntarily recalled due to possible salmonella contamination.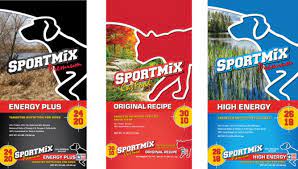 Related: Dog Food Recalled After At Least 28 Deaths Reported
The agency couldn't confirm that all of the Sportmix cases were connected to aflatoxin poisoning, while also noting the current count "may not reflect the total number of pets affected."
Aflatoxin can grow on corn and other grains used as ingredients in pet food. At high levels, aflatoxin can cause illness and death in pets. Dogs with aflatoxin poisoning may feel sluggish, have a loss of appetite, vomit, experience diarrhea or jaundice (yellow tint in the eyes due to liver damage).
The FDA collected various samples to text aflatoxin. The agency found levels as high as 558 parts per billion (ppb).
In the letter to Midwestern Pet Food, the agency stated that the "FDA considers that aflatoxin levels in dog and cat food above 20 ppb will support a charge of adulteration … because of the reasonable possibility that a regular diet of such food will be fatal or injurious to the health of the pet. Therefore, these pet food products manufactured in your OK [Oklahoma] facility are adulterated in that they bear or contain a poisonous or deleterious substance which renders them injurious to health.
Midwestern Pet Foods has 15 days to respond to the letter with an action plan and warned "Failure to adequately address this matter may lead to legal action, including without limitation, seizure, and injunction."
Midwestern Pet Food has yet to make any public statement.