Update: It has been reported another dog died after being groomed at PetSmart this past week.
An investigation by NJ.com, a New Jersey news organization, revealed that at least 47 dogs have died shortly after being groomed at PetSmart, one of the nation's leading pet retailers. The nine-month investigation launched after the death of Scruffles, an English Bulldog, in December 2017.
The investigators examined veterinarian records, media reports and lawsuits. They interviewed more than 100 dog owners, 22 past and present PetSmart employees, veterinarians, lawyers, groomers and animal welfare advocates.
The investigation was based on customer reports in 14 states, but NJ.com stated that "those numbers are hardly a definitive accounting of deaths because very few groomers are required to publicly report them." Additionally, cause of death can be difficult to prove, and non-disclosure agreements in some of the cases hindered the investigation.
Related: 5 Doodle Breeds You Need to Get on Your Radar ASAP
The group of dogs that died were comprised of 25 breeds, but 20 of the 47 dogs were English Bulldogs and other brachycephalic breeds. These "flat faced" breeds, which includes the Pug, Pekingese, Shi Tzu, French Bulldog, Japanese Chin, among others, typically have breathing issues, particularly in hot weather or stressful environments.
 Scruffles
In December 2017, the DiNapoli family dropped off their English Bulldog, Scruffles, for grooming at a PetSmart in Flemington, N.J. Around an hour later, PetSmart called Danielle DiNapoli to say that Scruffles was being taken to an animal hospital. Despite attempting CPR, the dog was dead on arrival.
When the NJ Society for the Prevention of Cruelty to Animals investigated, PetSmart told them that the dog was in the dryer cage when he collapsed. There is a lot of controversy and commentary about the use of cage dryers in dog grooming, but it is generally agreed that grooming cages, particularly those with heating elements, are not recommended for brachycephalic breeds
Scruffles wasn't the only dog that died after a grooming at PetSmart.
Other Dog Deaths
In February 2017, Nick Pomilio noticed his English Bulldog Capone's nails had started to curl, so he brought him to PetSmart to get them cut. What usually took 15 minutes turned into an hour. When Capone was brought out, he couldn't walk, so the staff loaded him into a shopping cart to wheel him out to Pomillo's car. Five minutes later, Pomillo realized Capone had stopped breathing.
In April 2018, a third dog died at PetSmart during grooming. Chuck Crawford left his two corgis, Abby and Harley, at a Pet Smart in Toms River for grooming. An hour later, Crawford got a phone call telling him that Abbey had died during her bath. Crawford told NJ.com that they asked him to pick up her carcass.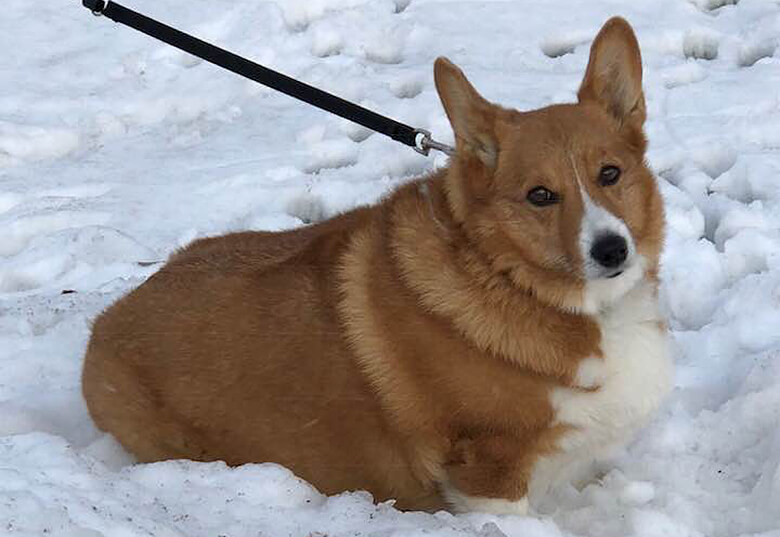 Related: PetSmart Buys Startup Chewy.com In Reportedly the Biggest Ecommerce Deal Ever
Four-month-old bulldog Rita, died at a California PetSmart in May 2011; necropsy results indicated she died of strangulation that occurred while she was being groomed.
Henry, a 1-year-old Dachshund, died during a grooming session at PetSmart; necropsy results revealed he was strangled and had two broken ribs. The groomer was subsequently arrested and charged with animal cruelty.
Annika Nash took her dog Speck, a Jack Russell Terrier-border collie mix, for grooming at a PetSmart in Rio Grande, NJ, in July 2015. An hour later, she got a phone call saying that Speck was being rushed to the emergency vet after his breathing became labored, and he collapsed at a grooming session. Speck didn't make it. Nash stated that she hasn't had any contact from PetSmart afterwards.
Trinity, a 2-year-old Bulldog, was trained as Thomas Cunningham's service dog after a car accident left him disabled. Though he normally bathed Trinity himself, his injuries made it difficult, so he decided to take his dog into PetSmart to be bathed after a veterinarian checkup. When PetSmart brought out the dog, she was in respiratory distress, gasping for breath. Six hours later, she was dead.
In September 2017, a woman and her two sons sued PetSmart after their 14-year-old Chihuahua arrived at an animal hospital with no heartbeat after grooming. The lawsuit is pending, and PetSmart has denied any wrongdoing. But the lawsuit contends:
"The number of incidents since 2009 where pets have sustained serious injury or death while in the care of PetSmart groomers is alarming."
A Facebook page, Justice for Scruffles, documents other dogs that allegedly died during or shortly after a PetSmart Grooming.  While the investigation listed 47 dogs that died, that number is not definitive as there is little to no accounting of grooming fatalities.
Related: The Best Dog Shampoos You Can Make Right at Home
PetSmart Groomers
After PetSmart was acquired by the private-equity firm BC Partners in 2015, some employees reported that the grooming environment changed. Marti Fernandez, a salon manager in two New Jersey PetSmart locations from 2006 to 2016, and a groomer for over 40 years, told the publication that she loved the work until it became "more like an assembly line at McDonald's."
It was reported that the new owners of PetSmart demanded that groomers finish six to eight dogs in eight hours, in addition to walk-ins, phone calls, paperwork and customer service. "There's always pressure to do more dogs," Fernandez said. She decided to quit a job she had previously loved.
The company issues monthly "Associate Performance Reports" that track the number of dogs seen by each groomer. The top groomer averaged 5.7 dogs a day.
According to PetSmart, groomers go through intensive training of an 800-hour grooming and bathing program. After the program, they return to the store for supervised experience, grooming 200 dogs over a 16-week period. They are then supervised for another six months before being certified. The company states its employees groom millions of dogs a year.
But former employers says this training falls short. Katelyn Douglas, who worked in a North Carolina store, told investigators that PetSmart managers pushed people through the academy as rapidly as possible regardless of their skills or ability.
"On the first day at academy, there was a dog for me," Douglas is quoted on NJ.com. "They gave me clippers and shears and kind of just said, 'Go for it.' I was like, 'Oh, I've never held these before.' … They said, 'Well, just don't hurt the dogs.'"
PetSmart did fire one of its groomers after a video went viral in February 2018. The video showed a Shi Tzu named Boo being handled roughly during a grooming. A customer recorded the video when she spied the abuse through a window into the grooming station and waited around for the owner to show her the video. Boo's owner, Brooke Vowers, posted the video on Facebook.
PetSmart responded: "This treatment is completely unacceptable and will not be tolerated. The associate is no longer with PetSmart."
PetSmart Responds
PetSmart released a statement in response to the article on NJ.com, claiming that the deaths were a result of dogs that were "advanced in age, overweight or are suspected to have suffered from pre-existing medical conditions." They also put the blame on "a pet parent who has repeatedly hidden veterinary records and necropsy reports from PetSmart and the public, but we expect the truth will be revealed through the ongoing litigation process." and call some of the reports "fabricated." It also states it does not have records of some of the complaints mentioned in the investigation.
Lyndon Goldsmith, a Central Jersey veterinarian, wants people to understand that despite the large volume of groomings done at any store, whether a chain or individual locations, dog deaths should not be considered an inevitable consequence.
He compared it to going to the barbershop and having your throat slit accidently during a shave. "No one would say, 'You know, well, I do 10,000 shaves a year, three (deaths) is a small fraction.' No one would say that. It's pretty much the same thing."
Two bills have been introduced in the New Jersey Legislature in 2014 to assign licensing and oversight to the State Board of Veterinary Medical Examiners. These bills were reintroduced several times, but they have all been ignored. There have been bills introduced in other states including New York, Rhode Island, California, and Massachusetts. To date, not one of these bills has passed.
Related: 10 Money-Saving Tips for Dog Owners