Designed to promote the human-animal bond, Dogs Scouts of America is changing the ways animals and their owners interact.
Similar to Boy Scouts and Girl Scouts, Dog Scouts uses its well-trained and well-mannered dogs to help out in the community by fundraising, doing therapy work and serving as good examples of responsible pet parenting. By teaching people to understand their dogs and how they think, Dog Scouts gives them the tools they need to educate their pups to become model citizens.
Many of the dog parents and pups are in a Dog Scouts troop, as this provides a fun and educational opportunity to meet like-minded people.  Any member of DSA can join, and once a member, owners and pups can participate in activities, meet-ups, fundraisers, and more.  The best part? Working on badges together can be much more effective when working as a team. These merit badges are an integral part of the program. "We now have around 80 badges that can be earned by a person and a dog," founder Lonnie Olson tells This Dog's Life. "Each badge has a component that the parent has to teach and the dog has to perform."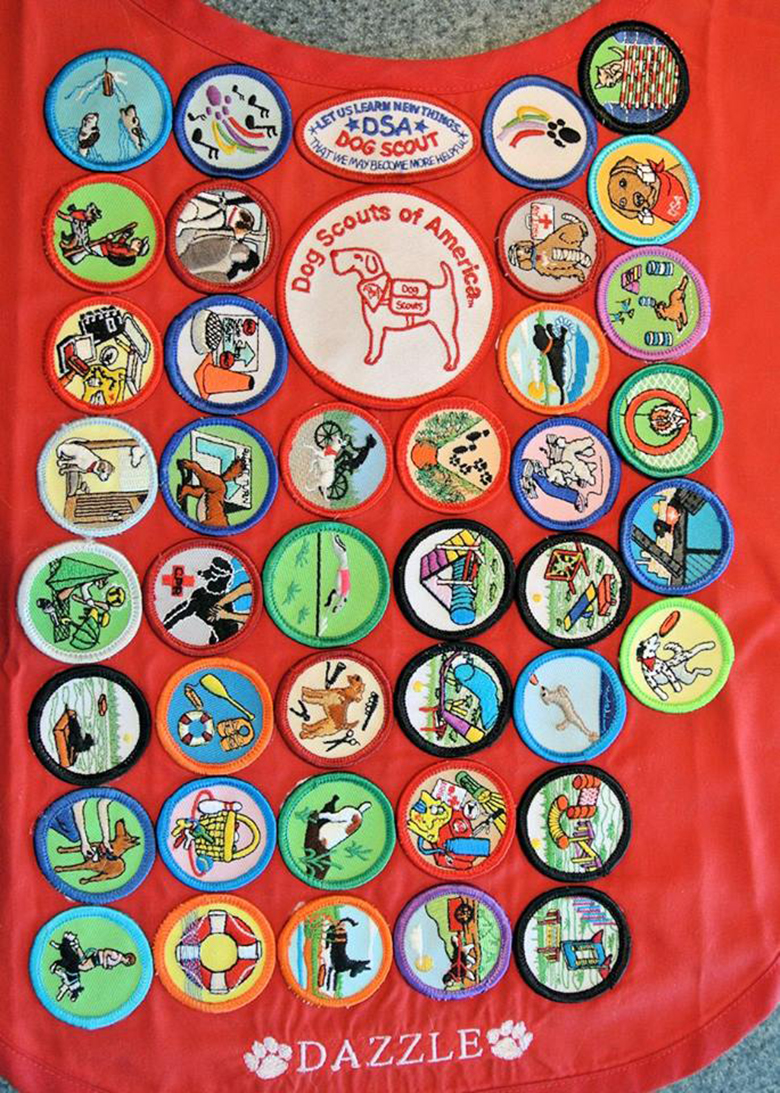 For instance, the organization has a First Aid badge that requires an owner to take their dog's temperature, check their heart rate, respiratory system and capillary refill time. During the various procedures, the dog must remain calm.
After the Dog Scout certification, all Scouts are encouraged to earn the "Art of Shaping" badge. "This one came about because I wanted a way to convince people (without preaching or nagging) to adopt a behavior-based training system and abandon the old punishment-based structure," Olson explains. "My [own] dogs are now search-and-rescue K9s who work with law enforcement to find lost persons. We might never have been led in that direction if we hadn't received badges in scent work, tracking, substance detection, and area search at Dog Scout Camp," she says, adding that their newest badge is for stand-up paddle boarding.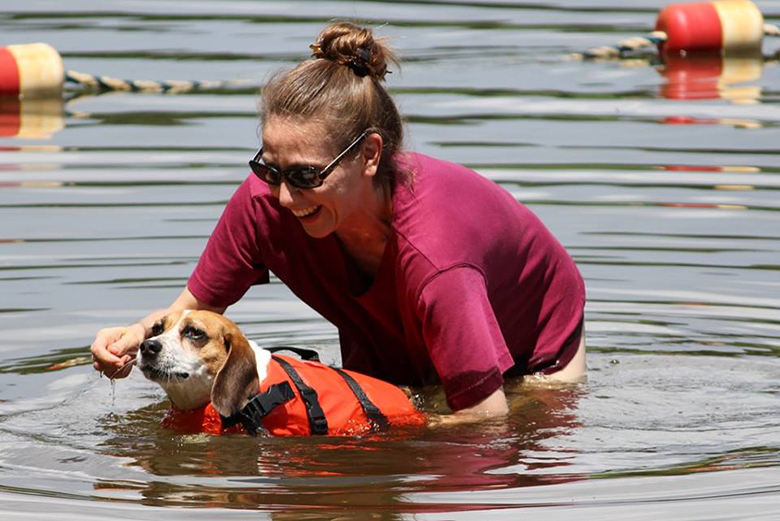 Because badges are a huge part of this innovative organization, earning them takes a lot of work. When written guidelines [for a badge] go up on the website, the organization encourages pet parents to use a check-off sheet that will help them and their pet reach their final goal. Once training is completed and the dog is comfortable doing the activity, the person will fill out a badge form and have a scout evaluator check them out for the badge. And if you're not a part of a troop, don't fret. Many participants receive their badge by simply sending in a video of their pup fulfilling the requirements.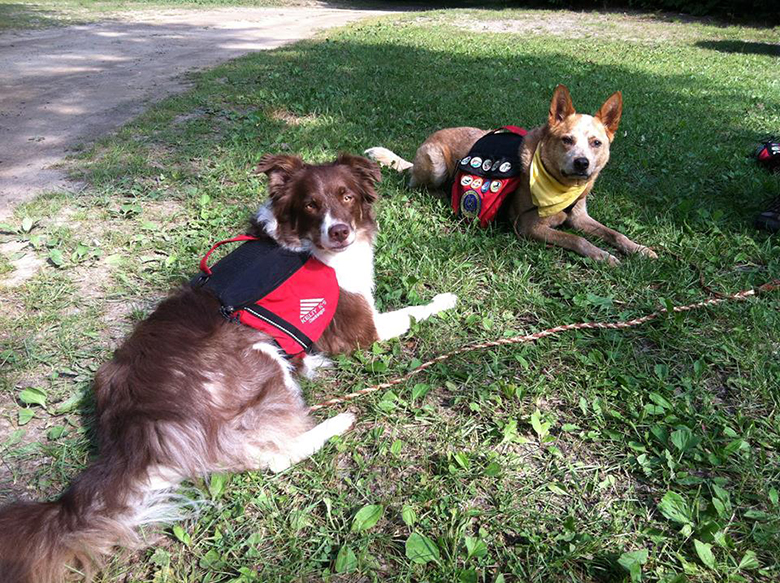 Badges are not only fun for pups, but kids (especially Boy and Girl Scouts) love them, too. "We take a lot of pictures with them [Boy and Girl Scouts] whenever we can," Olson says. "Kids like to look at all of the patches on our dogs' vests and guess what each one is for — most kids do pretty well since the graphics on the badges make it pretty obvious."
With no-punishment, reward-based training, everything the dog does, he wants to do, which brings us to the Dog Scout Laws, a set of principles dog parents must uphold. These laws ensure the dog and handler are respected members of the community and behave accordingly.  Below is a condensed version: (You can see the complete laws here)
My dog must be safe with people and other dogs.
My dog must be well mannered, so that he or she will be accepted in public places.
My dog must not be allowed to eliminate in an unseemly manner.
I must obey leash laws and other rules when accompanying my dog to a park, business or other place where dogs are allowed.
My dog should be helpful whenever he or she can be and I will utilize my dog's skills to allow the dog to assist with certain tasks and become more helpful.
My dog must never be tied up and left unattended. I will teach my dog that a crate is a safe place.
I will always show kindness and caring toward my dog, so that others can observe the joys of responsible and loving dog parenting and appreciate the bond between my well-behaved dog and myself.
I will provide basic care for my dog. My dog will always wear some form of identification. 
I will travel safely with my dog contained in a crate that is attached to the vehicle or in an accident rated seatbelt designed for dogs.
I will strive to live by the Dog Scout Parent's motto: "Our dog's lives are much shorter than our own, let's help them enjoy their time with us as much as we can."  I will help my dog uphold the Dog Scout motto: "Let us learn all that we can, so that we may become more helpful."
In addition to the Dog Scouts Camp program, Olson's team also offers an online training academy devoted to helping pups with behavior problems. It's not only free, but it's available on the site 24/7 for anyone to take advantage of.
"So many dogs are 'thrown away' simply because their owners just don't understand normal behavior and what motivates a dog to do certain things," Olson explains.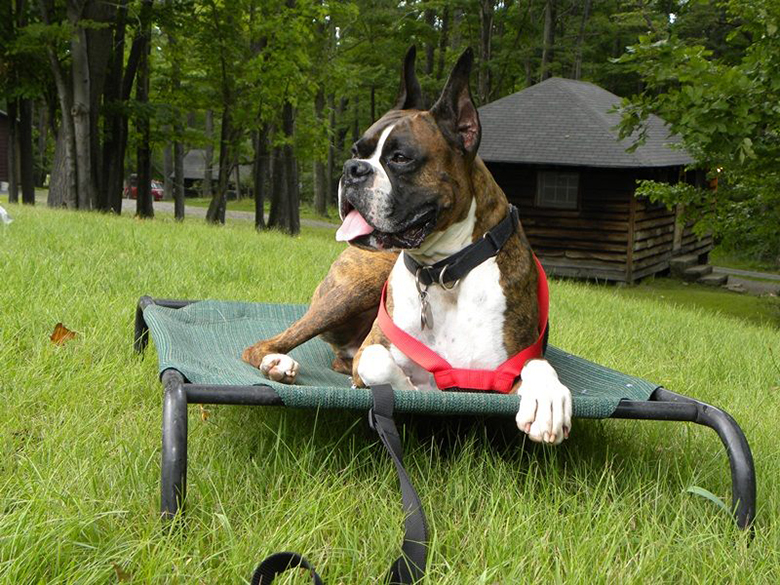 With new, exciting projects on the horizon ("I've just been approached by a toy company that wants to market a line with the Dog Scouts brand," Olson tells us), Dog Scouts is not only rewarding for pups and their owners, but for Olson, too. "Seeing the look of utter joy on the faces of our scouts is amazing," she tells us. "They may not know what's in store, but they do know that it will be taught to them with love by a parent who will keep it safe and fun."
Check out the Dog Scouts site to learn more and/or join others in a troop experience you (and your pup!) will never forget.
Images  via Facebook