After an awful beginning in life, things are starting to look up for a dog named Sweet Pea.
The pit bull mix was found by Animal Control in a dumpster in Camden City, N.J., along with another decomposing dog and a dead cat. Left for dead, Sweet Pea had injuries on her, similar to those inflicted to bait dogs — the dogs that are trained with "lead" fighting dogs. These dogs are unable to fight back, as their teeth are usually ground down or their mouths duct taped shut. They also are tied to trees or put into a pit, so they can't run away.
One of Sweet Pea's ears is completely ripped off (leaving a small hole in her head and her deaf in that ear) and the other is so closely cropped, which is done by dog fighters to ensure ears don't get torn. Plus, all her wounds are frontal.
Related: See How a Little 'Flower Power' Magic Is Helping This Former Fighting Dog Find His Forever Home
Sweet Pea was brought to the shelter by Animal Control, a protocol that is required by law. She was expected to be euthanized after the required seven-day hold but NJ Aid for Animals stepped in and rescued her.
Upon saving her, the organization needed to address her health concerns, spending $3,000 to rehabilitate the dog. Part of the recovery included dressing her wounds every day, as she had no skin to stitch up. "She was never put out to do so but rather allowed the vet to touch her wounds and dress her," Kathy McGuire, president and founder of NJ Aid for Animals, told us.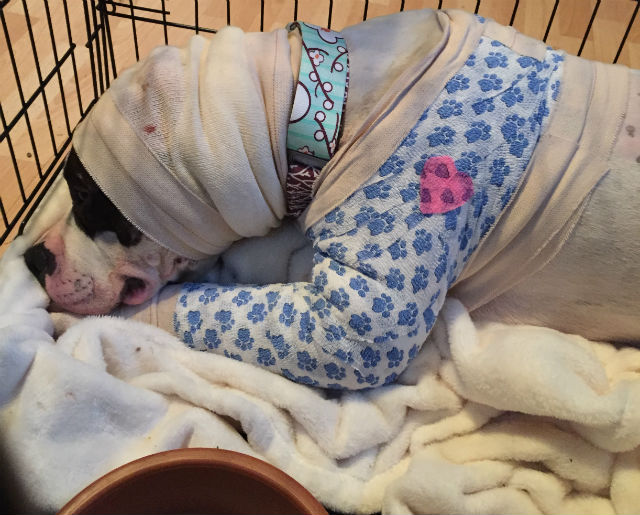 She is now enrolled in the New Leash on Life program, a dog-training program for prisoners. She will spend the next 12 weeks with an inmate trainer to help her prepare to receiver her Canine Good Citizen certification, a process that involves a 10-step exam that tests a dog's obedience and manners. She will then be ready for adoption.
In terms of the perfect home, Sweet Pea would do great in an only-dog household. She can hang with dogs her size but isn't good with cats (and smaller dogs may look like cats to her). She loves children and would do best in a home where the kids are over 12 years old (as the young ones may sneak up on her and scare her). And she needs someone active! She enjoys walking, jogging, car rides, sleeping and loves to swim!
"She is curious about everything, loves every single person she meets, including small children." Kathy McGuire, president and founder of NJ Aid for Animals told us. "Sweet Pea is loved by all and adored by many. Her story of survival shows her spirit"
Related: Fashion Helps This Former Bait Dog Show Her True Colors