As the old adage goes, looks can be deceiving.
A post on Facebook has been making the rounds with a disheartening message and photo:
"This poor dog was badly burned and disfigured trying to save his family from a house fire,"Stephen Roseman wrote on Dec. 23. The Facebook user uploaded an image of what some believe looks like a disfigured dog, along with the request: "One like = one prayer, One share = ten prayers."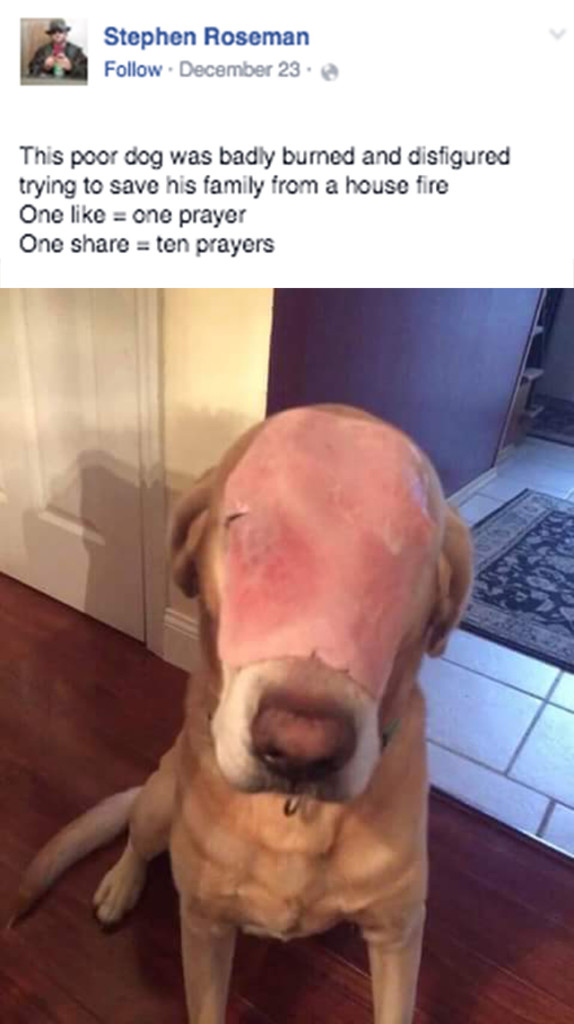 Thousands shared and liked the image, with many people replying with prayers, get well messages and requests to help the dog. These people were duped.
While at first (quick) glance, it may look appear this dog was indeed a burn victim, upon further examination of the picture, most realized it was just a pup with ham on his face.
Related: Gotcha: Boy Scares Living Daylights Out of Mom With Fake Dog
Yes, a picture of a dog with ham on his face has more than 59,000 likes and 114,000 shares.
Obviously, Roseman was trolling the social-media network and finally replied in the comment section admitting it was fake:
People, people this isn't even my dog, I found this picture on fascistbook, stole it, and decided to use it in a prank to fool these religitards

So I did, and low and behold idiots left and right fall for it, and those that didn't, seem to think they have a superior intelligence or something, for pointing out the obvious

Keep in mind, I never told a single soul to like this, that is their choice, I don't give a f*ck either way.
After the jig was up, many expressed their disgust with Roseman, while others tried to take advantage of the hoopla (a user set up a GoFundMe page for the "burned dog" but fortunately has not received any donations).
Related: This Dog Can't Catch a Break (Or Food)