Two pit bulls who were destined for life in a shelter, or worse euthanasia, were given a second chance in life, thanks to a sheriff's department.
Named Phantom and Sarah, the two pit bulls were rescued from shelters by organizations Animal Farm Foundation in New York and Universal K9 in Texas to train as police dogs.
"The two foundations have taken on the mission to show that Departments do not need to spend $15-$20,000 for a pure breed German Shepard or Belgian Malinois to search and find illegal drugs, at the same time giving dogs destined for a life in a shelter or euthanasia a second chance at life serving Law Enforcement Officers and Departments around the country," was posted on the Facebook page of Clay County Sheriff's Office, the department that welcomed Sarah and Phantom.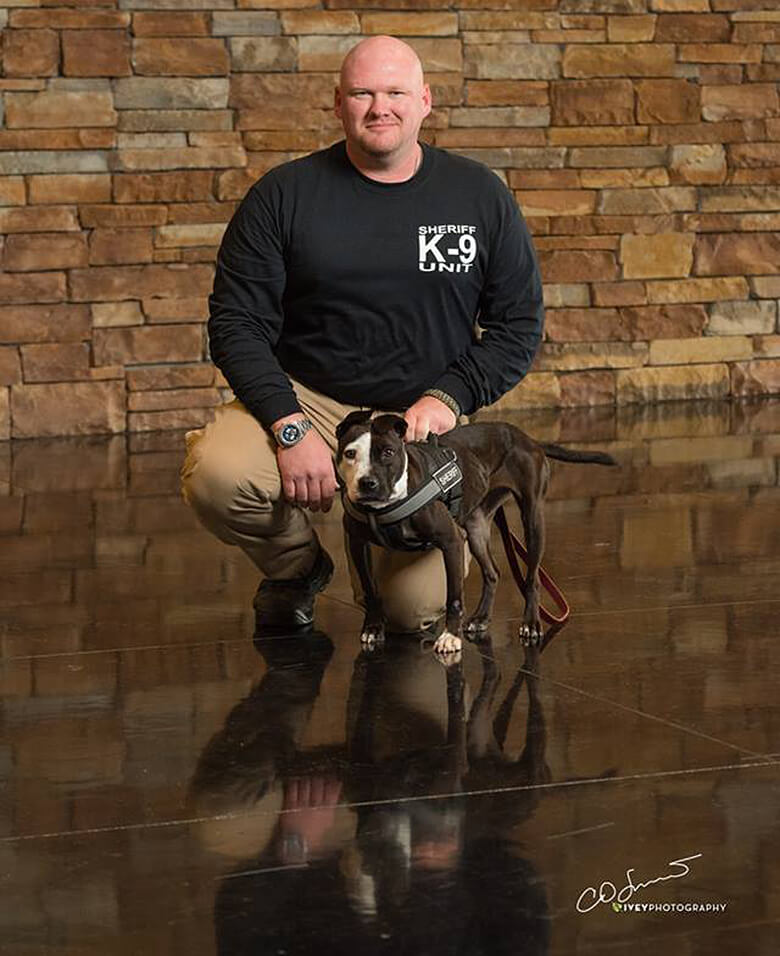 Related: Pit Bull to Join New York Police Force's K9 Unit
The dogs, now known as K-9 Phantom and K-9 Sarah, along with their handlers, Deputy Chris Harper and Investigator Heath Woodard, went through extensive training, "searching buildings, cars, packages, big rigs, and even airplanes," looking for marijuana, heroin, cocaine, methamphetamine and ecstasy.
"Both Phantom and Sarah are only single purpose dogs, meaning they are only trained in narcotics detection. They are not and never will be trained in criminal apprehension or bite work," Clay County Sheriff's Office wrote. "No Pit bull/Pit bull mixes granted by Animal Farm Foundation and Universal K9 will ever be trained in bite work or criminal apprehension. They want to show the country and the world the loving and caring nature that most of us have experienced with our Pit bull's and show that the pound puppies have what it takes to go up against and sometimes exceed their expensive pure breed cousins."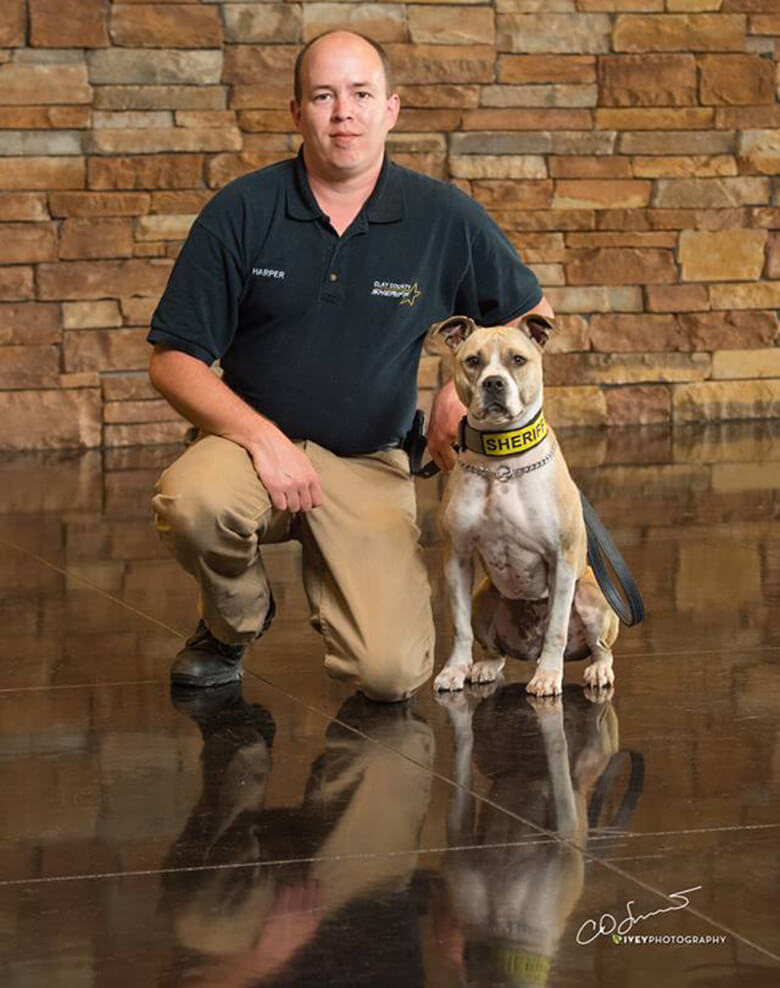 The Clay County Sheriff's Office added that through this program and taking in shelter dogs, rather than expensive German shepherds, it saves taxpayers a lot of money. K-9 Phantom and K-9 Sarah were free, along with the training. The collars, leashes, food, crate and other dog expenses were paid for by drug seizure money. The only cost incurred was the fuel for the vehicle needed for the two deputies to attend the training.
Related: First Pit Bull to Join New York Police Force Gets Special Honor Today
"So instead of paying $30-$40,000 dollars that would have been typical with most departments the Sheriff's Office spent a fraction of that."
And the department couldn't be happier with the two dogs. "Pit bull's get a bad rap in the media, they aren't all bad dogs and can do great things for the communities they serve."
Investigator Woodard added to the above sentiment, telling This Dog's Life, "I would like the public to know it would be that these pit bulls are loving, obedient, hardworking, and simply want to please their handler," he says. "We are very proud of our fine K9 partners and look forward to many years working with them."
Related: K-9 Dog Gets to Take a Break From Work to Enjoy a Starbuck's 'Puppuccino'