Looking to make its fifth birthday memorable, animal rescue Rock & Rawhide is putting on quite the celebration.
Occurring on April 28, the "Black, White & Red Gala" will be held at the iHeartRadio Theater in New York City's Tribeca neighborhood.
Related: Best Friends Animal Society Unveils Its No-Kill Shelter in New York City
Kicking off at 7 pm, there will be a step and repeat, where guests can pose with friends and adoptable animals, while getting their pictures snapped. Once inside, there will be an open bar, passed hors d'oeuvres from famed Cookshop and cupcakes.
While noshing on appetizers and sipping on a cocktail, people can enjoy some fun and games, including a balloon-popping wall, prize wheel and a photo booth.
Related: The 10 Best Dog Groomers in Manhattan for 2017
There will also be an auction, with a number of really big prizes including a trip to Antigua, a night at the Essex House in New York City, jewelry and gift baskets. And for those who want to break out their dance moves, there will a number of bands and artists.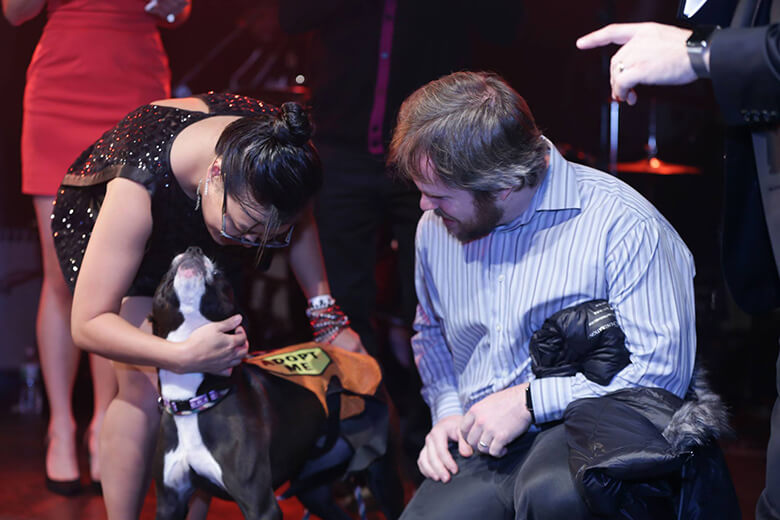 All proceeds from the event will go towards Rock & Rawhide.
"No matter what we do, no matter where we deliver goodies, the biggest thing for us are the tails waggles and licks we get from the animals," says Kylie Edmond, the co-founder of Rock & Rawhide. "Big parties, adoption events, big donation drives…it all comes down to the animals."
The birthday party is from 7 pm to 9 pm. Tickets can be purchased here.
Related: Stricter New York Pet Store Law Is Upheld, After Appeal Rejected by Court