Puerto Rico isn't in the best shape right now. The economy has been in a recession since 2006, and its debt crisis just got worse, causing unemployment to rise, along with the number of residents fleeing the island. During this turmoil, it isn't just the people suffering; the stray dog population feels it too.
Because of the rise in poverty and citizens rebuffing spay/neutering initiatives, the number of dogs without a home is increasing. As CNN reported, what was once called Dead Dog Beach is now called Dead Dog Island. For those animals that are taken into a shelter, the euthanasia rate hovers around 99 percent, as these establishments are don't have the resources to take on this issue.
Related: Stray Dog Covered in Lice and Mats Is Completely Unrecognizable After Major Transformation
Animal-welfare organizations from outside the island are trying their hardest to save as many dogs as they can, but it isn't cheap. According to one of these nonprofits, The Sato Project, a New York City-based organization with a mission to help satos, or stray dogs, get off the island and into a loving home, the cost per dog is $1,000.
Related: Puerto Rico's 'Dead Dog Beach' Is Becoming 'Dead Dog Island'
The organization is holding a fundraiser to help bring more of these dogs home. It is occurring this Sunday at Brooklyn's Sociale from 3 to 6 pm. The benefit will be an intimate setting, where people can mingle with like-minded individuals, while also getting a chance to talk to Chrissy Beckles, the founder of The Sato Project. The ticket price is $250 and will include delicious vegan hor d'oeuvres and cocktails, including a rumored Sato Strong concoction. The nonprofit isn't doing any goodie bags or auctions, as they want all the money to go towards the dogs, and its programs to support the animals.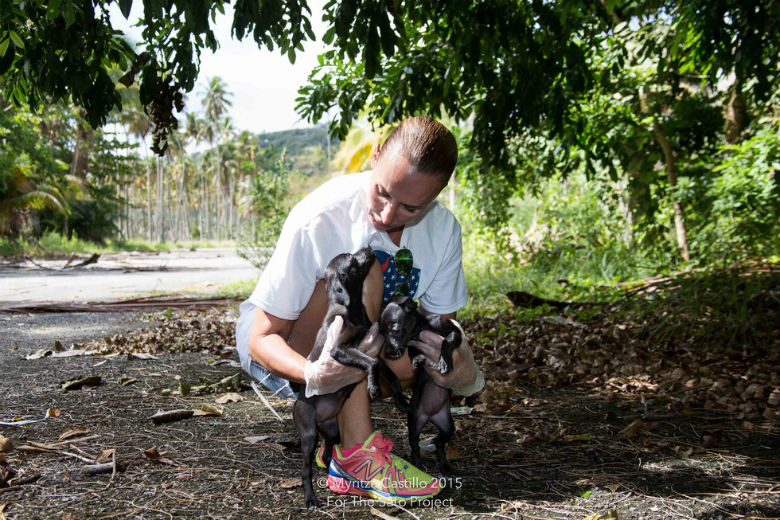 While the road to help these animals remains long, The Sato Project has made progress, including a low-cost spay/neuter program and an innovative trap/neuter return (TNR) initiative. For TNR, dogs receive a complete veterinary checkup (blood work, antibiotics, vaccinations, heartworm, preventative care, you name it) and then are released back into the community, where they are overseen and monitored by members. Plus, each dog will wear a special collar created by the amazing company Found My Animal, so they can be identified and residents know they are free of any diseases.
"Our hope for these dogs is that become treasured members of their community – cared for by the local people," says Beckles. "The collars they wear will become a 'badge' of honor."
The Sato Project hopes to have 900 dogs involved in these programs for 2016.
To purchase tickets to the event, head over to the event site. The address for Sociale is 72 Henry Street
Brooklyn, 11201. If you can't make but would still like to donate, you can contribute on The Sato Project website.
Related: Boxing Event: Women Are Putting Up a Fight to Save Dogs
Main image is of The Sato Project's veterinarian Dr Bianca Aguirre Hernandez. Photo credit: Myritza Castillo.