Puerto Rico's economy continues to be in dire straits. It is under immense debt — hovering around $70 billion as of July. The Zika virus is scaring away tourists. The poverty rate is at 45 percent, with locals continuing to flee to the U.S.
And the dogs continue to suffer. With no money to care for pups and many residents being Catholic — meaning they aren't fond of birth control — the stray dog population has ballooned in recent times, with many dumped at Dead Dog Beach to fend for themselves.
Related: Puerto Rico's 'Dead Dog Beach' Is Becoming 'Dead Dog Island'
Fortunately, the animals have The Sato Project, a nonprofit started in 2011 to help abused and abandoned dogs in Puerto Rico. To celebrate its five-year anniversary, the organization is having an inaugural gala on Nov. 10.
Held at Cielo in Manhattan, the benefit looks to celebrate The Sato Project's accomplishments while expressing gratitude to everyone who has helped the organization and introducing new folks to the organization.
"We are encouraging our friends and supporters to bring people within their networks who would like to get more involved with our work," founder and president Chrissy Beckles told This Dog's Life. "There are going to be a lot of new faces there, and I'm very excited to meet all of our guests and tell them about The Sato Project."
In 2016, the organization had a number of huge milestones, one being its community wellness program focused on spaying/neutering, vaccinations and microchipping. They are accomplishing this through three different approaches: mobile clinic to offer treatment to dogs, providing vouchers to residents so they bring their dog to get treated at a local vet and a trap/neuter/release initiative.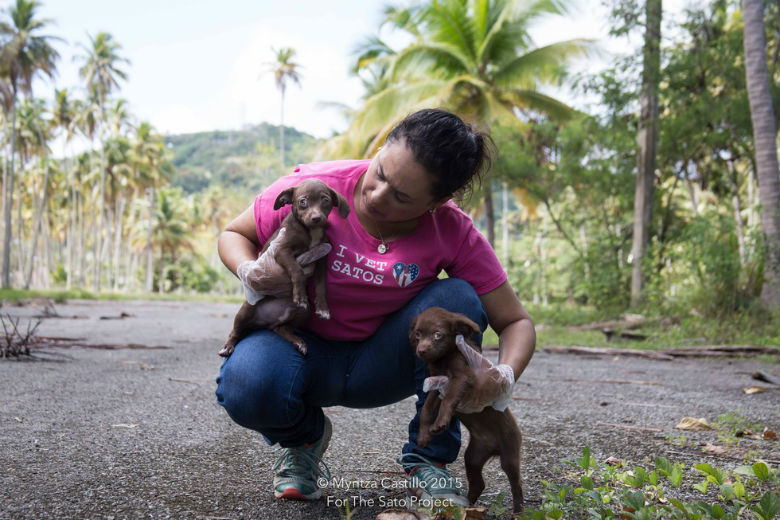 "The first part of this program targets dogs that are part of 'feeding routes' or have 'community' care givers," Beckles tells us about the trap/neuter/release program.  These dogs are brought into the vet clinic, where they receive a physical examination, testing, vaccinations, are spayed or neutered and given heartworm. The dogs are also provided an ear tattoo for records. "Some of these dogs have been candidates to come into our program for adoption and have successfully completed our vetting protocol and been adopted," Beckles adds.
Related: Paralyzed Beach Dog Found in Thailand Makes a Remarkable Recovery
The Sato Project also had its biggest transport this past August, with 34 dogs flying on one airplane to New Jersey. Plus, the organization was the recipient of proceeds of Marc Jacob's book with his dog Neville, called Neville Jacobs – I'm Marc's Dog.
Lastly, after Beckles' dog, Boom Boom, passed away this year unexpectedly, she decided to honor her by helping out other dogs in Puerto Rico.
"I seriously considered walking away from The Sato Project as my heart was broken, and I was finding it very difficult to help rescue other dogs when my own could not be saved," Beckles tells us. "My husband came up with the idea of the Boom Boom Beckles fund, and we raised funds in her memory by going to the shelter where Boom Boom had been rescued from as a puppy, the Arecibo Shelter, and rescuing dogs in her honor."
To date, the fund has raised $52,000 and the organization has rescued 11 dogs, with plans to save more when they return in December.
Moving forward, The Sato Project plans to continue its wellness program and expand it to other areas of the island. They will also continue their rescue efforts on Dead Dog Beach but "due to our hard work and perseverance the number of dogs being dumped and abused has dropped dramatically," Beckles says.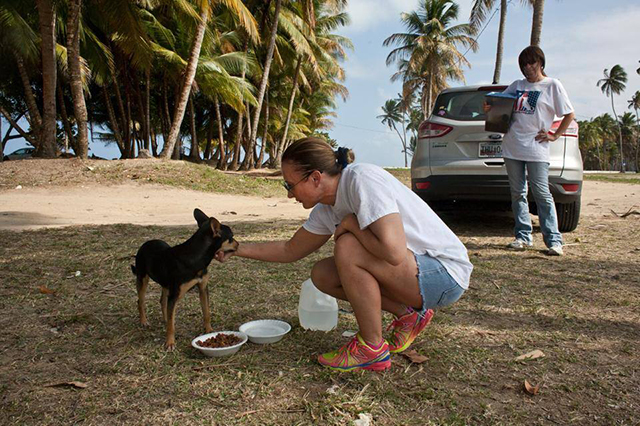 Lastly, a number of producers are interested in different projects focused on The Sato Project and the organization hopes they will air in 2017.
At the event, while mingling with other dog lovers, there will be passed hor d'oeuvres from Roquette Catering of Red Hook, Brooklyn. Monica Byrne, the company's creative director, said "We'll be featuring artisanal cheeses and cured meats, seasonal fruits and accompaniments and crostini and bruschetta with fresh market toppings, like roasted squash and sage, homemade ricotta and citrus, truffled wild mushrooms, pears and triple cream amongst other seasonal flavors."
There will also be a two-hour open bar, along with gifts from Moroccan Oil.
All proceeds from the gala will go towards continuing these initiatives and creating new ones.  Tickets are $150 for the event with the gala nearly sold out. It goes from 7-10 pm and the location is 18 Little West 12th Street, New York, NY. If interested in attending, please visit The Sato Project for more information.
Related: Woman Living in Garage to Save Dogs Gets Amazing Surprise