When Rachel McPherson founded The Good Dog Foundation in 1998, she had three therapy dogs. Fast forward to today, and she has nearly 1,000 certified therapy dogs helping out those in need. Everyone from cancer patients to people on the autism spectrum and those that were survivors as such tragedies as Hurricane Sandy, 9/11 and Sandy Hook have been touched by these magnificent dogs. But she couldn't have done it without her supporters, volunteers and team. And this past week, she wanted to thank all those that have been part of The Good Dog Foundation story, while also sharing the remarkable stories of its certified therapy dogs.
On Thursday, the organization held its annual "A Fetching Affair" gala — hosted by DJ Maria Milito of Q104.3 — to show its appreciation to everyone who has supported the life-changing work of The Good Dog Foundation's therapy dogs, while also raising money so the organization can continue implementing amazing initiatives.
To say the event was spectacular may be a slight understatement. Located at The Lighthouse at Chelsea Piers, guests, dressed to the nines (with many donning the night's colors of red and gold), mingled with other dog lovers.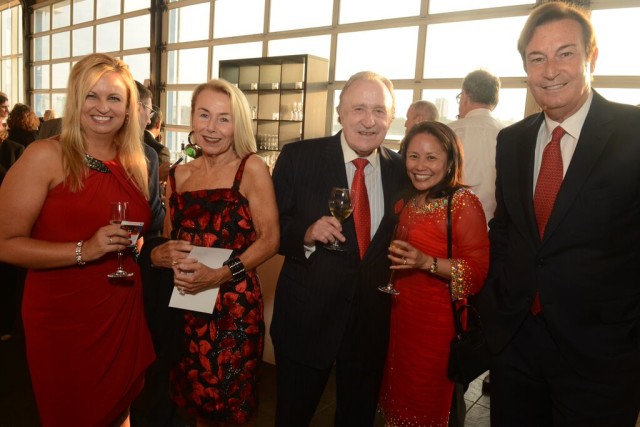 They enjoyed delicious appetizers like mac and cheese cupcakes with tomato chutney, turkey slides with corn relish and jack cheese and fish tacos filled with lime and cilantro mahi-mahi and avocado sauce, to name a few.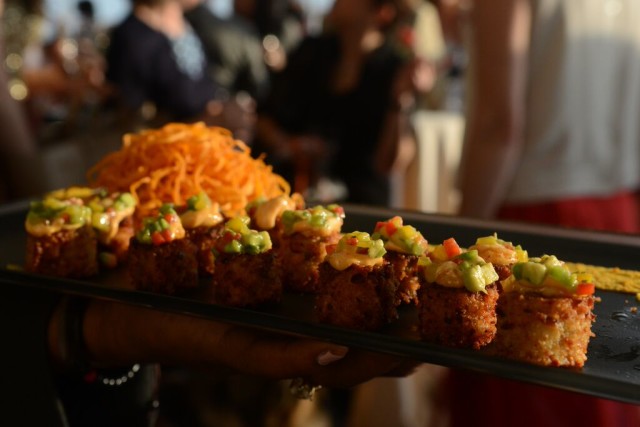 The event also had an open bar where guest could sip on wine, cocktails or beer.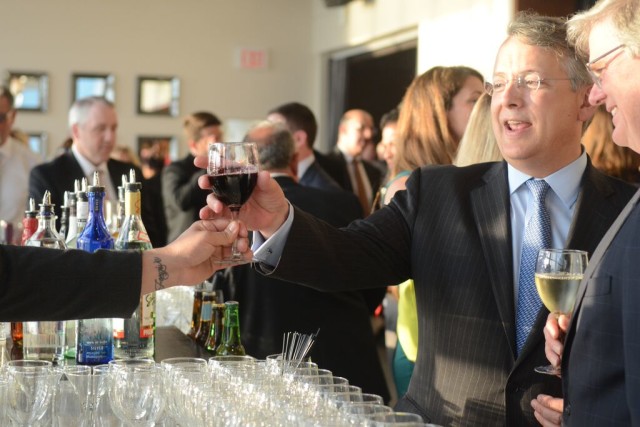 Don't' worry the dogs also got the VIP treatment at "A Fetching Affair." Unleashed by Petco, Hill's and Petco had a treat bar where guests could bring home a "doggy bag" full of goodies for their pup.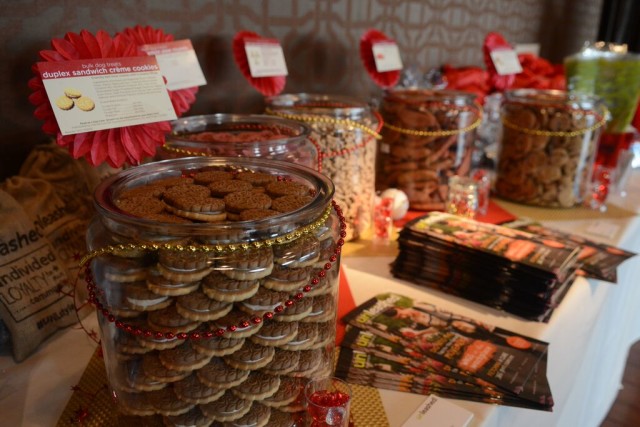 Pooches that attended the event had access to it along with drinking bowls.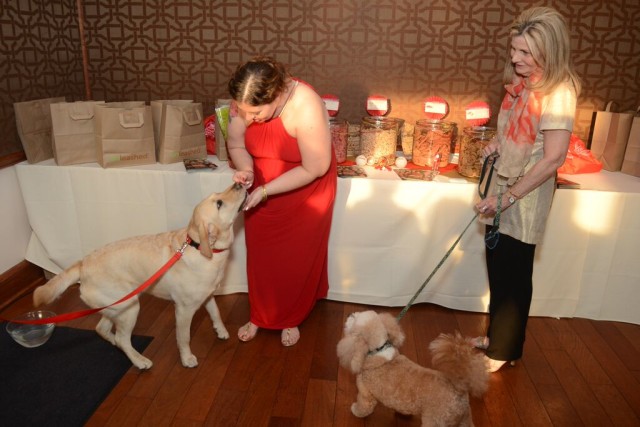 During the cocktail hour, guests also got the chance to bid on some pretty stellar prizes during The Good Dog Foundation's silent auction including everything from Cole Haan men's Bellaver smoking slippers to a dog-training consultation and dinner for two at Tao.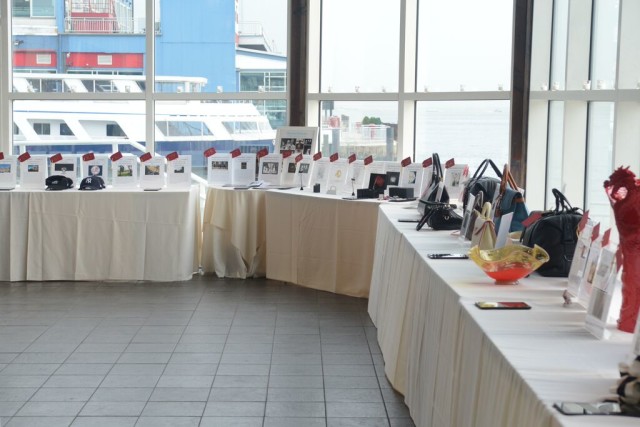 Then it was off to a three-course dinner of Tuscan caprese salad, farm-to-table chicken and chocolate berry noir.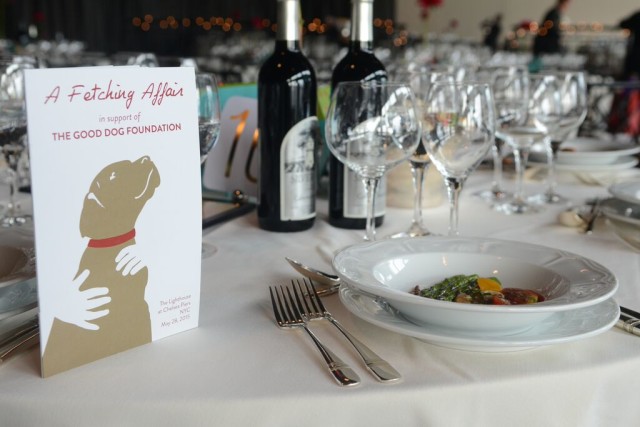 While everyone was enjoying their meal, McPherson took to the stage to thank her supporters while also highlighting some of the organization's achievements during the past year.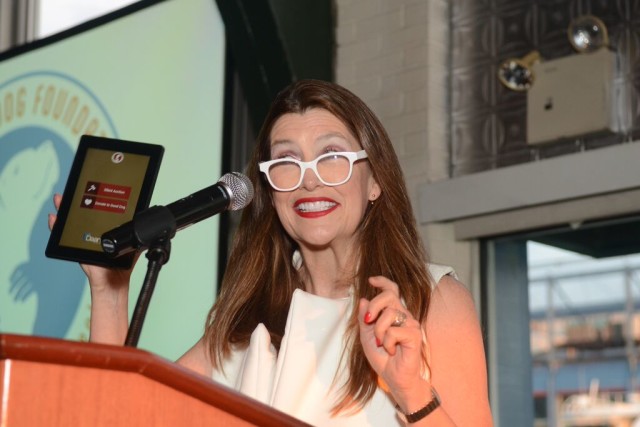 The Good Dog Foundation had a breakthrough moment when its dogs worked with Dr. Stewart Fleishman and Mt. Sinai Beth Israel for the first clinical trial proving the benefits of therapy dogs had on adult cancer patients. The study was published in the Journal of Community and Supportive Oncology. While it may seem obvious that dogs can help improve emotional well-being for those that are sick or going through traumatic events, data definitely helps and this was the first time it was ever documented. Dr. Stewart Fleishman was honored for his work.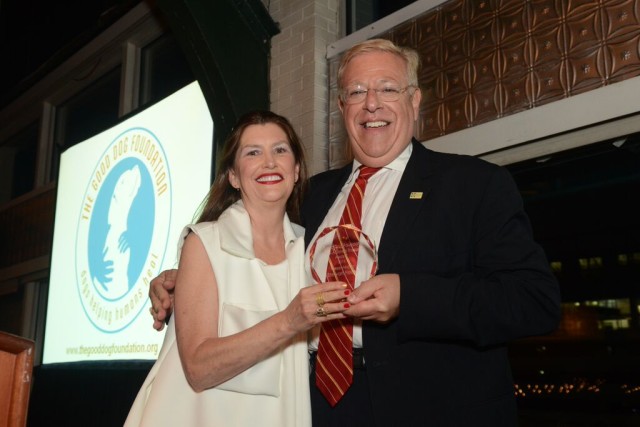 Another honoree was Bolo Guialdo, a boy on the autism spectrum. The Good Dog Foundation partnered up Guialdo with two of their dogs, a French bulldog named Polo and Lucky.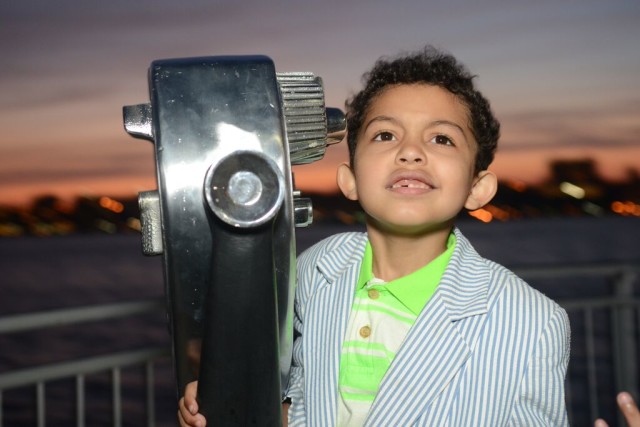 By having a pup by his side, Guialdo's behavior has dramatically changed. He is now more excited to read and his confidence has boosted. Here is a clip of the Guialdo and Polo.
To ensure The Good Dog Foundation continues to make strides, they also had a live auction where people got to bid on some amazing goods like a Barneys shopping experience, an Italian getaway and dinner for 12 in a private room at New York City's Market Table. Rebecca Starr was the auctioneer, and you basically didn't know you were even buying anything — she was that good.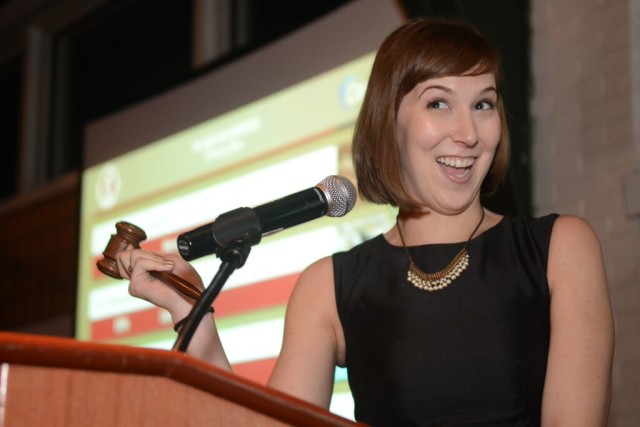 While the organization is still tallying up the funds raised, the event was definitely unforgettable.
"The night was magical, filled with love and respect for all, the people, volunteers, donors, and of course our canines!" says Gala chair Lily Li (the other chair is Randy Federgreen). "This year's gala surpassed all previous years because of the sponsors, quality of auction items and the theme of red and gold made the event super elegant and classy!"
Although the night was definitely a success, The Good Dog Foundation, like other nonprofits, can always use donations. If you interested, head over their page to find out more information on how you can help.