After three years battling a school over the right to have a service dog by their daughter's side, a family just received support from the Obama administration in the form of a lawsuit.
Devyn Pereira has Angelman Syndrome, a disorder, often misdiagnosed as autism or cerebral palsy, that causes both developmental disabilities and nerve damage. Because of this, the 7-year-old requires her service dog, a golden retriever named Hannah, at school to help her stay focused, detect when she is going to have a seizure and supports her when she walks. The school disagrees.
Related: People Rally to Help Little Boy Get Lifesaving Dog
The Gates Chili Central School District in Rochester,  N.Y. has required the family to fork over $25,000 a year to have a full-time handler accompany Devyn and her dog around her school. (The girl's current school aid isn't allowed to assist with the dog.)
For the last three years, the family has asked for the district's policy to be changed, but to no avail. So, the family is left footing a very expensive yearly bill to allow Hannah to be with Devyn.
This case has caused quite a lot of attention and now the Obama administration is involved.
Related: Dog and Cross-Country Runner Make Iowa History
On Tuesday, the Department of Justice filed a lawsuit against the school, claiming their actions are in violation of the Americans With Disabilities Act.
"Individuals with disabilities are entitled to choose the manner in which they manage their disabilities so that they may live their lives with independence and autonomy," Principal Deputy Assistant Attorney General Vanita Gupta, head of the Civil Rights Division, said in a press release.  "Honoring an individual's choice to be accompanied by her service animal in all aspects of community life, including at school, promotes the ADA's overarching goals of ensuring equal opportunity for, and full participation by, persons with disabilities."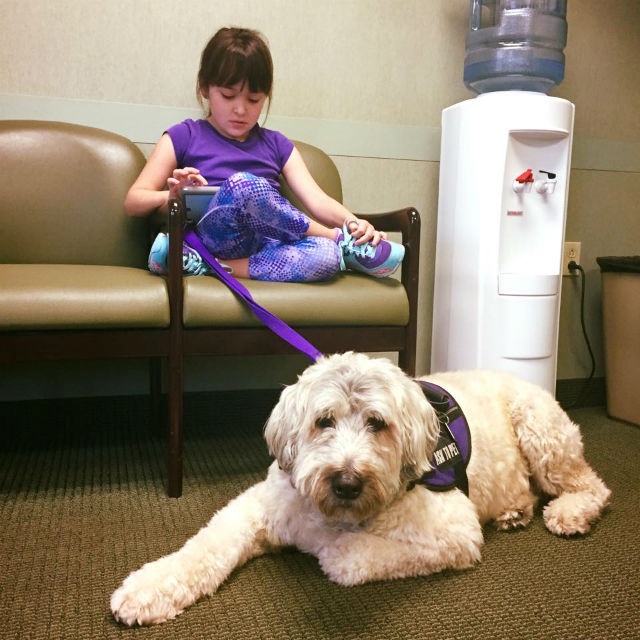 U.S. Attorney William J. Hochul Jr continued, "It is no longer acceptable – if ever it was – for a [school] district to refuse reasonable modifications to a child who seeks to handle her own service dog. This office will simply not tolerate any discrimination against any person of any age who may happen to be affected by disabilities."
If the DOJ wins, the district will be required to allow Devyn and her dog to attend the school, without the handler requirement. The district will also be required to pay back the Pereiras for the handler fees.
Related: Adored Community Dog That Acted as Hospital Greeter Is Found After 3 Weeks on the Run
H/T The Dodo