After being on the streets for about a month, a dog not only survived everyday life but also a huge natural disaster.
While Sarah Grant was preparing her yard for Hurricane Irma in Florida, she noticed a dog across the street.
She called the dog over – and cautiously, the pup walked over. She "even looked both ways before crossing the street. She's a smart cookie," says Grant, who goes by "Amiawifeorasword" on Imgur, the photo-sharing platform where she shared her story.
Related: 5 Heartwarming Stories of People Rescuing Dogs in the Aftermath of Hurricane Harvey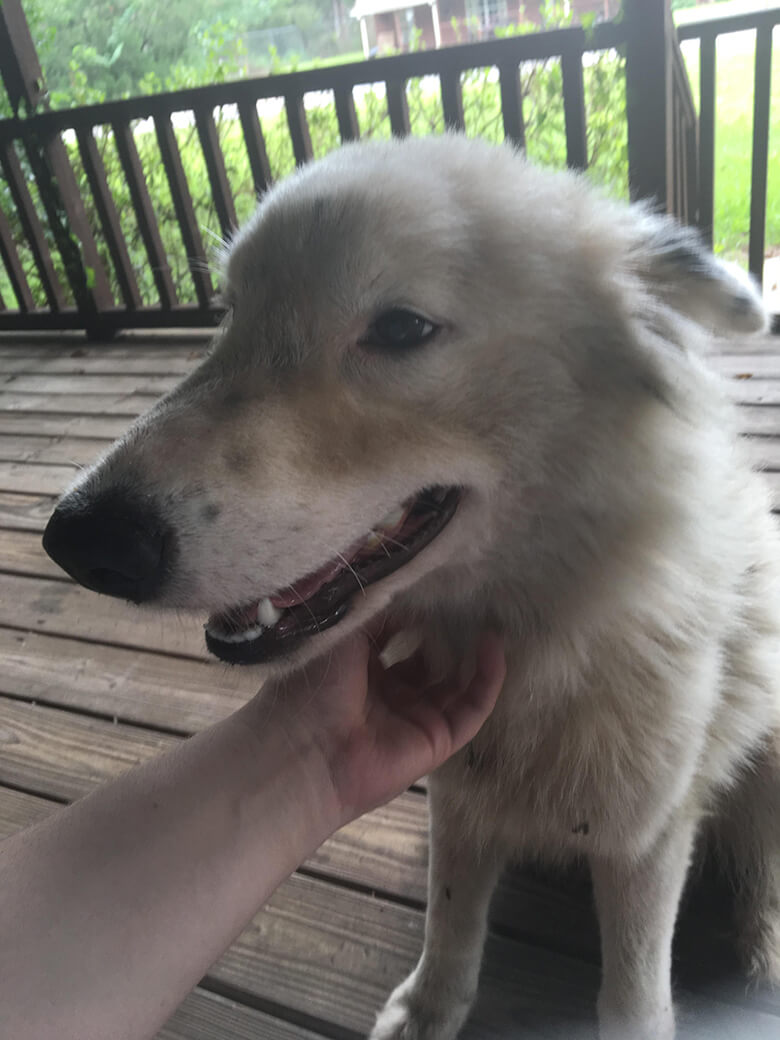 Upon further inspection, Grant noticed the dog was not in great shape. The pup was dirty, smelled and was matted with dirt or feces. She was also very underweight. Grant brought her some food out to her patio.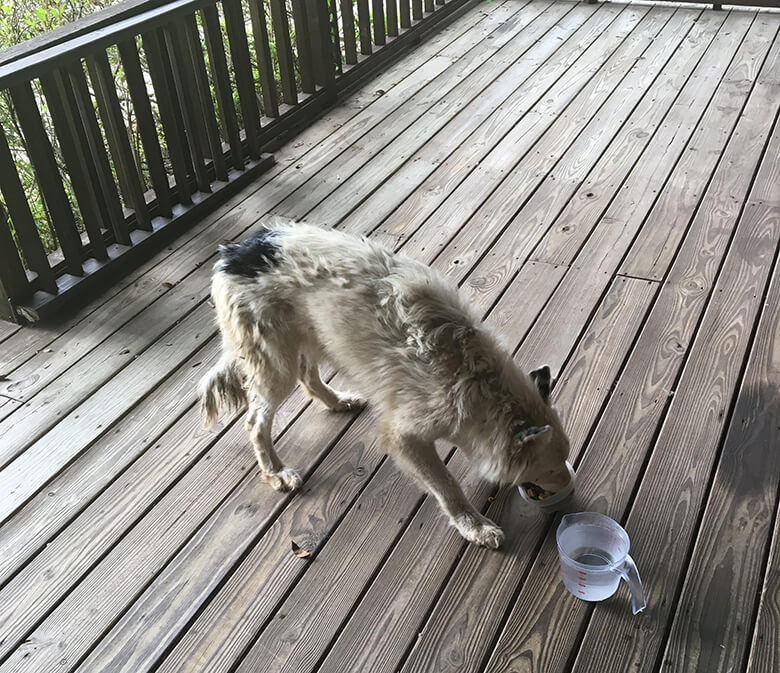 "She scarfed it down with such ferocity. She went through three bowls of food and two cups of water before taking a breath," she says. "And each time I went back in the house she waited patiently for me to come back out."
Afterwards, she got some love from her new friend. "She got pretty snuggly after being feed," Grant writes. "As far as even putting her paw on my arm and dragging it back to her chest whenever I paused for a moment."
Not wanting to say goodbye, or leave the dog outside, Grant held the door open for the pup to come inside. The dog hesitated but eventually went inside.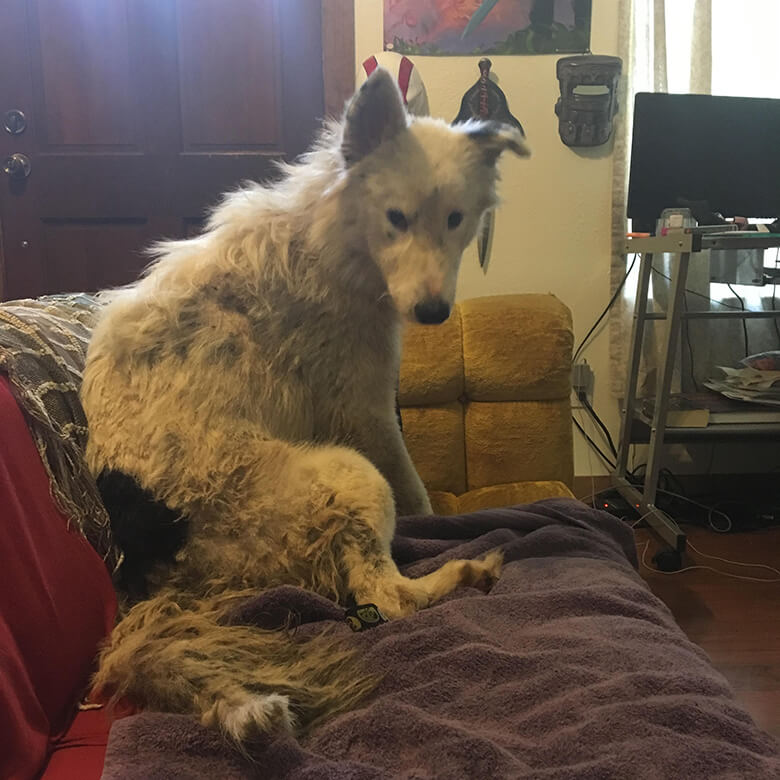 She then tried to clean up the dog. But the scared pup, wouldn't let her go near her matted ears and didn't like being touched on her side. But Grant was patient. She noticed tar on the dog and worked at removing it, while also cleaning up her paws, which were bloodied. She then tried to give the dog a bath.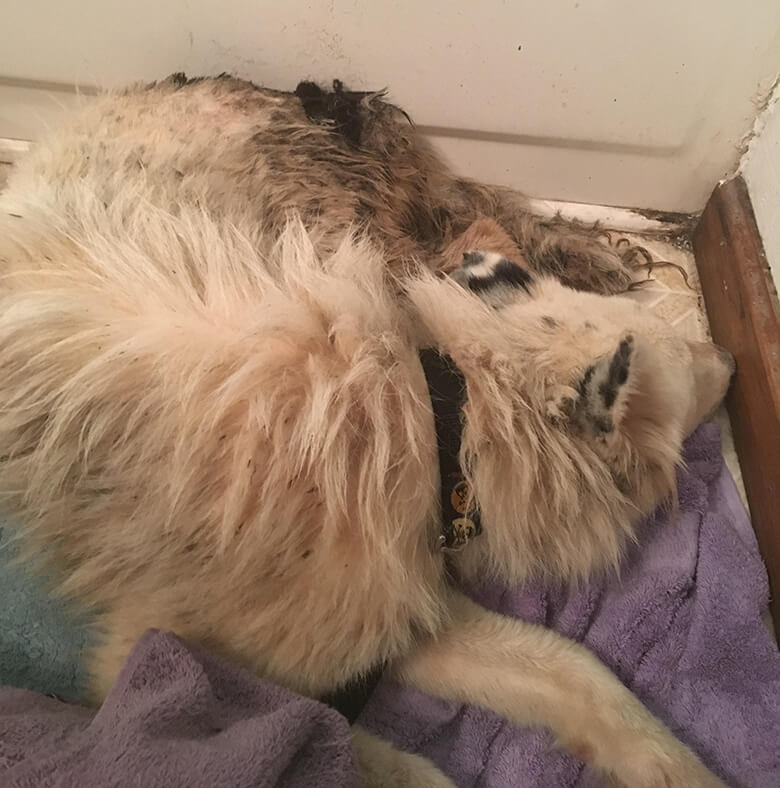 "It didn't go so well. She was a nervous wreck," Grant writes. "She trusted me enough to pick her up and put her in the tub but as soon as the water came on she barked and cried."
Related: Veteran and His Dog Saved From Massive Floods After Brother Finds Them on Twitter
Taking a rest, the dog went on the couch to relax next to Grant's dog, Arthur.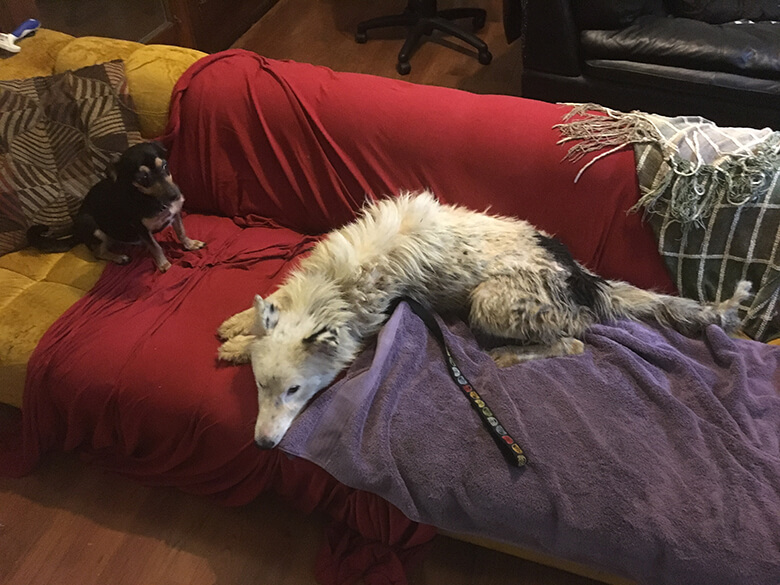 It was then time for the second attempt for a bath. This time Grant used a hair clippers, taking four hours to cut out all the matts. She then needed to shave the dog to get the tar out. She hated doing it, but there was no other way.
After the stressful ordeal, the stray ate some more food and then went outside.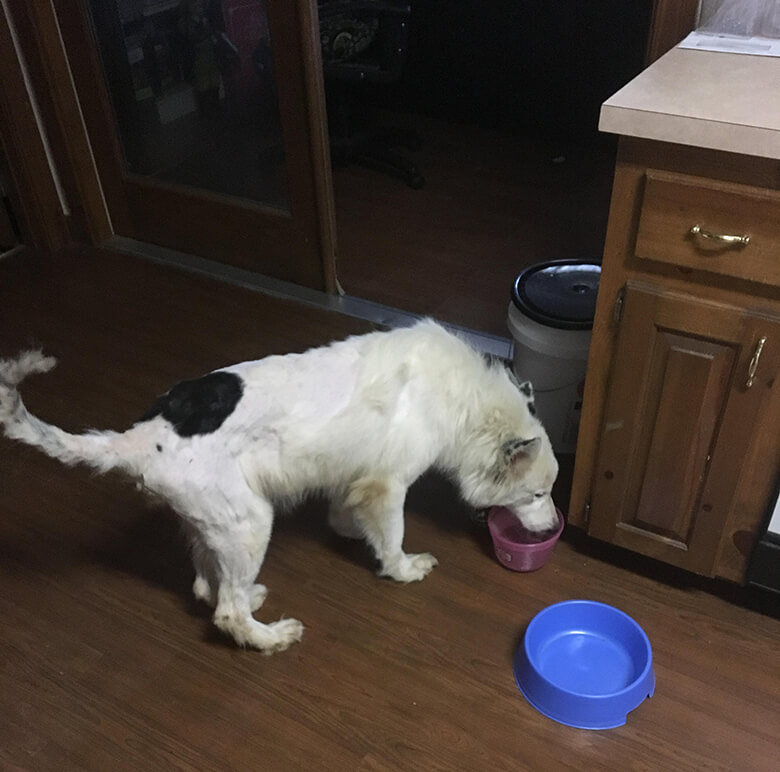 Grant writes, "First run through the backyard. She was so excited she took off and circled our shed before running back to me like she wanted to make sure I was still there."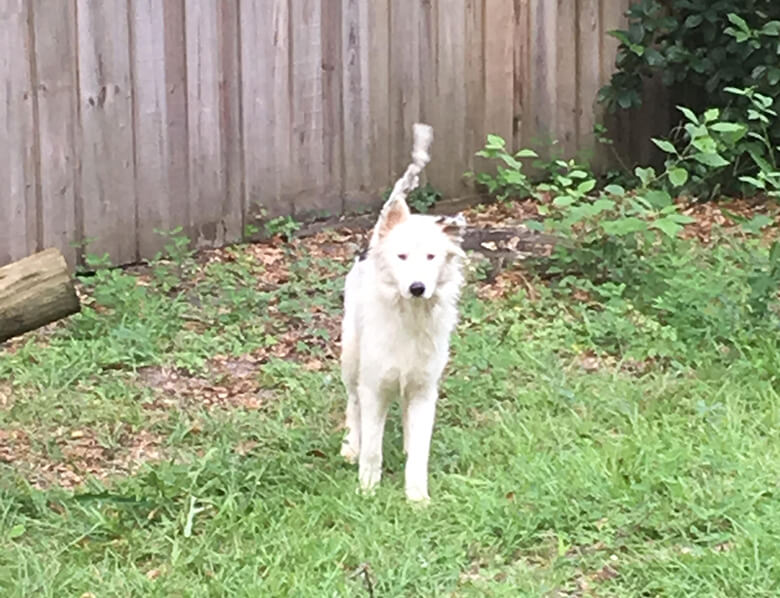 While Grant was starting to fall in love with the dog, she needed to find the pup's owner. She took her to the vet and had her checked for a chip, but nothing.
"We managed to hold her long enough to chip behind her ears finally," she writes. "Once she realized we were helping not hurting she stopped fighting us. It must have felt so good to have those matts released from her pulling her skin."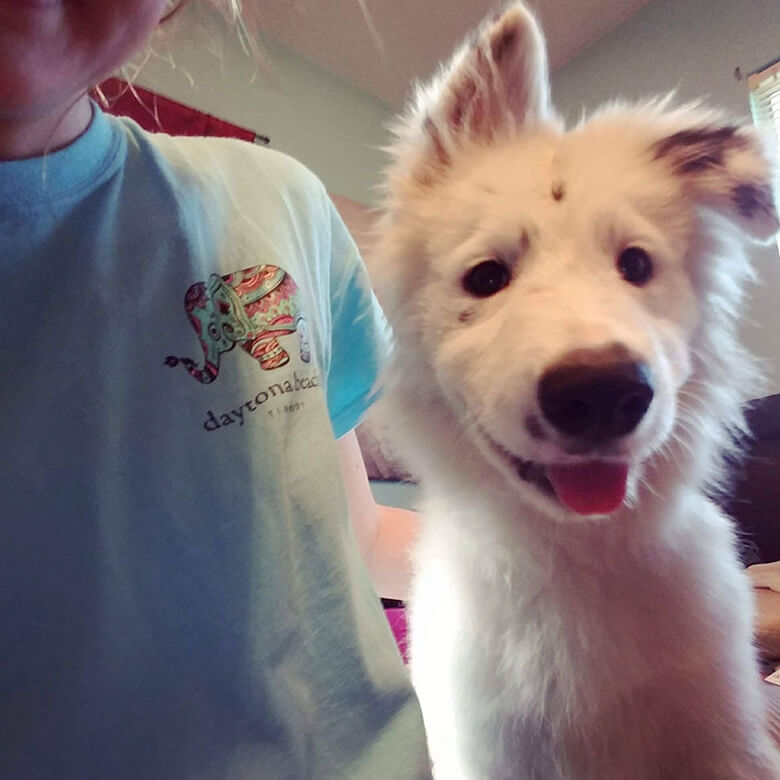 Upon returning home, she turned to social media to try and track down the owner — and she did. A person contacted her, with a picture of the dog when she was a baby. The previous owner explained they lost their apartment, needed to move and couldn't take the dog with them. They gave her to a couple, one they thought would take care of their dog. They didn't. They also gave the dog away. She then found a woman who said the dog was her boyfriend's. The woman told her that "her boyfriend couldn't keep her so they let her out of the truck on the side of a road. A month. In a different city. That just broke my heart," she writes.
Related: A Guide for Dog Owners on How to Prepare for a Natural Disaster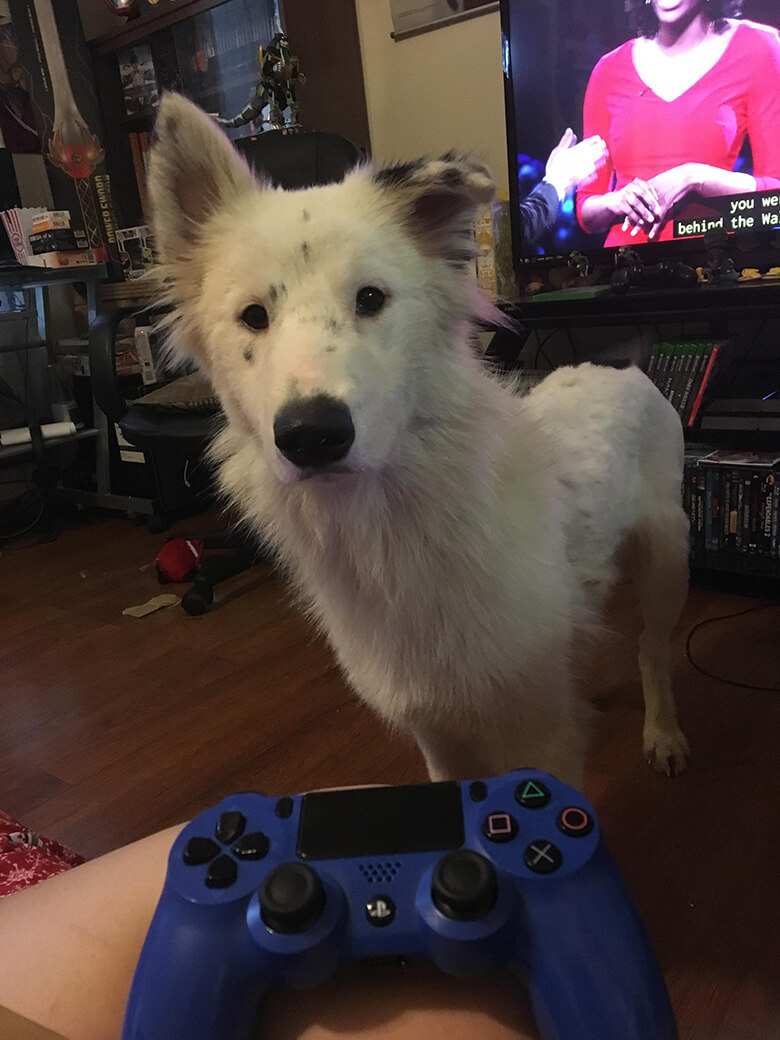 After several people saying they would happily welcome the dog into their home, Grant knew the pup was already home. "[W]e decided to keep her!! She is just so loving and grateful. She makes a perfect addition to our family."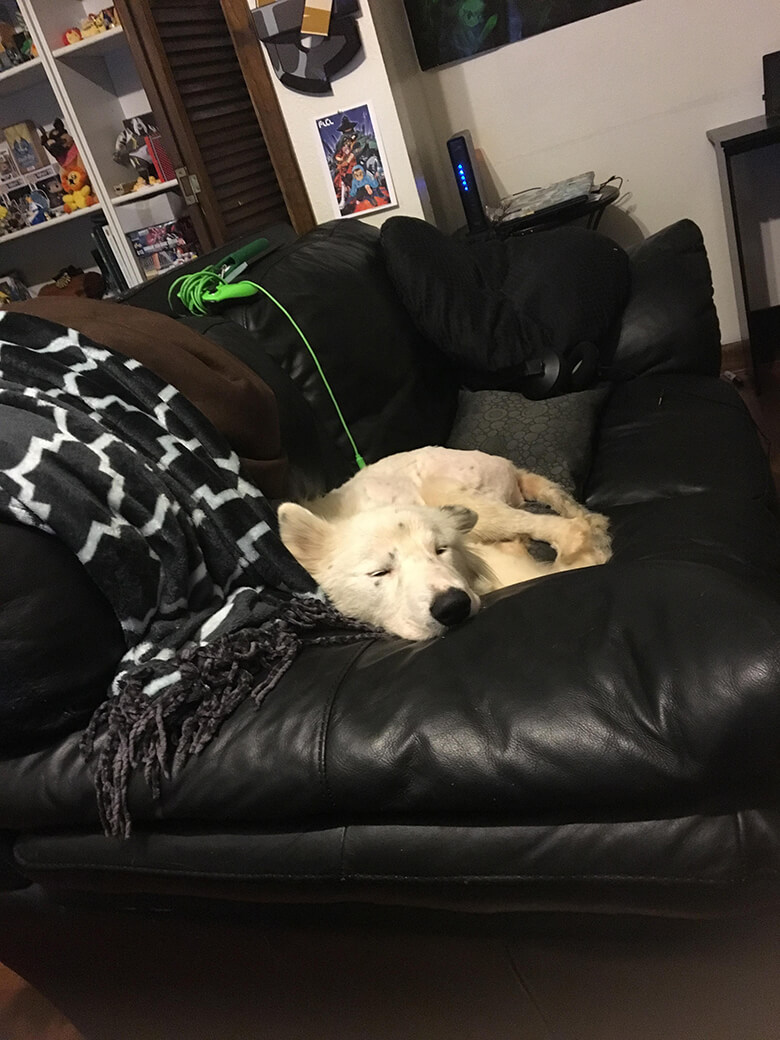 Now named Amaterasu, or Amy for short, she is settling in with her new family.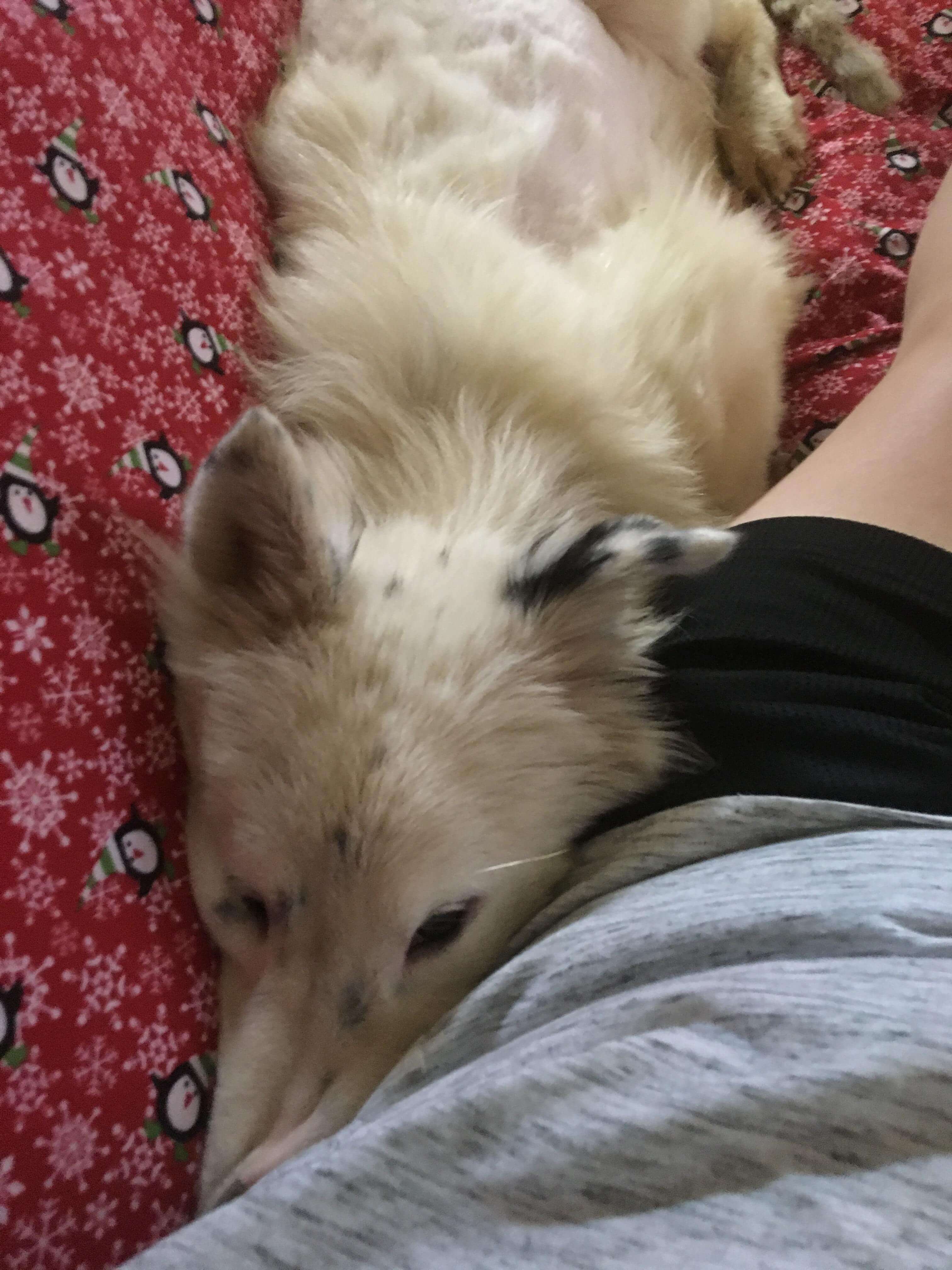 "She has to be touching me even in her sleep," Grant says, adding, she is "thanking the doggo gods for bringing us yet another source of happiness."