Ryan Seacrest just earned himself another title: hero.
The radio-personality-producer-entrepreneur-television-host-superstar, recently committed to footing the entire bill for a dog's surgery.
During a segment called "Tell Me Something Good" for his radio show On Air, a fan named Mercedes Frias called in revealing that her rescue dog, a pit bull named Romeo, had developed arthritis due to two ruptured ligaments in his hind legs. The veterinarian told her she would either need to amputate his leg, or fork over $8,000 to repair the leg.
Related: After Dropped Off at Shelter, 18-Year-Old Dog Finds Perfect Dad
It was a tough decision, especially for how much Romeo has done for her. Frias had grown in the foster-care system, going from one home to another between the ages of 10 and 16.
"I developed self hatred towards myself and could not love or trust anyone," she tells This Dog's Life. "When I say I was having a difficult time, I mean I was contemplating on ending everything."
One day, Frias came across a dog named Romeo needing a home and felt an instant connection. The pup was only three weeks old, was extremely emaciated and required someone to bottle feed him.
While her foster mom was unsure of bringing the dog into her home, Frias worked hard to convince her to give him a shot.
"I knew what it was like to be rescued and given a second chance," she says. "Taking Romeo in meant a lot to me, because he and I both have labels and are judged before we are even known."
Once her mom gave the green light, Frias worked really hard to prove everyone wrong about Romeo — and it worked. "He loves all types of animals, kids and people," she says. "Sadly, people still judge him just because of his breed. It hurts, because he gets so excited for attention but when the person walks away with out saying hello, you can see his body language change."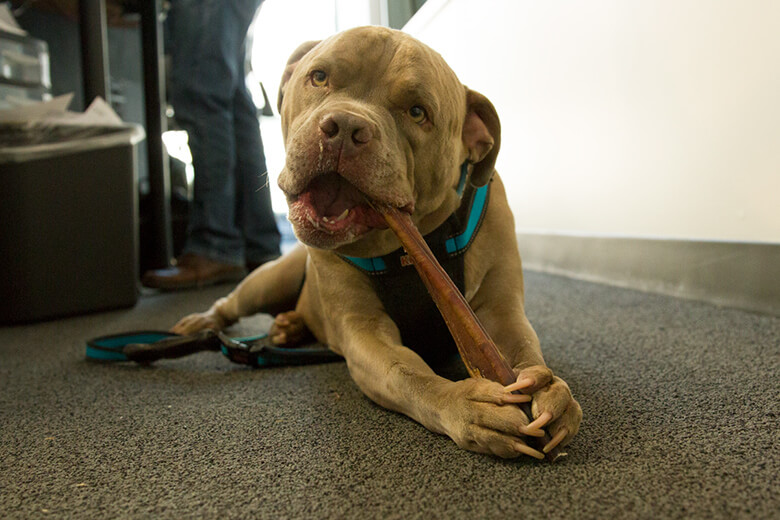 After playing such a huge role in Frias' life, the woman knew she had to do something for him when he tore his leg ligaments and required surgery.
"I opened a GoFundMe page to raise funds for Romeo's surgery and was shocked to see so many people donating," says Frias. Wanting to express her appreciation for all those who helped, Frias called into "Tell Me Something Good" to tell Seacrest her story. "Ryan looked up Romeo's [Instagram] page and said he fell in love with his picture and offered to pay for his surgery."
Frias was in disbelief about this random act of kindness.
"I was extremely shocked! I felt like a huge weight was lifted off my shoulders," she says. "It really made me happy to know my baby was going to be okay."
After his first surgery, Frias, Romeo and her mom got to meet Seacrest and his staff at his studio to give him an update. "Meeting Ryan Seacrest was completely amazing," Frias says. "From the moment we walked into the studio, we felt welcomed. Everyone knew exactly who we were, and took great care of us."
Related: Yes, You Can Foster a Dog and Have a Full-Time Job
Romeo's second surgery is scheduled for May, but Frias can already see an improvement.
"Romeo is doing great," she says. "He is walking on his leg, and I can see a great difference already."
To keep tabs on the pup, follow his Instagram account, Mr.Romeo_MyLovebug.
Related: Two Shelter Pit Bulls Given Second Chance as Police Dogs