If you don't believe in miracles, this story may change your mind.
Ultimate runner Dion Leonard made headlines last month when a stray dog befriended him during the 155-mile race through China's Gobi dessert.  Named Gobi, the little "scruff ball" never left the UK man's side, even running 23 miles in one day. The bond was definitely something special and after the race, Leonard had set out adopt Gobi. But before he could bring her home, she needed to be quarantined for 180 days in Beijing. This is when things go awry.
On August 16, Leonard took to Facebook to post an update:
"Yesterday we received a phone call that Gobi has been missing in Urumqi, China for a number of days and she has still not been found," he wrote. "We are simply devastated and shocked to hear that she is now on the streets of the city."
Related: Have You Seen Me? Gobi, the Stray Marathon Dog, Has Gone Missing in China.
Leonard went on to raise money through Crowdfunder to help find Gobi. He flew to China to be part of the search, putting up flyers, taking out ads in local newspapers, talking to the media and blasting the story on social media. But it wasn't just him, he had a village of local, dog-loving people helping him find his friend.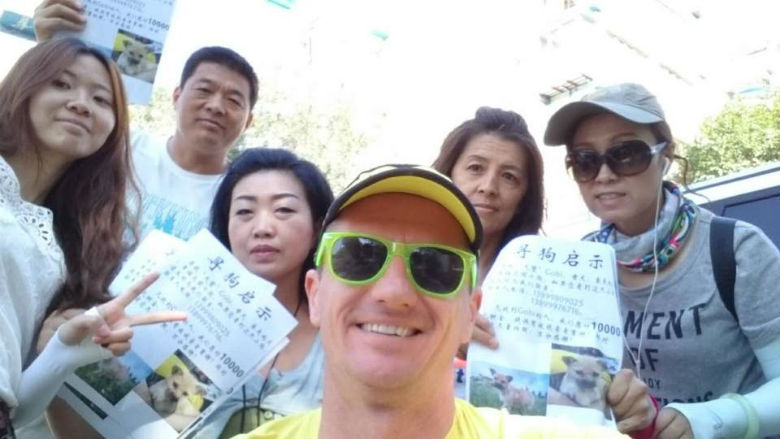 Still after five days of no luck, Leonard was starting to lose steam – and hope.
"It's been really difficult to remain positive in front of everyone else," he told BBC 5 Live. "I've been going back to my room every night and falling into a bit of a heap."
However, that doom-and-gloom outlook all changed yesterday. Because of the massive outreach, a man and his son miraculously spotted a dog that looked like Gobi. The duo were walking their dog in a park when they saw a small stray dog in a local park. They were able to capture the pup and bring her back to their home.
Contacting Leonard, the racer made his way to meet the dog. Skeptical, he was prepared to get his heart broken.
"To be honest we've been down this track before with a couple of other dogs and we were quite uncertain it was actually her," he told the outlet.
When he arrived, there were 10 people and a dog waiting for him.
Related: Dog Acts as 72-Year-Old's 'Pathfinder,' Helps Her Survive 9 Day In Desert
"When we got there, I walked through the door and she came running towards me and ran around my legs and jumped up on me," he said. "It was love again at immediate sight."
The dog-loving community across the world responded after hearing the news, with some people crying and others cheering.
Leonard plans on staying with Gobi to make sure she makes it to quarantine location and hopes to visit one or two times during the 180-day process. He hopes to have her home by Christmas.
Related: Hikers Use Their MacGyver Skills to Rescue Dog Trapped in Pool of Freezing Water