Rescue dog Newman's talents run much deeper than giving kisses and doing run-of-the-mill tricks, like sit, heel and lay down. He happens to also know how to paint. Seriously, he's kind of like the Picasso in the dog world.
This gifted pup got his start in the world of arts after he came into the life of Kaydi Grunhovd. He was just supposed to be with her temporarily as a foster dog, but he captured her heart and soon, Grunhovd became another statistic: a foster failure.
While sweet, Newman has a lot of energy and with temperatures in his home of Euclid, Minnesota extremely frigid during the winter season, the family had to get a bit creative in how to curtail his hyper energy.
Related: The App That Will Turn Your Dog Into a Picasso
So, with some treats, duct tape and patience, they decided to try his hand — er, paw — at painting. Grunhovd started by getting him to hold the brush in his mouth, then get the brush to touch the canvas and finally with paint on it.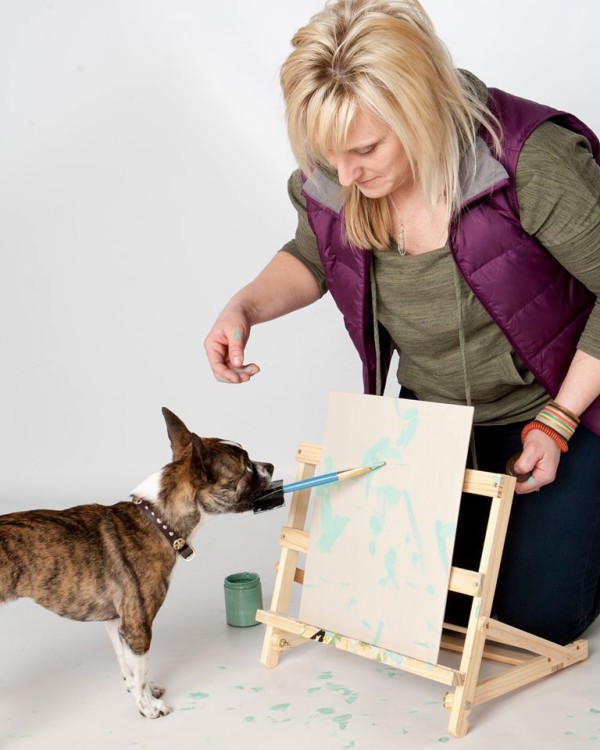 "I wanted to show that rescue dogs are smart," Grunhovd told local outlet WDAZ."I just wanted him to be an ambassador for that."
The pictures are sold on her Etsy shop (currently sold out), with part of the proceeds going to local shelters. They range in price between $10 and $35. On the retail platform, Grunhovd writes:
Related: Meet the Dog That Is Taking the Art World by Storm
This painting is the start of a special fundraiser for dogs in need. I want to raise awareness for dogs that are surrendered to shelters and rescues. I was once a dog in need of a home because I was too energetic for the family that first bought me. Dogs in shelters or rescues are often overlooked, but I know these dogs are smart, willing to learn and want your guidance and love. Each dog has a talent and if you're looking to add a new furry member to your family, please don't shop, ADOPT!
Images via Facebook