A puppy found covered in tar is on the road to recovery thanks to Good Samaritans.
On Mother's Day, Danielle Boatner of F.L.Y. Animal Rescue received a call from a man dumping his garbage off across from a road maintenance center in Mississippi's Yazoo County. He reported that he heard cries from a puppy coming from the center and upon further inspection noticed the dog was struggling to get out a pool of tar.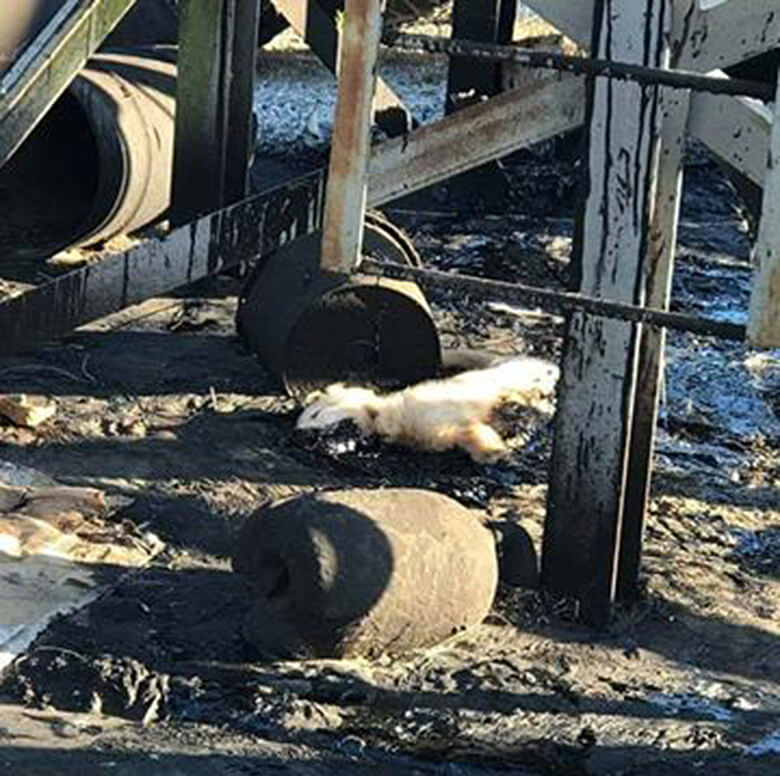 Related: Blind German Shepherd Has Her Own 'Seeing Eye Dog' to Help Her Get Around
Boatner, along with her husband, made their way to the scene. Upon arrival, the dog's breath had slowed to almost nothing due to tar getting in his mouth and nose. After a few attempts, they were able to scoop him out of the tar, and rushed him to the local vet clinic. "We were about 15 minutes away and made it just as the puppy had all but given up," says Boatner.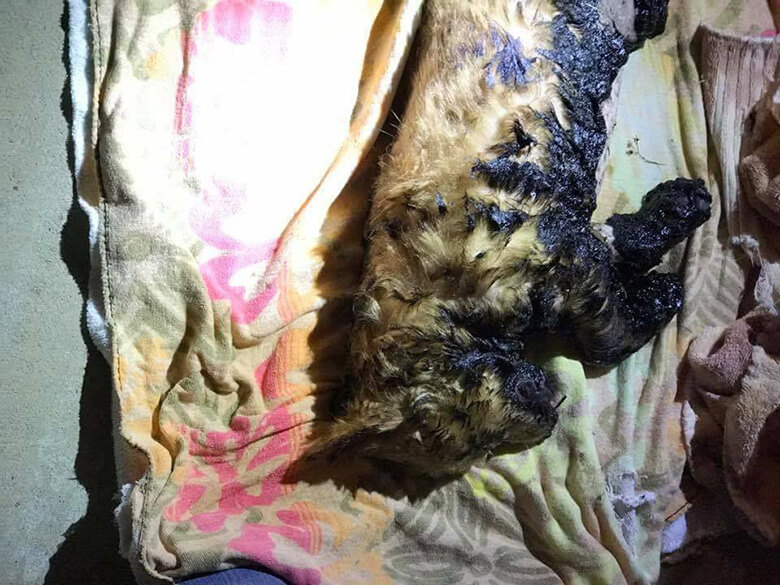 At the clinic, volunteers and staff worked for hours trying to make progress on the tar removal. After shaving him, cutting hair and taking turns soaking him in water, they were able to begin breaking some of the tar down.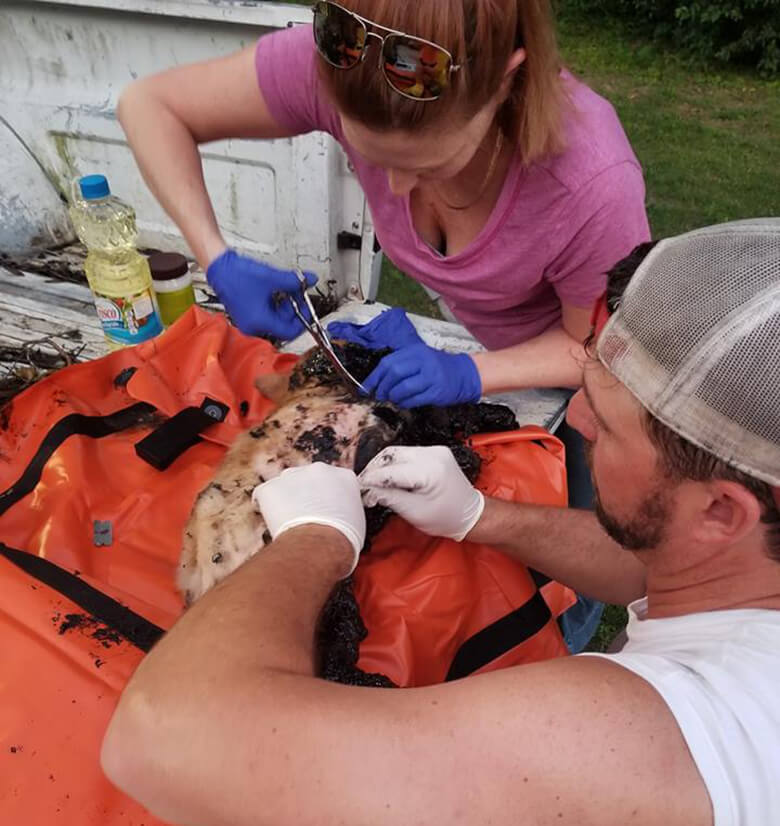 "We ended the night by drying him, coating him with coconut oil and wrapping him with towels and blankets to help it soak while he was still sedated," says Boatner.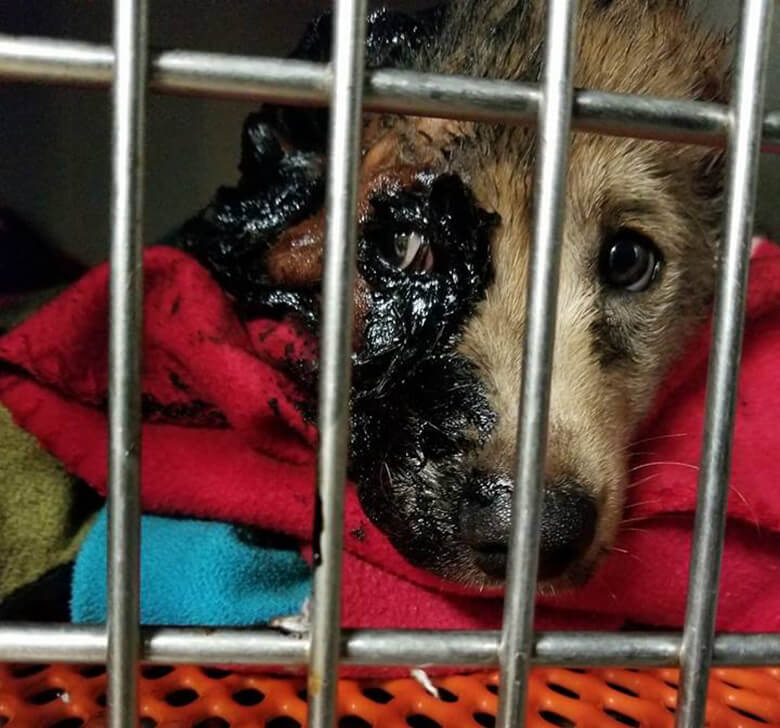 Related: A Dog Chews Off Her Own Paw After Being Chained for 5 Years
After several days of slowly removing the tar, the puppy, now named Warrior, was not only physically making progress, but emotionally, too.  "We are surprised at how well he has adjusted," Boatner says. "He is your typical puppy. He loves his chew toys and loves to chase a ball."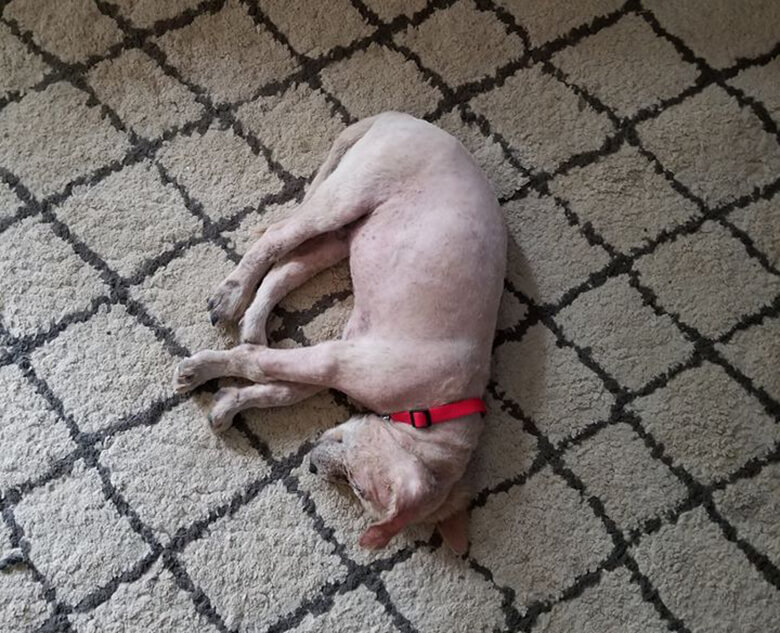 While he is making gains, he still has a few months until he is ready for adoption.
Related: Service Dog Going Blind Given Special Retiring Ceremony By College
The facility where the tar spill occurred is being investigated, and may incur fines.
To learn more about Warrior and other dogs, check out the Facebook page.
TAR BABY. A stray puppy trapped in the death grip of leaking tar is eating and drinking. MDEQ is overseeing cleanup of the spill on Yazoo County property. His nickname is WARRIOR!

Posted by Marsha Thompson WLBT Anchor/Investigative reporter on Wednesday, May 17, 2017