After an owner tried to give an abused puppy away in a drug trade, a determined woman stepped in and saved the dog.
Last week, Kaitlyn Cappelluti was at a gas station in Charlotte, North Carolina, when she noticed a group of men surrounding a puppy.
"When I first arrived I noticed the puppy was laying on the ground panting, and my first thought was that the people were just starring at the puppy, because it was hit by a car," Cappelluti, who runs Resculily Foundation,  told This Dog's Life. "I started to walk over, and he got up and starting eating a hot dog, so I went into the store to get my water."
Related: Abused Dog Now Helps Abused Children
While inside, Cappelluti could not get the dog out of her head.
"It just still bothered me how they were just starring at him and he didn't look healthy, she says. "On my way out, I decided to go talk to them and find out what was going on."
When she confronted the men, one asked her if she had any rock, or crack, on her in exchange for the puppy. She knew right then that her instincts were correct, and the dog was not in a good situation. Upon furthering examination of the dog, Cappelluti noticed he had an "at-home cropped tail," which was infected, fleas and burns all over him.
Related: Abused Dog Transforms into an Adoptable Pup with a Ph.D
"The man told me they put flea powder on the pup, and it burned him" she says of the open sores. "I have never seen that happen before and honestly, not sure I believe it."
After offering $50 for the puppy, the owner gave Cappelluti the dog.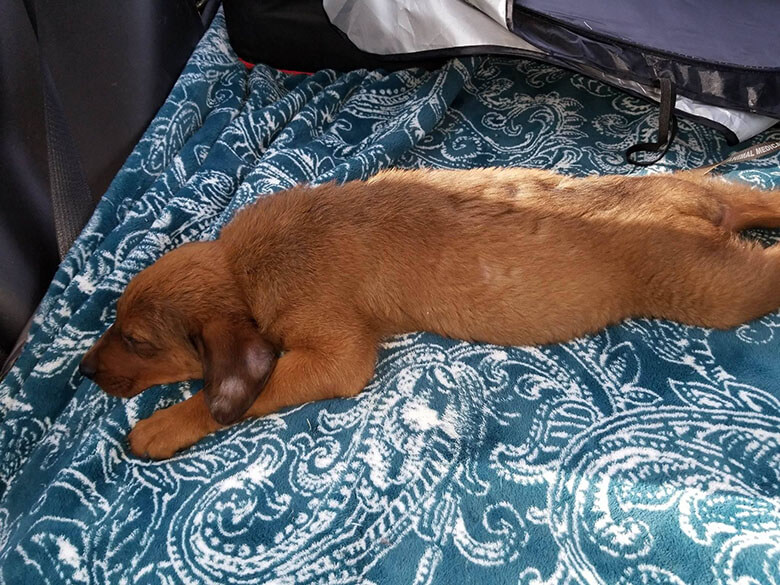 Unable to take the puppy into her own rescue, South Charlotte Dog Rescue took the dog. The organization is currently taking applications and the puppy, now named Bart, should be ready to find his forever home soon.
Cappelluti tells us the puppy is recovering and is a "healthy happy normal pup."
The police department has opened an investigation, searching for the abusers. They say it's a case of animal cruelty, and if caught, the people could be charged with a misdemeanor on up.
Related: Abused Bonnet-Wearing Pit Bull Finally Finds Her Forever Home
Here is a short video showing the puppy when he was rescued: