A puppy was found abandoned in an airport bathroom alongside a heartbreaking note from his abused owner.
The 3-month-old Chihuahua was discovered at McCarren Airport in Las Vegas with a handwritten letter asking someone to care for the dog, after she no longer felt she should.
"Hi! I'm Chewy! My owner was in an abusive relationship and couldn't afford me to get on the flight. She didn't want to leave me with all her heart but she has NO other option. My ex-boyfriend kicked my dog when we were fighting and he has a big knot on his head. He probably needs a vet. I love Chewy sooo much – please love and take care of him."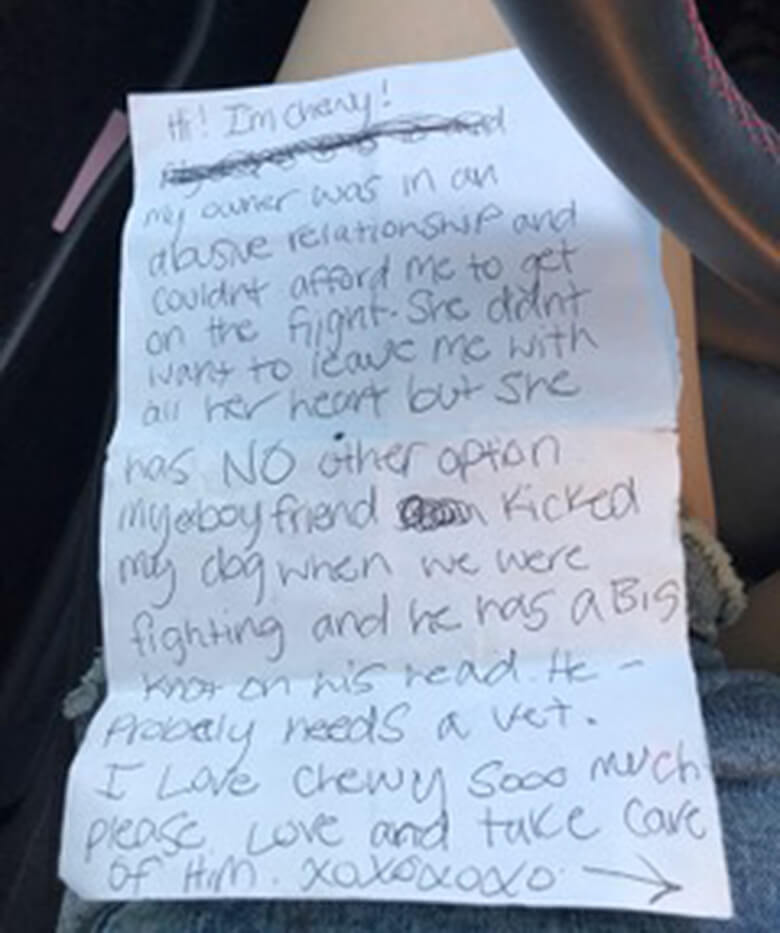 Related: A Dog Was Used as a Mule To Smuggle $1 Million in Heroin to U.S.
Security contacted a local rescue organization, Connor and Millie's Dog Rescue, to see if they could help.
Founder Darlene Blair jumped on the opportunity to provide a second chance for this dog and had a volunteer foster take Chewy.
"Since the note stated that he had been kicked in the head, she took him to an ER vet to be checked out to make sure he had no serious trauma," Blair says of the first 24 hours with the volunteer. "She then took him home with her. The next day she took him to our regular vet for a complete check up."
Fortunately, the puppy has recovered both emotionally and physically, Blair believes. And from the video below, it seems like he will do just fine in life.
Blair says if she could speak to the person who abandoned the dog, she would want to let her know "he is safe and will be loved and taken care of."
Related: Dog Left Out With Trash Saved in Time for Christmas
Since the story broke, Connor and Millie's Dog Rescue has received a lot of applications about Chewy, with the organization posting on its Facebook page:
"There has been tremendous interest in little Chewy. We are compiling all the interest forms and will be going through them all. CMDR would like to say thank you for all the offers of a loving home."
Blair says Chewy will be in foster care for at least two weeks to get to know him better and understand his likes and dislikes before picking a lucky family.
The organization did note in its post:
"There is but 1 Chewy and he can go but to 1 home.
Please consider the hundreds if not thousands of "Chewys" loaded with love that are desperately seeking homes in shelters which are at max capacity, rescues are full! Please consider adopting another wonderful companion in his honor!
They too were a Chewy : they've lost their home through no fault of their own. Life is tenuous in a shelter, lonely and the days seem endless in a cage."
To learn more about dogs available through Connor and Millie's Dog Rescue, head over to its website.