A heartwarming image of a dog with a Purple Heart around his neck has gone viral.
Named Rocky, the German shepherd, alongside his handler, Specialist Andrew Brown, were given the military decoration after their latest tour in Afghanistan. The pair, who had been partners for two years, were searching a building when an improvised explosive device, or IED, went off, injuring both of them.
Related: How a Dog Named Willow Helped This Vet With PTSD
They were flown to Kandahar, Afghanistan where they were awarded the Purple Heart and began the recovery process.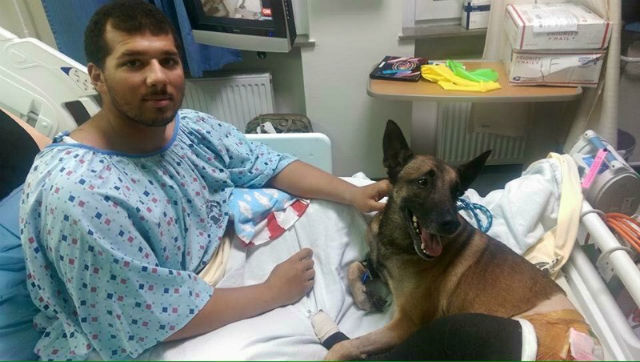 Brown was then flown to Walter Reed in Washington D.C. where he will incur more surgeries, while Rocky is in Germany, where he too faces additional procedures. The dog is expected to return to Fort Hood in Killeen, Texas in the next few weeks.
Brown credits Rocky for their work, explaining that a dog's rank is one higher than their handler's, according to ABC.
"He does everything," Brown told the outlet. "I'm just really a guy with a leash. I bring him to the area and let him do his thing. If he responds, I translate that … let them know my dog got a response right here."
Related: How One Nonprofit Is Connecting Our Country's Loyal Service Men and Women With Shelter Pets
Brown added that he believes Rocky is in good spirits. "Dogs are just resilient like that," he said.
Main image via Facebook/89th Military Police Brigade
H/T ABC
Related: Huge Outpouring of Support for PTSD Veteran Whose Service Dog Was Shot and Killed