For the Forsters, having a son with epilepsy, a condition that caused him to have up to a dozen seizures a day, with many not known, along with a viral brain disease meant that they needed to continually monitor the 2-year-old to ensure he remained safe. One option was to get a service dog, a move that could literally save their son's life, as the pup would be trained to monitor Tucker while he sleeps and alert the family if he has a seizure so they can administer medicine.
Related: Special Needs Twins Get Early Christmas Present: A Disabled Pit Bull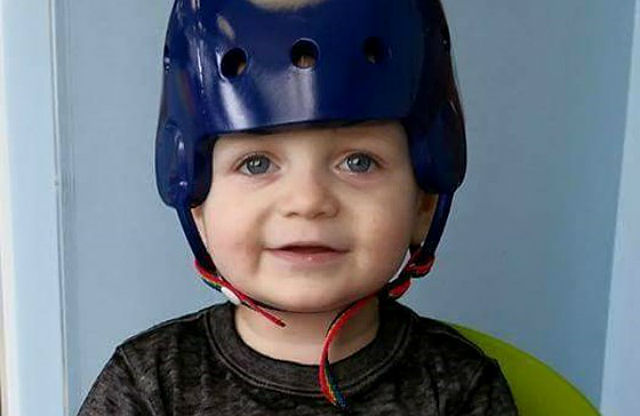 The problem was the price tag. Unfortunately, these dogs don't run cheap and with mounting medical bills and the mom, Jennifer, quitting her job to take care of Tucker, the Forsters just couldn't afford the dog. So, they decided to set up a crowdfunding page.
The family's community rallied around them. People from Raeford, N.C. took to the Foresters' crowdfunding page to donate, along with having a motorcycle fundraiser, helping the family raise tens of thousands of dollars. Because of this local (and national) outpouring, the family was able to move forward with getting a service dog to help Tucker.
Related: Boy With Autism Kisses His Mom for the First Time Thanks to Rescued Pit Bull
"We thought it would take probably years before we got that amount. The price of the service dog was a bit sticker shocking, like 'whoa, $17,000 that's a lot of money,'" the dad, Robert, told WCTI. "It's a huge blessing. It's amazing what the community did – they pulled together and helped us reach our goal."
While the funds are there, the connection also must exist. The family did get approved by an organization in Wilmington (about a two hour drive) but they have to wait for a "bump" from one of the service dogs, a nudge that shows a bond.
"It's amazing, we can't wait to get a bump and to begin working with a dog. It's so overwhelming for everything to happen so quickly, it's kind of shocking," Robert said.
H/T to WCTI