Dog lover Paris Hilton took to Instagram to unveil her new dog line.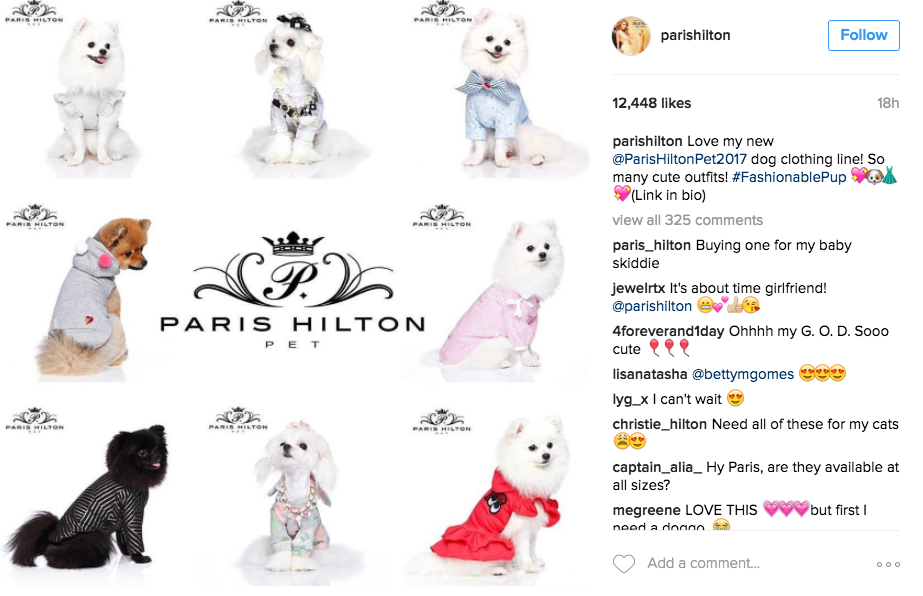 Featuring an array of doggie fashion, the line, not surprisingly called Paris Hilton Pet, focuses on a hip, feminine look that can be worn every day.
Some of her standouts include a black and silver metallic striped sweatshirt ($45), punch colored zip frill dress with sequined eyes on the back ($82) and a pink dress with lace bow ($65).
Paris Hilton Pet is sold, interestingly, in South Korea, with the heiress having formed a partnership with supplier and distributor Tricom.
"Hello, to all my Korean Fans, I'm Paris Hilton and I'm so excited to be launching my new pet line, 'Paris Hilton Pet,'" it says on the website. "I hope you and your pets like all the beautiful products as much as I do.
" Related: Gwen Stefani Launches Line for Dogs
Since she stepped into the limelight Hilton has been a controversial person in the dog world. From when she got her Chihuahua Tinkerbelle and created the purse dog to the revolving door of dogs she has in her house and spending thousands of dollars on a dog, she has made quite a lot of headlines.
She currently has at least six dogs, with them making an appearance on Paris Hilton's Instagram account, and their own, Hiltonpets.
On the social media accounts, you can often catch Hilton hanging with her pups in their own 300-square-foot mini mansion, featuring two stories, a front yard and balcony.