Dog-therapy organization The Good Dog Foundation is holding its annual benefit to help raise money for its pups, while also highlighting its groundbreaking research on female inmates and dogs.
Occurring on May 18 at the lavish Guastavino's in New York City, the dog-friendly event kicks off at 6:30 with cocktails and passed hor'douvres, including jumbo lump Maryland crab cakes, French onion soup grilled cheese and filet of beef.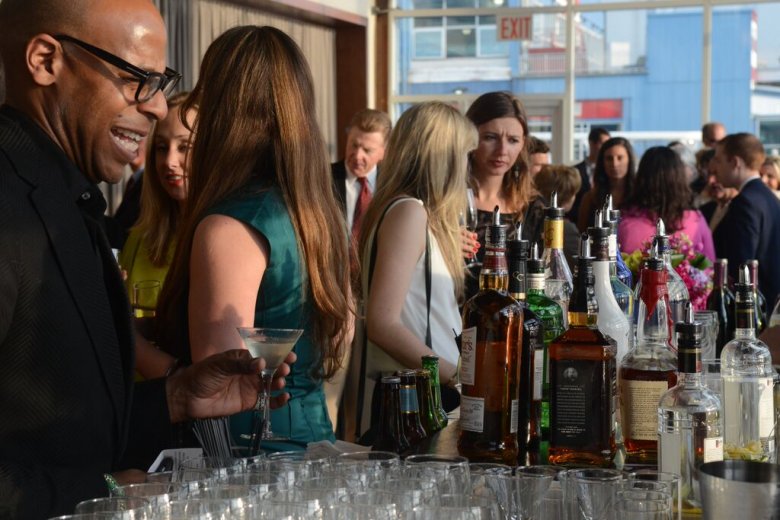 Guests can sip on their drink and nibble on their bites while checking out the items featured in the silent auction. Some things that caught our eye include a three-night stay in the Berkshires at Stamford Manor, chef's tasting menu at Per Se and VIP tickets to Good Morning America's summer concert series. Also, The Good Dog Foundation will also have some of their dogs at the event, so there will be plenty of opportunities to snuggle and meet the four-legged heroes.
Related: Dogs From All Over the Country are Helping Orlando Survivors Cope
After everyone gets settled in, dinner will commence. The menu includes a salad with marinated jicama and chicory, roasted Atlantic salmon and Caribbean spiced rum baba cake.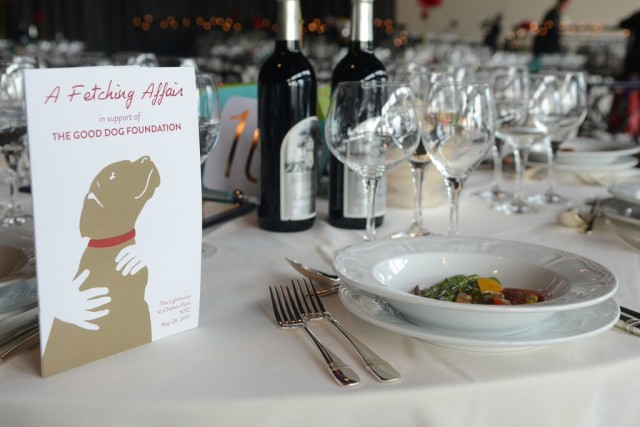 During this time, The Good Dog Foundation will honor Dr. Kimberly Collica-Cox and the criminal justice department at Pace University's Dyson College for its partnership with the organization to get the Parenting, Prison, & Pups initiative off the ground. The two-year research program will pair inmate mothers with specially-trained therapy dogs to help the women improve their communication and develop skills to reduce anxiety and stress. The hope is that the evidence-based parenting curriculum will allow the inmates to "healthfully reunite with their children, become better parents, and stay out of prison."
There will also be a live auction during the three-course meal, in which a stay in the Colony Hotel in Palm Beach, Florida; a week in a London townhouse and a stay in a Palm Springs resort are just a few of the prizes that will be auctioned off.
For those wanting to bring their pup (limited number of tickets available), the gala will have something for them, too. A "doggy bar" will feature a number of treats, goodies and toys for the four-legged guests. There will also be a grooming station for them to get primped.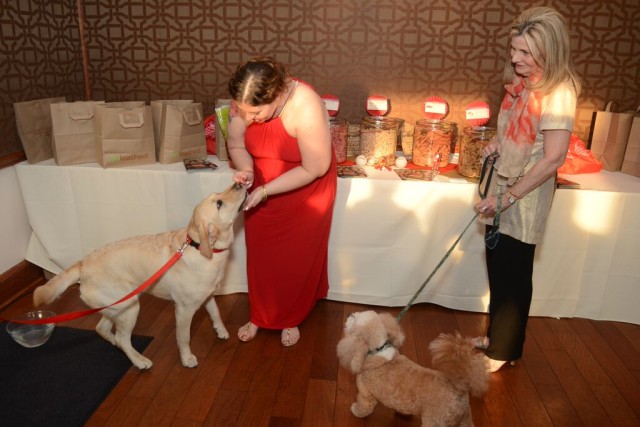 Related: After Man and His Service Dog Couldn't Find a Job, Lowe's Welcomes Them to the Team
The proceeds from the gala will continue to support Good Dog's efforts. Founded in 1998, the organization has grown to nearly 1,000 therapy teams in New York, New Jersey, Connecticut, and Massachusetts, providing an array of services — including helping people cope with medical conditions, assisting those with disabilities and being there when disaster strikes.
The address is 409 E 59th St in Manhattan and will go from 6:30 pm to 10:00 pm. Tickets can be purchased here.
Related: The Good Dog Foundation Holds Gala to Support Life-Changing Work of Therapy Dogs