While lion manes, pumpkins and hot dogs are pretty cute costumes for pups, they do not hold a candle to the elaborate ones on display at the upcoming Halloween dog parade in New York City.
Occurring on Oct. 22, hundreds of dogs will be in sporting costumes for the annual Tompkins Square Park dog parade in the East Village. The event kicks off at noon with the runway competition (no need to pre-register) where judges vote on the best dog costume. Prizes include gift cards and tickets to Broadway shows. The top dog will get the "Best in Show" title for 2016, along with an Apple Smartwatch. Once the competition is done, the dog parade will commence, with pups proudly marching around the Tompkins Square.
Related: Everything You Missed at Tompkins Square Dog Halloween Parade in 32 Pictures
And while some people show up in store-bought costumes, others work for month's creating elaborate garb for their dogs to don. Last year, we saw Frida, Marty McFly and Doc Brown and Captain Hook and Tinkerbelle.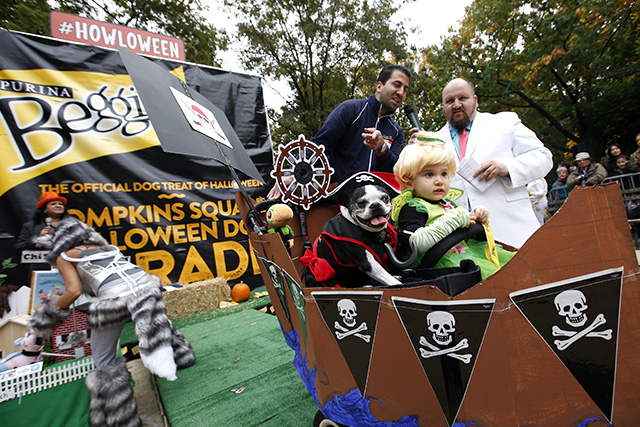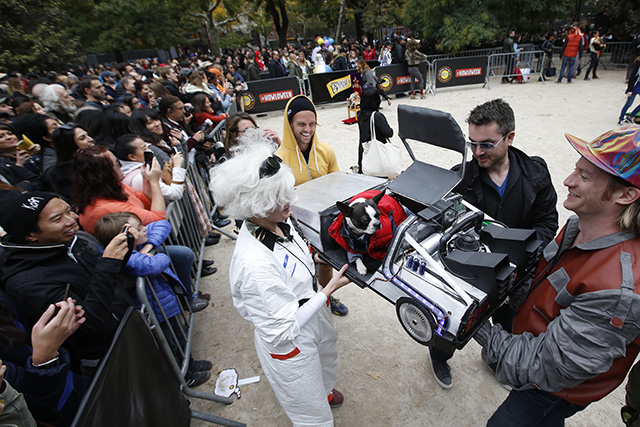 "Each year we welcome an abundance of imaginative costumes, many of which reflect timely or well-known pop-culture themes with a fun or comedic twist, says Nicole Hoffman of Purina Beggin, a sponsor of the event, adding, "It's their level of enthusiasm and thoughtfulness I find most inspiring. I'm really looking forward to seeing what amazing costumes pet owners have in store for us this year!
Related: Ruff Club Gets Social In the East Village
The event began 26 years ago as a way to raise money for a dog run at Tompkins Square Park. When neighbors asked the city if a dog run could be created within the park, the city approved but said it must be managed by the community, meaning no tax dollars would go towards maintaining it. An organization called Friends of First Run was formed to help take care of the dog run.  The Tompkins Square Park Halloween Dog Parade began as a fundraiser to help keep the park clean and open for the neighborhood. It is the largest fundraiser for Friends of First Run and now with sponsors Beggin' and PetSmart behind it, it continues to grow and provide more support for the organization.
The suggested donation is $5 and will go to Friends of First Run. We recommend showing up a little bit early, as it gets crazy. The address is 500 E 9th St, New York, NY 10014.