Wherever one dog goes, the other will follow. Literally.
Meet Glenn and Buzz.
The unlikely pair — a Jack Russell terrier and a Staffordshire bull terrier —  was found together on the streets in Hartlepool, United Kingdom in a sea tunnel. When rescuers discovered the duo, they realized the Glenn (the Jack Russell) was blind and heavily depended Buzz to get around.
The two are now being taken care of by Stray Aid in Coxhoe, where volunteers are requiring that both be adopted together.
"They are inseparable," Stray Aid volunteer Hannah Critchlow told ABC News."They instantly had a bond when they came in, so we kept them together. Whenever they're separated they start crying and barking for each other." She added that Buzz is constantly looking after him and helping him out, and if the bull terrier isn't around, Glenn gets disoriented.
Related: Guide Dog Saves Blind Woman From Being Hit by Bus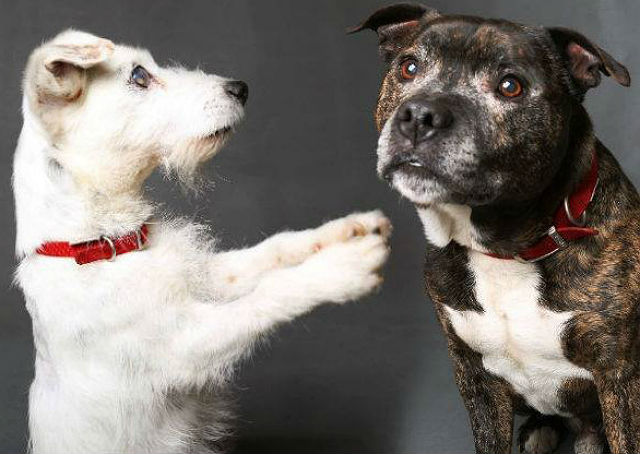 Fortunately for Glenn and Buzz, the organization has already received more than 20 people that have expressed interest.
Related: What It Takes to Be a Guide Dog
"Some dogs are here months and months and not one person looks at them or has interest, so there's an unusual amount of interest in them," Critchlow told the outlet. "Everyone is in love with them, and they're both just so friendly, lovable and very chill."
To see these two in action check out a video from Hartlepool Mail
Related: Akita Goes Blind, Brothers Act as Guide
H/T ABC News
Images via Facebook