After a shelter pit bull was diagnosed with an incurable disease, a mayor decided to dedicate a fire hydrant to this special dog.
Named Kevin, the pit bull was rescued by animal control on Sept 11. 2015 and was in need of medical care. Brought to Paws Across Oswego County (PAOC) in northern New York, the dog was underweight, had little fur and part of his tail was missing.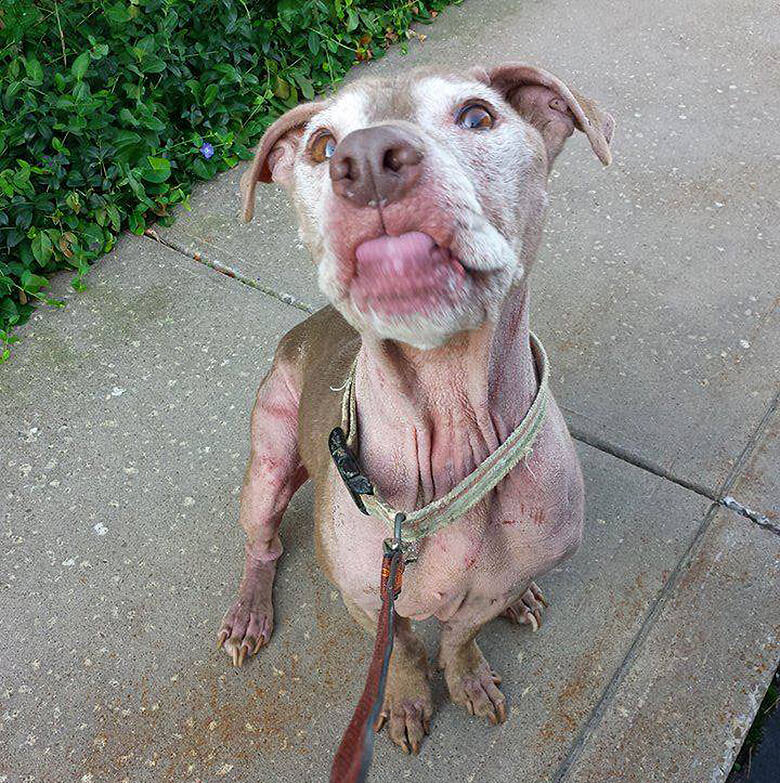 Related: After Dropped Off at Shelter, 18-Year-Old Dog Finds Perfect Dad
After being at the vet for a few days, PAOC picked him and begin the healing process. Volunteers fed him tiny high-quality meals, along with giving him medicated bath to get him back on the mend. They also found that Kevin surprisingly liked to be in clothes.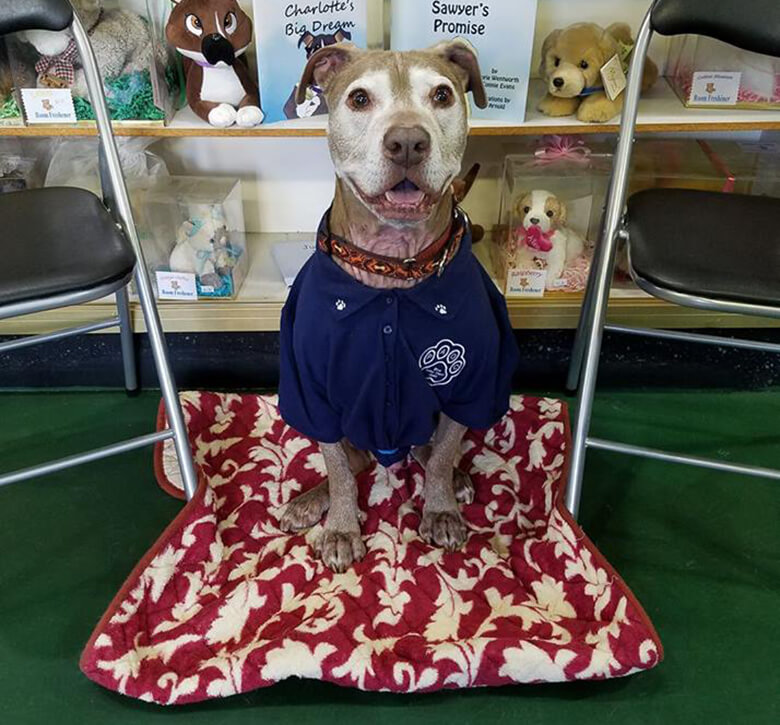 "We began taking daily pictures to show his healing process and one day we put a hat on him, he gave the biggest smile," Marjorie Wentworth, the press secretary at the organization, told This Dog's Life. At that point we realized he loved to dress up and loved the camera."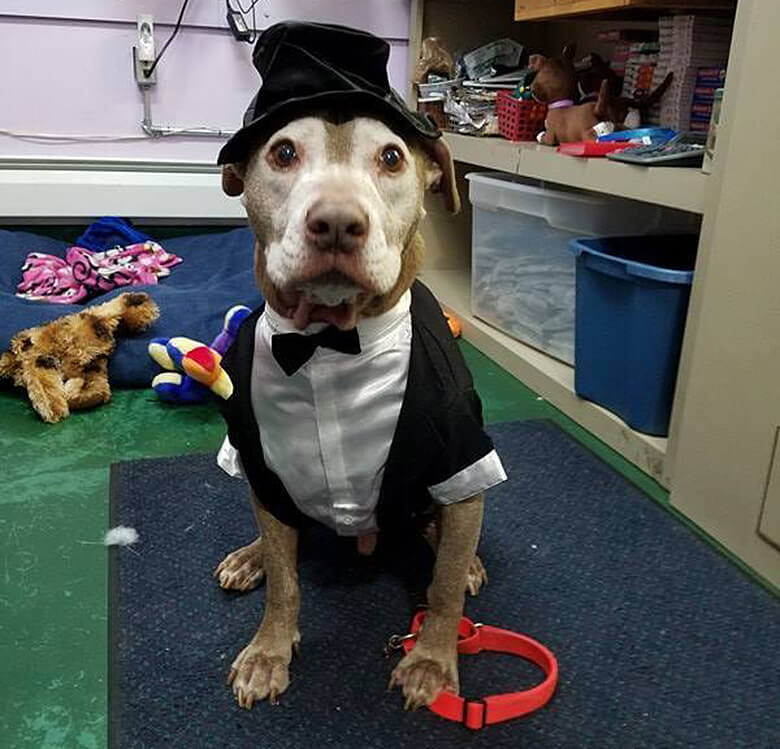 From that day forward, the team began taking pictures of Kevin and people fell in love with him and his story. But because of his excitement and condition, finding him an ideal home was challenging. And things weren't getting easier.
Related: People Are Finally Understanding How Amazing Senior Rescue Dogs Are
"As the days passed we realized that he was urinating more and drinking a lot so we did a urinalysis and found a bladder infection," says Wentworth. "After two full treatments it was not getting better so we had our vet do blood work and found an issue with his kidneys."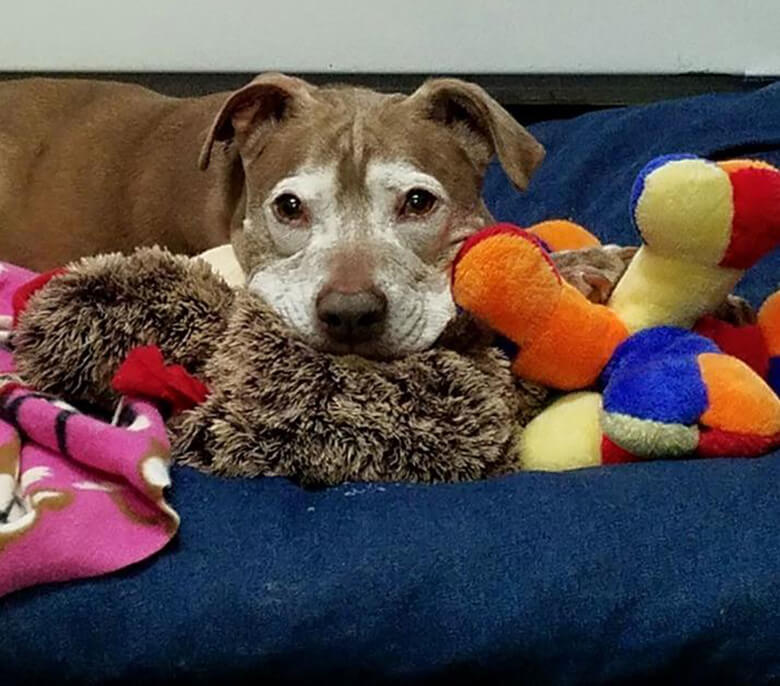 Kevin was in the beginning stages of kidney failure, an incurable condition.
At this time, the team at PAOC decided to stop looking for a home for Kevin and focus on him enjoying as much of life as possible.
One thing on Kevin's bucket list was to meet the Oswego mayor and snap a few pictures with him – dressed up of course. The mayor not only agreed but also said he would dedicate one of the fire hydrants to the senior dog.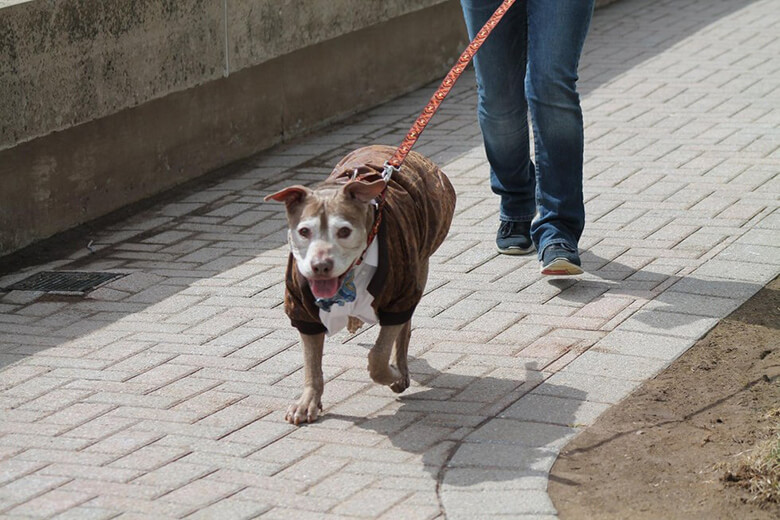 Striking a pose with the mayor, Kevin proudly posed in his suit and tie.
After his special day, the shelter has received many more opportunities for Kevin, and staff are currently figuring out what to do next for him. But one thing is for sure, they will ensure the rest of his life is full.
"We have decided instead of thinking of Kevin as a dog at the end of his life, we should remember that life is only as good as each day brings and what we leave behind," says Wentworth. "Kevin has brought joy to so many people through our the time he has been with us and we will continue to spread  'Be like Kevin' fun through his pictures and daily adventures."