For many, getting a great haircut for $45 is not a reality. In major metropolitan areas like New York City, Los Angeles and San Francisco, the cost of a haircut can easily get into the triple digits. And in smaller cities, suburbs and towns, it isn't much cheaper.
So, when stylist Patrick Lomantini announced he was embarking on a nationwide tour to help out local shelters by providing affordable haircuts at $45 a pop, we took notice.
Called BarkAID, the road trip kicks off in Augusta, Maine today and concludes in Wichita, Kansas on Oct. 20. Lomantini will be stopping at all 50 states — driving to most, flying to some — and working at a specific salon. All the money raised will go back to a local animal rescue or shelter.
"I love what the animal rescue people do for the communities. They are so selfless and volunteer their time to save an animal's life," Lomantini told This Dog's Life. "This is my way of saying thanks and giving back to them."
Related: A Man and His Dog Have Sailed Around the Mediterranean for 3 Years to Help Save Our Planet
In its fifth year, the idea came to Lomantini when he was trying to break a world record. Looking to cut hair for 72 hours straight, Lomantini was having difficulty recruiting people to come. A friend suggested to reach out to a nonprofit he wanted to support. An animal lover, Lomantini chose the Kansas Humane Society to benefit from the event. The organization promoted the cut-a-thon and with its help, people were waiting hours to get their haircut. Lomantini cut 227 people's hair and ended up setting a record.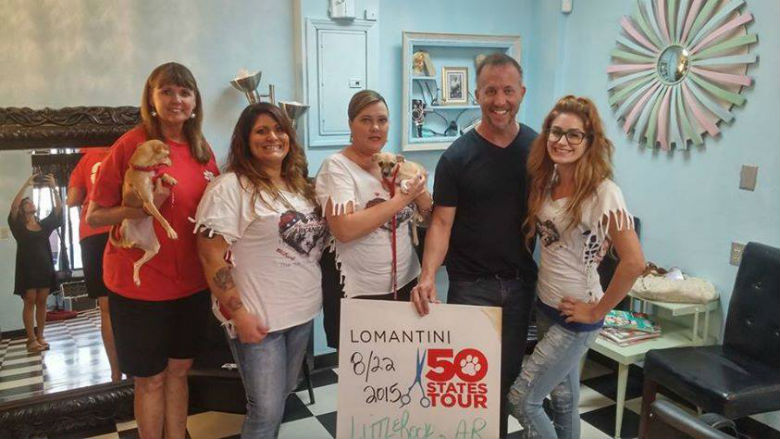 "It turned out so amazing," he said. "I wanted to outdo myself, so we came up with the idea of doing 50 haircuts in each of the 50 states in 50 days." Eight months later, BarkAID was born.
When it first began, Lomantini sold his Lexus to jump start the tour and borrowed a pal's car for the road trip. Initially, he was the only stylist cutting hair and managing the entire tour from start to finish. Now, he has a team helping with social media, another stylist and an assistant.
"I feel this year the tour will not be as tiring and more enjoyable," Lomantini says, adding it will give "me more time to meet the people and continue developing relationships and our mission."
Related: Former Marine Embarks on 'Farewell Tour' With His Terminally Ill Dog
While he has additional help and many of the shelters and rescue organizations providing accommodations while he is in their city, he is still on the hunt for a sponsor. (Lomantini currently self funds the entire event, with this year's expenses expected to be around $23,000.)
With the help of a partner, Lomantini  envisions bringing BarkAID to the next level. "My inspiration for BarkAID has been from Willie Nelson's Farm Aid," says Lomantini, describing the singer's benefit concert to help keep local farms alive and thriving. "That is a mission of ours to have a concert like that."
But in the meantime, he is grateful for being part of such a powerful movement – helping both himself and the animals.
"It has made me a better person and better stylist.  I am so blessed to stumble across something so unique and one of a kind," he says. "BarkAID is making history as the first organization to do what it does."
Related: Where New York Dogs Go for Faux Hawks, Fur Dyeing and Everything in Between
Most of the salon information is already provided below but for some cities, the location is still to be determined. To inquiry about getting your haircut in your state, feel free to contact Lomantini's team at sahagbarkaid@gmail.com or 215-750-7772.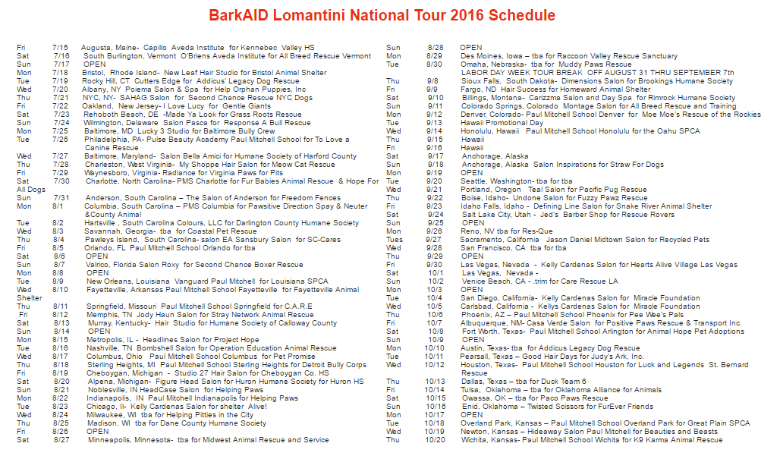 Main image via BarkAID