A maid of honor helps a weak dog fulfill his duty at a wedding by picking him up and helping him finish his walk down the aisle.
Named Charlie, the 15-year-old black lab mix, had been with the bride, Kelly O'Connell, since he was just a puppy.  O'Connell wasn't looking for a dog but after seeing Charlie at a shelter — found in the middle of winter at 12-weeks-old in a shopping cart — she knew he was meant to be with her.
"It was just kind of like, yeah he's mine," O'Connell told The Washington Post.
For the next 15 years, he went with O'Connell everywhere and was there when she met James Gavin, her future husband.
Related: Everything You Missed From Toast and Finn's Big Dog Wedding
When the two got engaged, they knew they wanted Charlie to be part of the ceremony. Sadly, that was easier said than done. Earlier this year, Charlie was diagnosed with a brain tumor and his health was quickly deteriorating.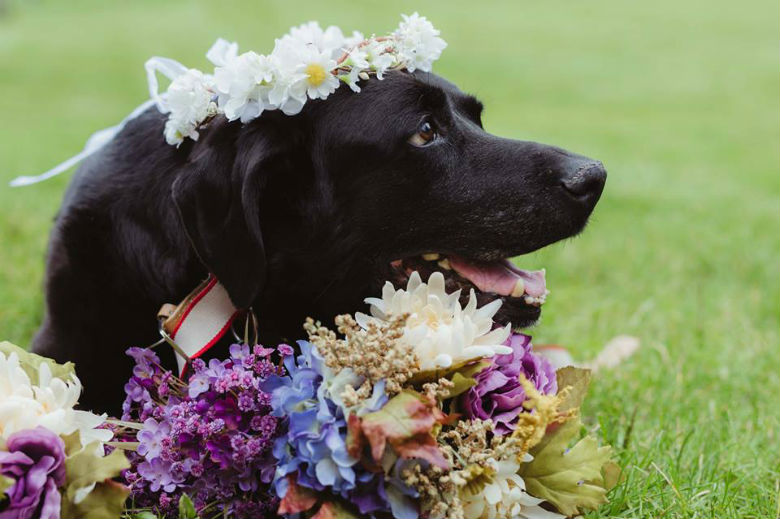 "I had actually made an appointment for somebody to come to the house and we were going to put him down a week before the wedding, because he had had five seizures and we were just like 'this is too much, I don't want to do this for him anymore,'" O'Connell, a veterinarian, told the outlet. "Eventually, it was almost as if he was like 'no I want to see this.' He got better."
And he did attend the wedding. Charlie was able to make it down the aisle but when it came time to go back, he couldn't muster the energy.
Related: Dog Captures Magical Winter Wedding Using GoPro Camera
"That was when the bride's sister said 'I am NOT leaving you behind!,' scooped him up, and carried him," the wedding photography, Jen Dziuvenis, wrote on Instagram. "He's 80 lbs. She's 5'2″. It was one of the most powerful showings of love for family (both her sister and the Charlie dog!) I have seen. Tears. SO MANY tears."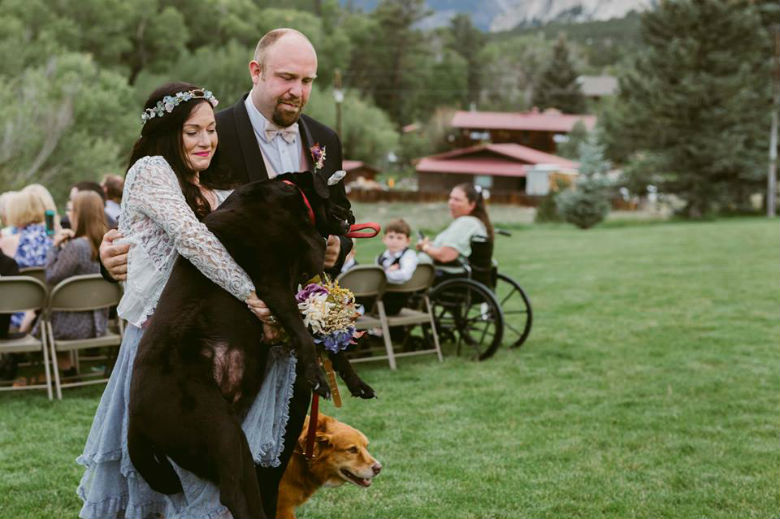 Once Charlie made his way to his mom, she, along with Gavin knelt down and gave him a big hug.
"The bride stroked his face and told him how happy she was that he made it. The whole family (and the photographer …) cried their eyes out," Dziuvenis wrote on Instagram. "The amount of love these people have for their animals is enough to restore anyone's faith in humanity."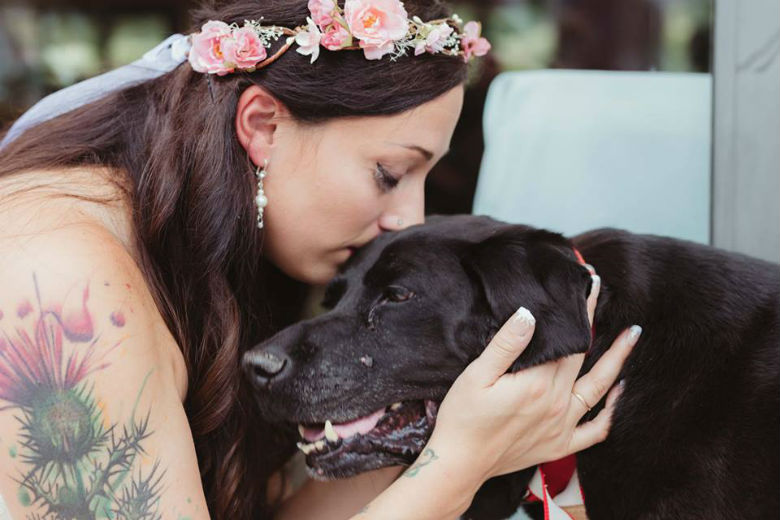 Related: Terminally Ill Dog Serves as Ring Bearer, Gets to See Ocean for First Time
A couple days after the ceremony, O'Connell decided to say goodbye to her four-legged friend.
[W]hen I look at the pictures, especially the one where the flowers are all around him, I just think he looks so happy in those pictures," she told The Post. "I just think to myself, despite that feeling of did I push it too far, or did I force him to stay around for this wedding, looking at those makes me think, he just wanted to see that, us come together, and I guess his mom be taken care of."