Looking to liven up your caffeine routine? Then check out the new Los Angeles-based The Dog Café.  A first in the U.S., The Dog Café makes adopting shelter dogs more fun (and engaging!) than ever.
With its grand opening on April 7th, café customers can stop by for a coffee or tea, then head to the adjacent dog lounge area and mingle with pups from nearby shelters like the South L.A. Animal Shelter. The best part? Every furry friend is up for adoption and just waiting for the perfect new home.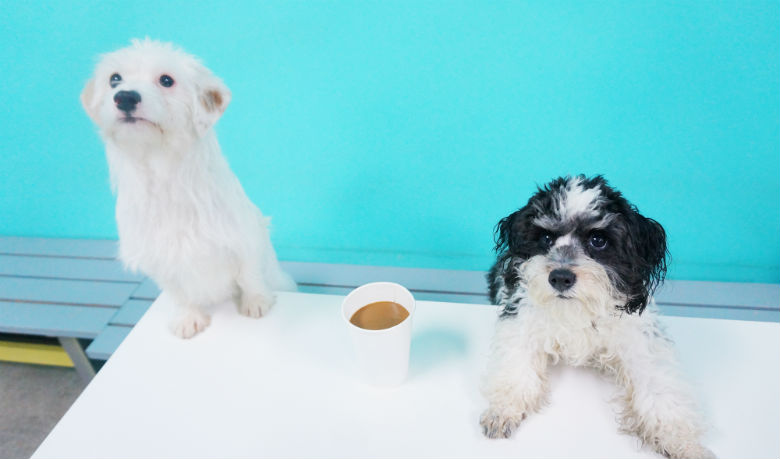 Related: Entrepreneurs Are Crowdfunding for First Dog Café in America
According to the café's owner and founder Sarah Wolfgang, "The idea of opening up a dog café in Los Angeles first came to me when I visited an L.A. city shelter. I came across so many beautiful dogs that seemed perfectly adoptable, yet had a hard time getting adopted," she explains. "I felt allowing people to see these pups in an open environment could solve this problem." After raising $16,000 on crowdfunding site Indiegogo, Wolfgang was able to obtain a private investor, and the Dog Café was born.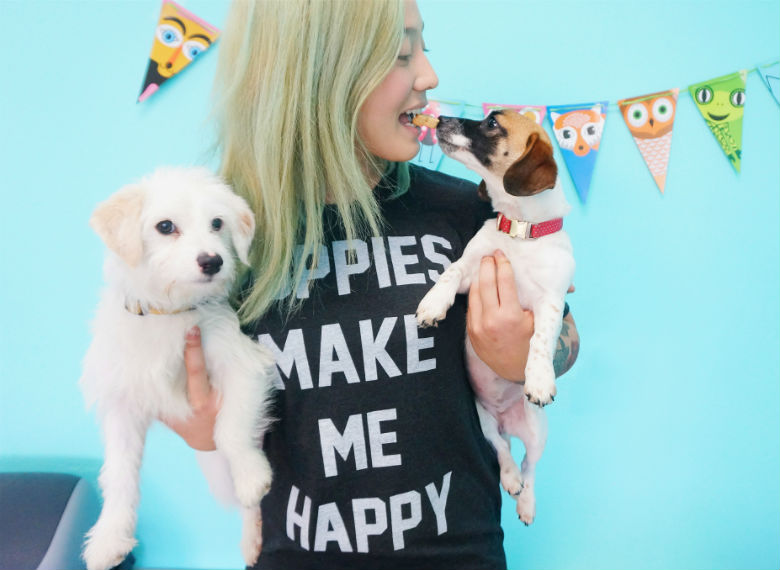 While the Silver Lake café boasts super-tasty caffeinated sips and specialty drinks like lavender lemonade and its signature "mocha" latte (made with carob instead of chocolate) from brands that give back to animals in need — Hounds Coffee Co. and Dogs Drink Coffee — customers are stopping by for more than that much needed jolt.
"The public has given us a very positive response," Wolfgang says. "It's such an amazing experience to see how much our dogs, once abandoned and neglected shelter animals, can give people so much happiness (and vice versa)."
While the shelter dogs at The Dog Café have been evaluated for friendliness with both people and other dogs, Wolfgang wanted to focus on bringing homeless dogs who were often overlooked due to their age, breed, have special needs or were traumatized from a prior situation.
"The more dogs we can find homes for, the more we can rescue," Wolfgang says. "It's been so rewarding so far to get photos and updates from those who have adopted from us – we are so lucky to have found such great pet parents for our pups thus far."
With that said, it hasn't all been a walk in the park. With any new business venture, entrepreneurs face hurdles – obtaining licenses and permits, securing a location and passing inspections, to name a few.  Luckily, I've had the chance to cuddle with lots of pups at the café during all of this, which tends to melt the stress away," Wolfgang explains. "
The café will occasionally host special events and get-togethers (which they'll announce via social media and on their email newsletter), but the space can also be rented out for private events and parties.
Last but definitely not least, we highly recommend that customers check out the café's retail area. It houses pieces designed to make it easier than ever to spoil your new (or old!) furry friend, including beautiful textiles, leashes, collars and other accessories.
We suggest making a reservation to ensure you can get into the café. The cost of entry is $10 per person for a 55-min visit, which includes a drink valued at up to $3. (Expect to pay a little extra for specialty drinks.) If you don't want to head over to the dog area (in a separate room), you can also just grab a tasty beverage and be on your way.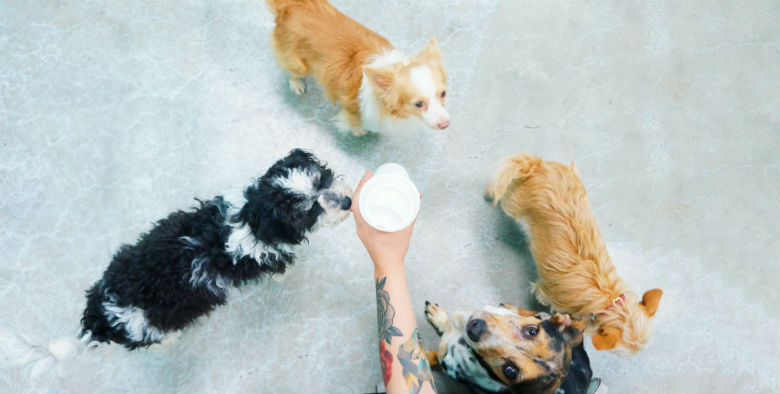 Information on reservations, along with a list of available pups up for adoption is available on the café's website here. The Dog Café is located at 240 N. Virgil Ave in Los Angeles in the south Silver Lake neighborhood of Rampart Village.
Related: Every Night, Coffee Shop Opens Its Door to Stray Dogs