A border collie who makes flying safer for passengers has become an Internet sensation.
A Reddit user posted an animated GIF of a dog named Piper donning goggles at the Cherry Capital Airport in Traverse City, Mich. with a plane taking off in the background.
To date, the animation has received more than 6,000 points, or "upvotes," and 1,000 comments, pushing it to the top of the GIF page on the user-generated website.
Related: For Those Not Down With Flying Their Dogs, Royal Paws Will Drive Your Pup Cross County
Besides being a cool looking video, Piper plays an important role at the airport:  keep birds off the runways and taxiways.
The 7-year-old works four 10-hour weekly shifts (with lots of breaks!) and has been at the airport since August of 2014.
The dog got the gig because the Federal Aviation Administration required the airport to have a Wildfire Hazard Management Plan in place to prevent wildlife from coming in contact with airplanes.  Because of a border collie's natural prey drive, Piper was perfect for the job. The pup has chased away 2,450 birds and patrolled nearly 600 miles in his career, according to the Cherry Capital Airport K-9 website.
Besides chasing birds away, the pup searches for rodents that may attract the feathered creates, along with boosting morale among employees and visitors.
Related: Plane Gets Diverted to Save Dog
Just like a human, the dog must wear a uniform to keep him safe. Depending on the job and day, Piper can be seen wearing goggles, ear muffs, aerial insertion vest, footwear, tracking ID and harness. This equipment, along with training helps Piper stay at the top of his game.
"Let's face it, it's not natural for dogs to be around loud stuff. Piper and I worked long and hard to get him acclimated to the aircraft noise and we still do," Brian Edwards, Piper's owner and the manager at the facility, told This Dog's Life. "Not every dog will have the temperament for this type of work. Piper is definitely special."
While these accessories reduce the chance of injuries, Piper did have an on-the-job accident back in November. The pup was chasing away a snowy owl when he tripped, broke his toe and had to get a cast. (It has since been removed.)
In his downtime, Piper is just like every other border collie: full of energy. "We hike, run, swim, beach it up, cruise the streets of our quaint downtown and generally enjoy life," says Edwards.
Besides making an appearance on Reddit, Piper also has his own Facebook, Instagram and YouTube account, all capturing his unique life.
"We have fun and don't consider work a job," Edwards says. "We get to come to work, increase safety and as a bonus, have the opportunity to meet some really awesome people and try to do good along the way."
Here are a few of our favorite images: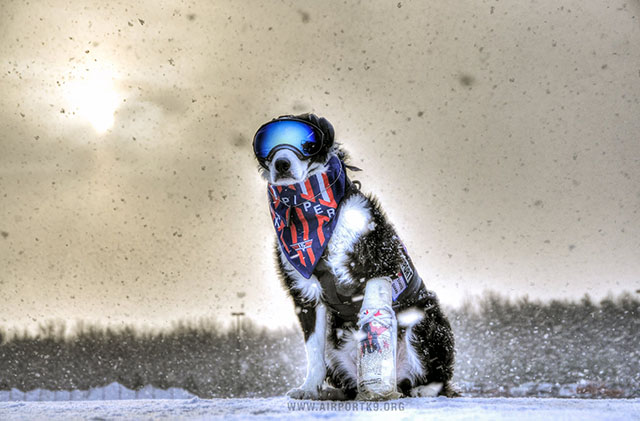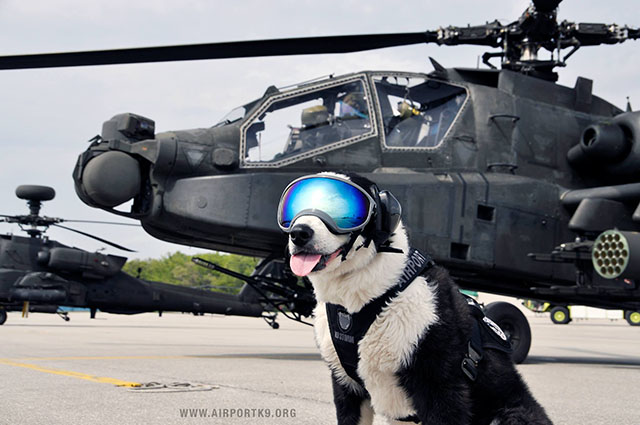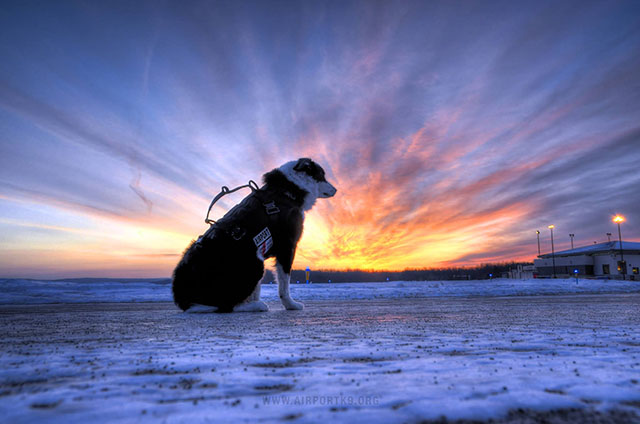 All images via Facebook