There's a long tradition of iconic dogs greeting guests at the world's toniest hotels. You'll find Ginger, a tiny Pomeranian, holding court in the lobby of The Muse New York. Timmy, a yellow lab who's frequently decked out in sunglasses, fedora, and bow tie, works as the Hotel Monaco Portland's Director of Pet Relations. At the Ritz-Carlton, Bachelor Gulch, a Saint Bernard named Bachelor is the official greeter. Beloved black lab Catie Copley will always be remembered as a tour guide at Boston's Fairmont Copley Plaza.
Joining the ranks of the world's most beloved canines are two adorable bulldog puppies, Winston and Churchill, who made their debut on August 17 as official mascots of the The London West Hollywood at Beverly Hills.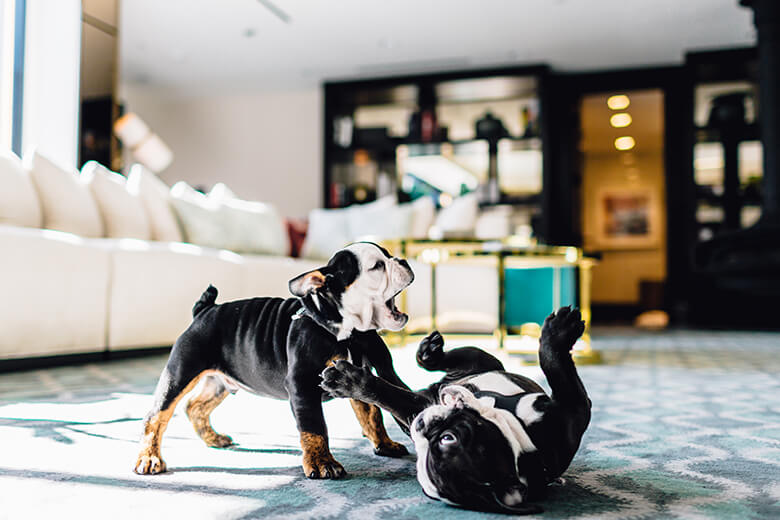 Related: Long-Term Shelter Dogs Get to Enjoy a Day of Pampering and Play at Luxury Hotel
"When the London brand originally launched, we had a bulldog that would frequently come to the hotel as our Mascot and meet and greet guests," says General Manager Jeff Kulek. "We decided that we wanted to have our mascots live at the hotel and meet and greet our guests on a daily basis." Winston and Churchill moved into the hotel as full-time employees.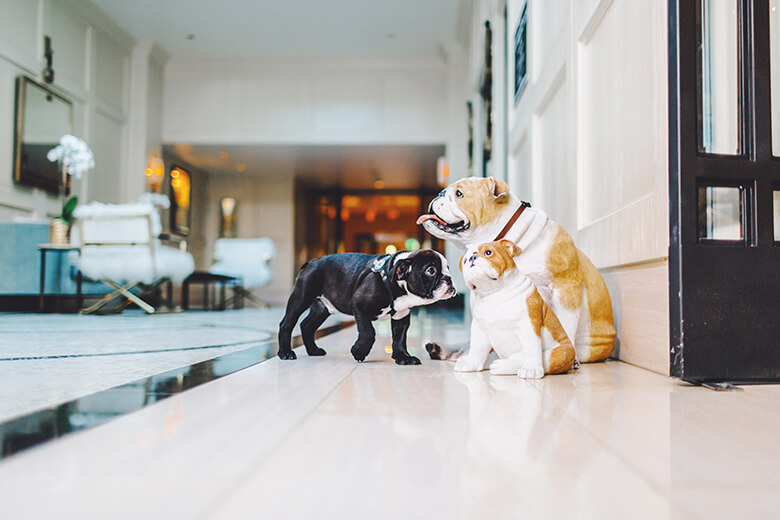 Guest are invited to meet the pups and play with them twice a day at their favorite outdoor hangout, Hampton Court, which has views of the Hollywood Hills and Sunset Strip. They have also been spotted taking their walks or enjoying the good life and sun bathing at the rooftop pool.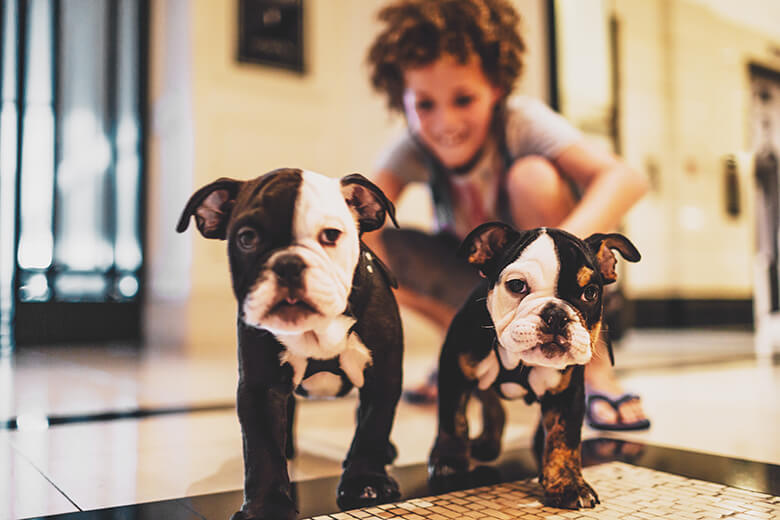 And while puppies can be notoriously mischievous, Winston and Churchill are well behaved and easily trained. Besides being extremely cute, they enjoy interaction with lots of people and are naturally friendly. But they also have a job to do.
Related: You Can't Help But Smile at This Groomer's Slo-Mo Blow Drying Videos
They meet and greet clients and welcome potential clients for site inspections, says Kulek. Guests often arrange to meet the puppies and have their photo taken with them. There have also been multiple photo shoots, and sometimes in the evenings, they are hired to attend events. Proceeds from their appearance are then donated to animal charities.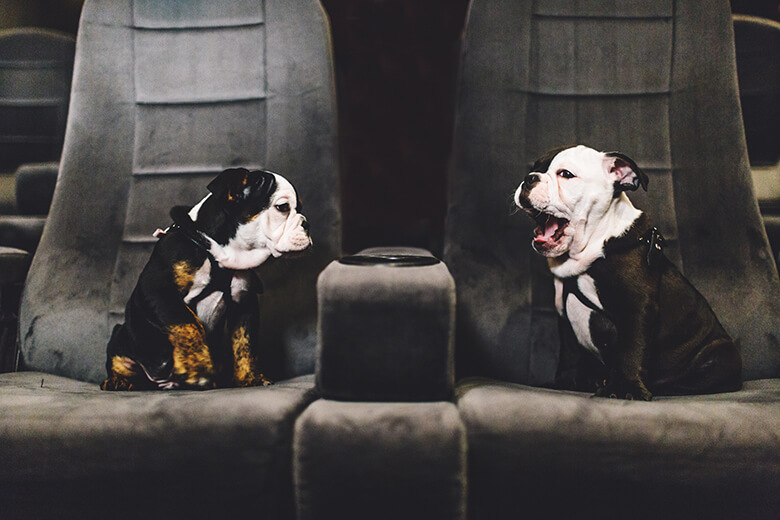 The duo is extremely popular and have added to the overall hotel experience. "Guests are utterly delighted to interact with the dogs," says Kulek. "Their faces light up, and they become animated and automatically engage with them and their handlers. It truly makes the hotel feel more like home."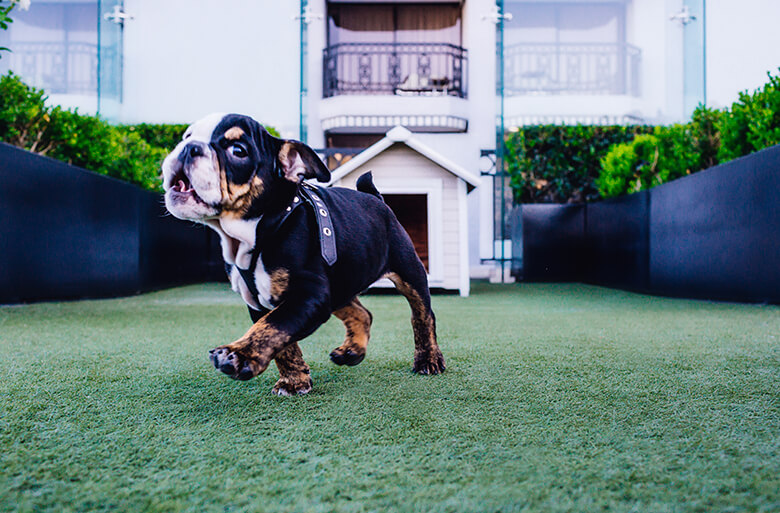 Along with Winston and Churchill, the hotel added a variety of pet packages that include a selection of supplies including leashes, luxurious dog beds, water and food bowls, and toys.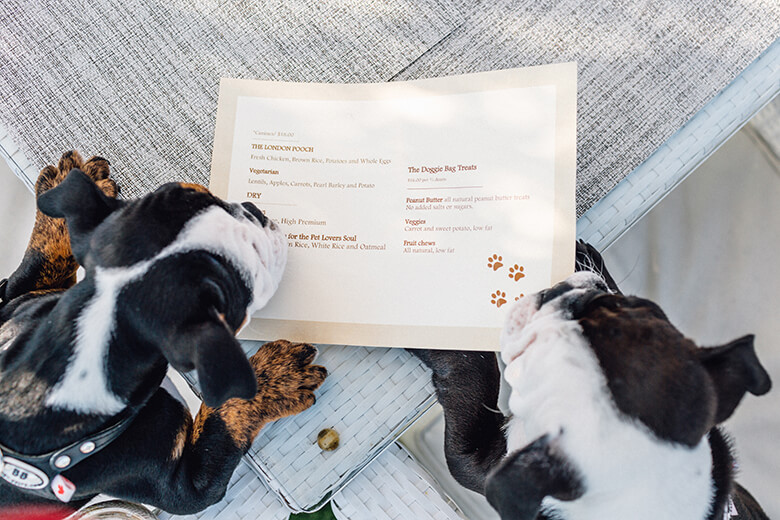 They also offer a room service doggy menu called "Winston's Menu." Pooch-friendly dishes invented by Executive Chef Anthony Keene include The London Pooch (Fresh Chicken, Brown Rice, Potatoes and Whole Eggs) and Chicken Soup for the Pet Lovers Soul (Chicken, Brown Rice, White Rice and Oatmeal). You can also order a serving of high-quality kibble, all natural peanut butter treats with no added sugars or salt, Doggie Bag Treats, Veggies (carrots and sweet potato), and all natural fruit chews.
Related: Celeb Dog 'Toast Meets World' Takes Over the Hamptons in New Book ToastHampton
"Dogs have long been man's best friend," says Kulek. "It's hospitable to have them in a hotel to welcome guests from around the world." The hotel welcomes dogs under 30 pounds.
Here is a video of the two pups making their debut: