Believed to be tied with racing, a massive grave of more than 50 greyhounds was found in Australia, with officials calling it 'just the tip of the iceberg.'
Officers discovered the grave in Bundaberg , Queensland, where the carcasses of 55 greyhounds along with .22 caliber shells were found.
Police officers were tipped off from a Fairfax radio viewer and they teamed up with the RSPCA for this case. Currently, eight people have been charged with 31 offenses and there are others that officials are trying track down.
Related: Woman Quits Her Job to Knit Sweaters for Chilly Homeless Greyhounds
"I appeal to people within the greyhound industry in Queensland – you know who you are, you know what you've been involved in," Detective Mark Ainsworth said. "It will only be a matter of time before we get around to knocking on everyone's door."
The industry has always been closely examined but as of late has come under extra scrutiny.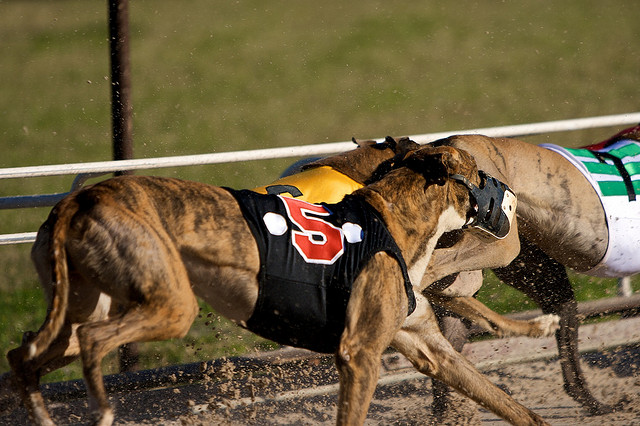 This year the ASPCA teamed up with greyhound rescue organization to try and sway public opinion and get the industry shut down. The push comes documents were published showing that there has been 11,000 injuries and 909 deaths between 2008 and 2014.
Related: The ASPCA and Rescue Organization Join Forces to Take on Greyhound Racing
And in Australia, there was a documentary aired in mid-February painting an alarming picture about the live-baiting used in greyhound racing. It is a technique were small animals such as possums and piglets are used to encourage hungry dogs to run faster. While this sparked outrage, it is believed this killings occurred before the show was aired.
"We've not even tipped the iceberg yet," Ainsworth said.
Police Minister Jo-Ann Miller called the incident a "mass murder" and said,  "The people who have perpetrated this crime (are) pathetic."
Related: The ASPCA and Rescue Organization Join Forces to Take on Greyhound Racing
Image via Flickr/Wetsun