A man who had just lost everything couldn't afford to treat his senior pit bull's deadly illness. Fortunately, an angel stepped in to give him a helping hand.
Robert from Clifton, N.Y., who recently became homeless, was at the vet when the clinic told him his dog, Ripp, was very sick and needed to be treated immediately for pneumonia. The cost: $4,000.
Related: Senior Volunteer Adopts Elder Dog, Shares Sacred Last Days in Photo Series
Not being able to afford the bill, he broke down.
In a stroke of serendipity, Chris Hughes was standing near Robert when he was delivered the bad news.
Hughes is the co-founder of the Mr. Mo Project, a New York-based nonprofit that saves senior dogs from high-kill shelters across the U.S.
After witnessing Robert's no-win situation, Hughes offered to foot the $4,000 vet bill and any further costs.
The Mr. Mo Project will keep the pup safe and sound at The Animal Health Center until Robert is ready to take the pup back. Currently, the man is living in a shelter but should be moving to a home fairly quickly.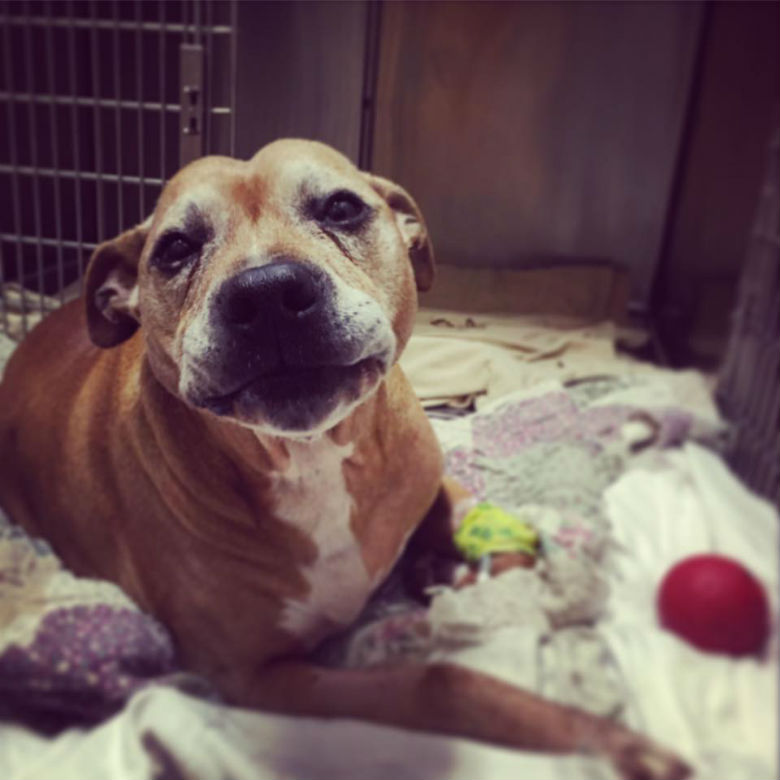 "I couldn't really pay the bill…and I really love my dog a lot," Robert said crying in the video below. "And the Mo. Project really helped me out, they saved my dog…I really appreciate all of it coz I think he has a lot more golden years to go. As I'm crying I still get happy about it, though [kisses the dog]."
Related: Senior Dog Says Goodbye to His Beloved Owner in Heartbreaking Letter