Three hikers were walking in an Australian national park, when they stumbled upon a dog trapped in a pool of freezing water.
A couple, along with the woman's father, was exploring Mt. Glorious in Queensland when they heard a commotion.
"Thinking it might be a roo or a platypus, we approached quietly, only to see this forlorn little face looking back," Reddit user dangerm0use writes. "It was honestly the saddest sight."
Stuck in a freezing pool was a senior dog, exhausted from trying to get out of the deep section it had fallen into.
Related: Preparing for the Worst: How to Prevent Your Dog From Getting Lost and Never Found
Unsure if it was a wild or domesticated dog, the trio knew they had to act. "There's no way it would've survived the night," she writes. "We erred on the side of caution and armed ourselves with a BFS (big f*cking stick), just in case it wanted to defend itself when we pulled it out of the water."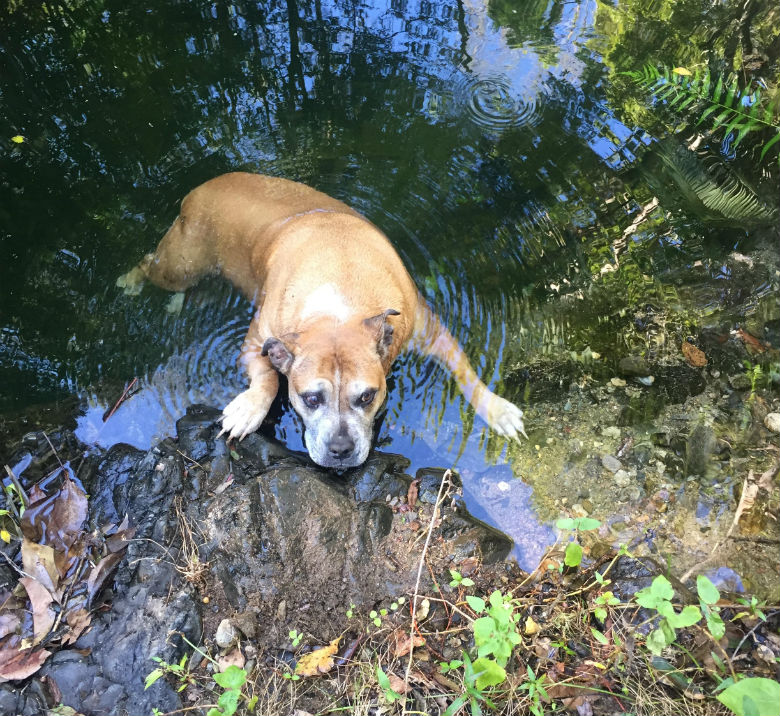 They soon found out there was no need for the stick. After slowly putting a makeshift leash around the dog's neck and pulling her out, they discovered she wasn't aggressive at all. "In fact very timidly lumbered away from us, up the bank and into the thick lantana beside the pool," she writes.
Realizing they needed to get her out of the national park – "she was in a completely inhospitable section of bush – they needed to trap her.
Related: Watch: Owner and Dog Reunited After Stolen During Home Invasion
"We saw her podgy little rump disappear into the lantana, giving us no other option than to wade in after her. Because the scrub was so thick we lost sight of her," dangerm0use writes. "Occasionally we could hear her bashing her way up the bank, and eventually we spotted her around 10 meters up, laying low in the thick undergrowth."
When they sneaked up on her, they discovered the smart pup had made a small dugout in the bank, along with a tunnel to the waterhole.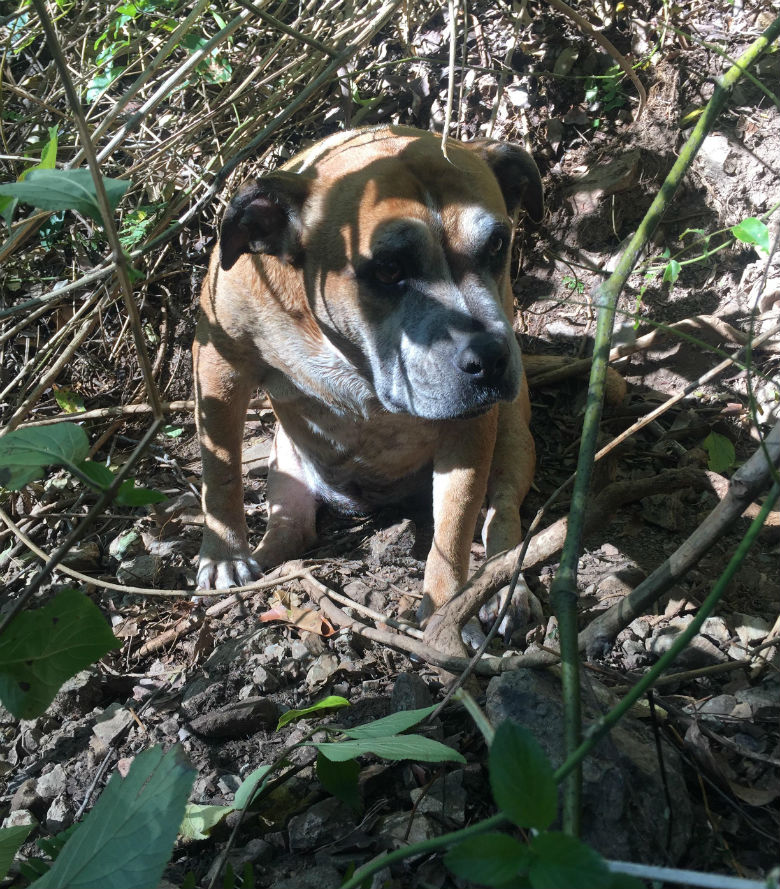 Still unsure, how the dog would respond, dangerm0use decided to take a chance and get close to her. "After a while I took a chance and gave her a scratch on the head, and she rewarded me with a lick on the hand."
They decided to call their new friend Miss Piggy, as their "little companion wasn't exactly lacking in mass." Because of her size and difficult terrain, it was going to be a challenge getting her out. They attempted to make a handmade harness and try to coax her up rocks.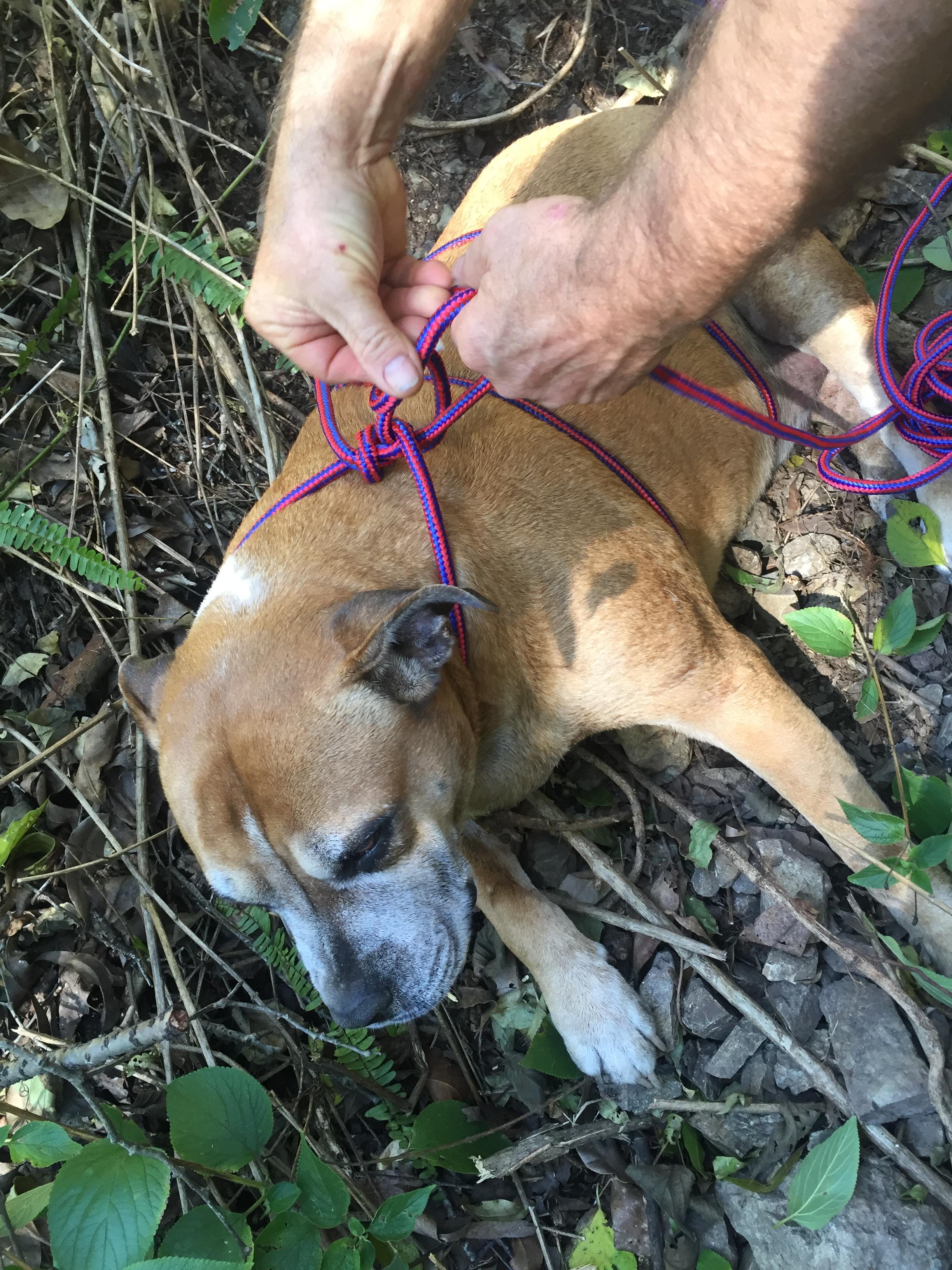 "She (predictably) wasn't overly keen on that, so we set about carrying/nudging her along – one person leading her and another pushing/carrying her from behind."
Miss Piggy naturally didn't like this decision– one where little progress was being made — and had no idea who these people were, so at one point, she tried to escape.
Related: Puppy Reunited With Family After Lost in Massive Wildfire
"The only way I could stop her was to get in front of her and head her off before she got to open ground," dangerm0use writes. "With her escape plan thwarted, she slumped down into the undergrowth and resumed her state as an immovable object."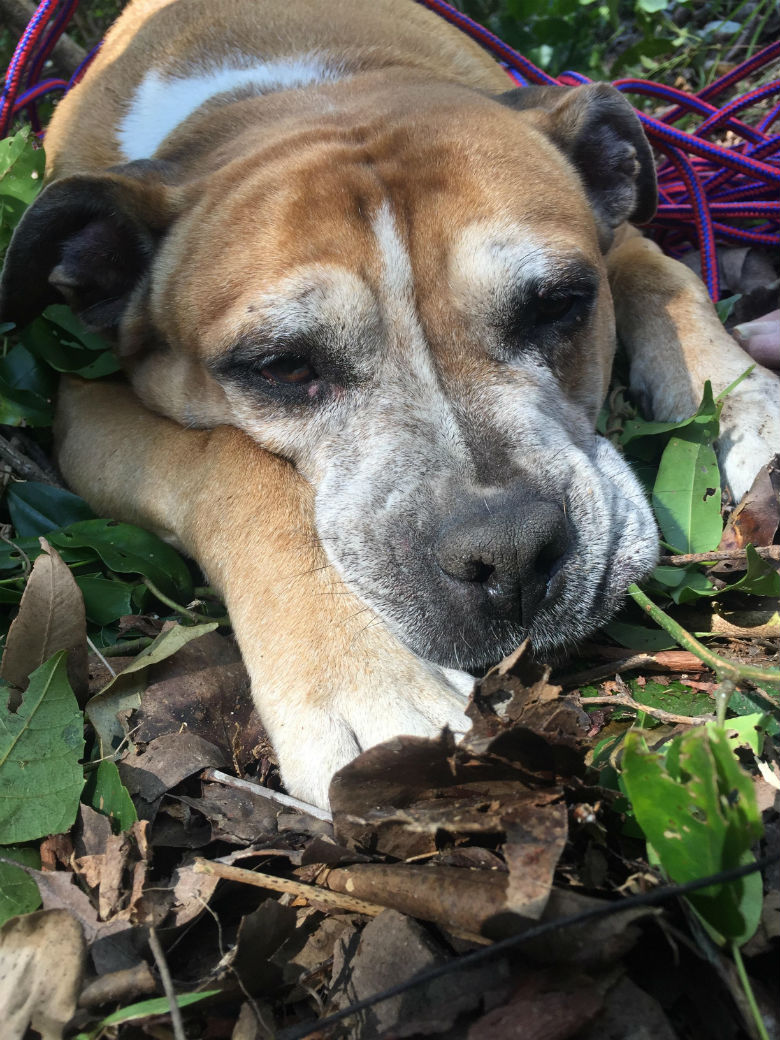 She was tired and needed a break from all the shenanigans. "The little sweetie showed her appreciation of our patience by wriggling over to me and resting her head on my leg."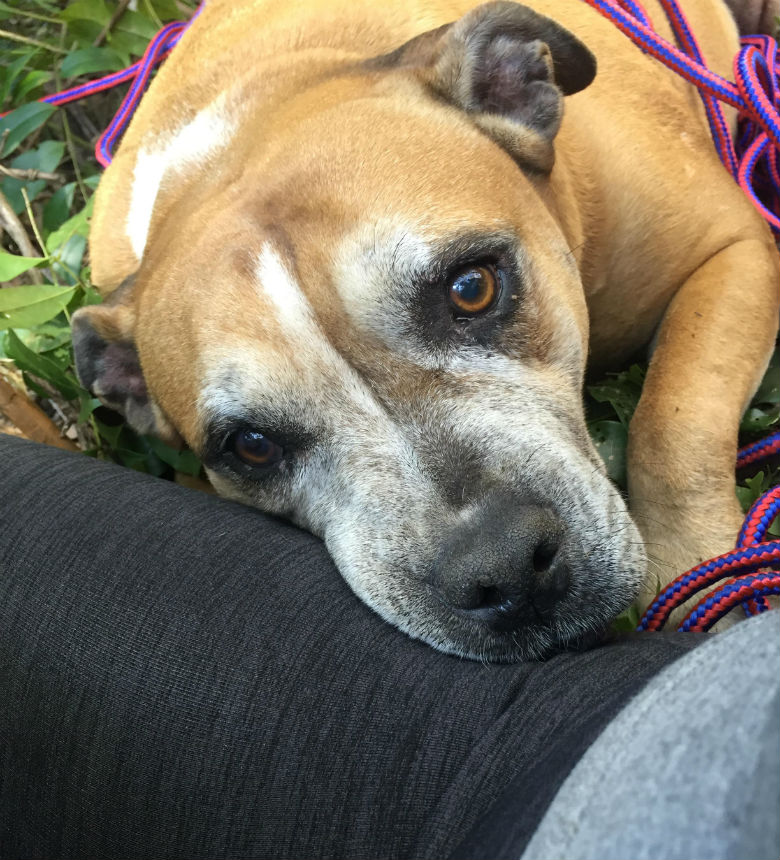 Realizing Miss Piggy wasn't going to make it, unless they carried her, the trio devised a plan. "My husband had a brainwave, remembering that we had a large canvas bag in our car (15 mins walk back up the creek)," the hiker states. "We figured that if we could get her into the bag, we could MacGyver together some apparatus to transport her out."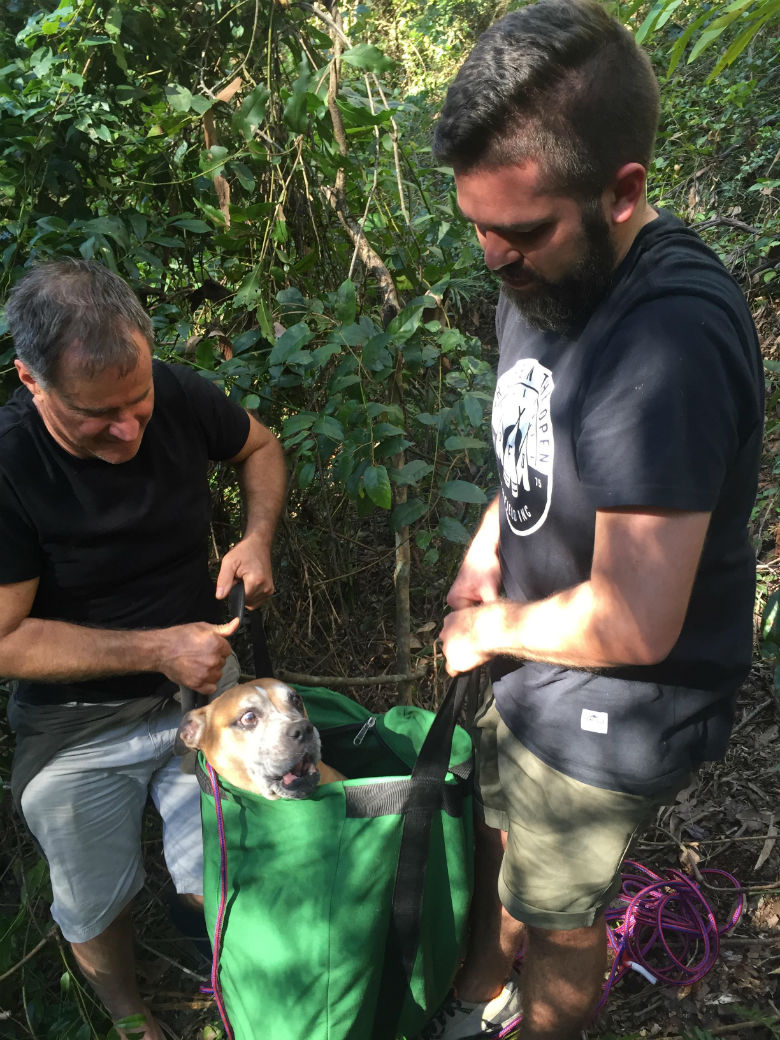 After determining, the dog could indeed fit into the bag (not sure how keen she was), they found a large branch and created a sort of  to help everyone get moving up the steep vertical climb, through the thick vines and onto the road.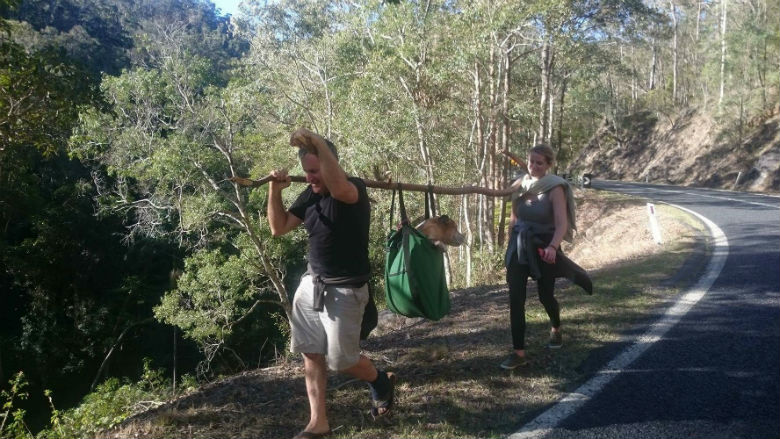 Once she was in the car, she was a happy dog. Her tail couldn't stop wagging.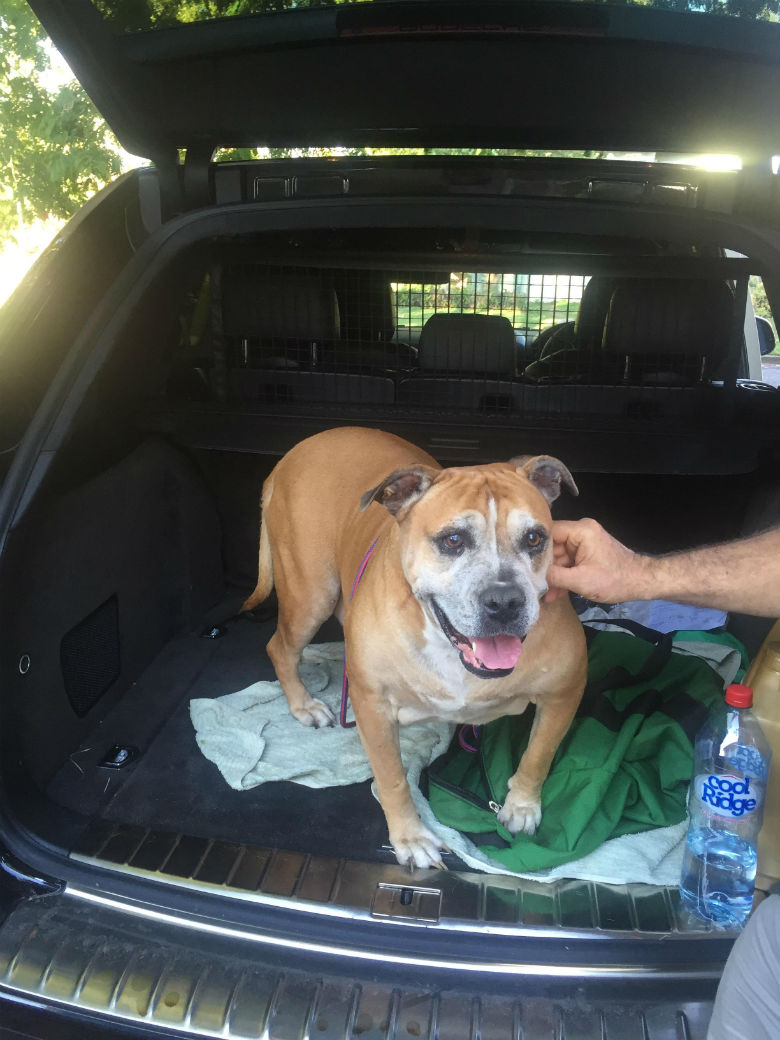 At home dangerm0use got to work, trying to track down Miss Piggy's owner. Putting a message on Facebook about the lost dog, she surprisingly received a reply 30 minutes later.
After seeing the pup's picture, a man, living about 10 miles north of the creek, was sure it was his dog. But when he called her "Bob," their hearts' sank. " However, he confirmed that 'Elly-Bobby' (named after Ricky Bobby) was indeed his little girl," and was missing her.
Related: Dog Acts as 72-Year-Old's 'Pathfinder,' Helps Her Survive 9 Day In Desert
"Bobby's dad had mounted massive FB and poster campaigns to find her, and had been searching for hours every evening since she went missing, never giving up hope that he'd find her."
Related:
Now, the two are happily reunited.