One of the biggest dog surfing events is occurring this upcoming weekend.
Surf City Surf Dog is making its way to Huntington Beach on September 25 for its eighth annual surfing competition known as Surf City Surf Dog.
Put on by Unleashed by Petco, the event will have more than 70 "pawticipants" and surfers showing off their skills.
Related: Dogs Hit the Waves for First-Ever World Surfing Championships in Northern California
The weekend event kicks off on Friday, Sept. 23. with an opening ceremony at Rainwater Gallery and Events Center in Downtown Huntington Beach. At the venue there will be a Surf Dog photo exhibit on display, featuring images of surfing dogs catching some waves. The beautiful photos will be available for purchase, with partial proceeds benefiting Surf City Surf Dog's Official Charity Partners. Guests will also get to check out some famous dogs on the red carpet and munch on some free appetizers. The suggested donation is $10, which will go to Surf City Surf Dog charity partners.
Related: For Training, This Surfer Gets Dogs Out of the Classrooms and Onto Paddleboards
The next day, renowned Australian dog trainer and surfer Chris de Aboitiz of SUP Dog will be on hand offering stand up paddleboard lessons to pups and their owners. There will be a discounted rental rate for the class. The activity will be held at Pirate Coast Paddle Company at 1131 Back Bay Dr., Newport Beach, CA 92660.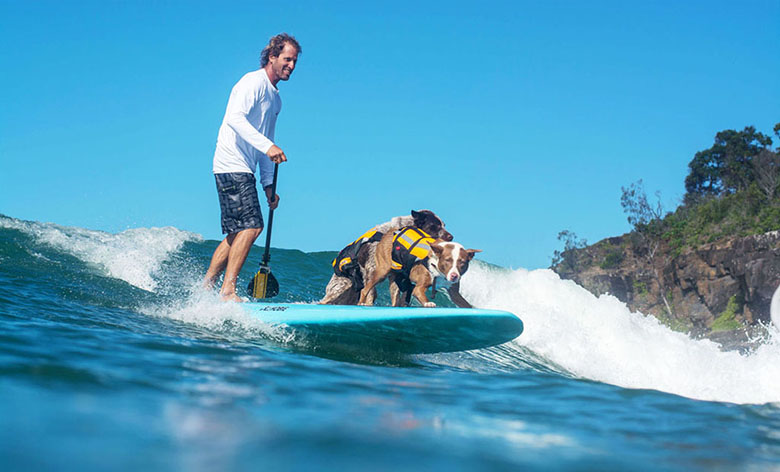 Then comes the main event on Sunday: The Surf City USA competition. Starting at 8:00 am, dogs will take to the water, competing in various categories including,  small, medium, large and x-large weight-based heats. There will also be tandem heats — dog/dog, dog/human and dog/human on a stand up paddleboard. The finals will begin around 2 pm and the awards and closing ceremony will occur at 3:30 pm. Some big-name surfing pups will be competing for the top-dog honors, including Haole Boy Surfs, Cherie the Surf Dog and Super Dog JoJo. The event will be held at Huntington Dog Beach at 100 Goldenwest Street & PCH, Huntington Beach, Calif. All information can be found on the Surf City USA's website.
Related: 22 Spectacular Pictures of Dogs Riding the Waves at the Surf City Surf Dog Competition