A girl got a special "bear hug" in the form of a dog.
Six-year-old Anna Ciamarra has been undergoing treatment for cancer.
Her doctors had suggested a dog may help her through this tough time – not only to improve her mood but also provide support.
Fortunately, her family qualified for a "bear hug," or special, customized experience, through the Bear Necessities Pediatric Cancer Foundation. The organization teamed up with The Anti-Cruelty Society in Chicago to find Anna the perfect "bear hug": a rescue dog.
Related: Girl With Cancer Gets Special Visit From Dog in Movie 'A Dog's Purpose'
After sussing out some candidates, Anna met a dog named Ginger.
"It was a perfect match! Ginger Belle immediately greeted them with doggie kisses and was extremely playful with Anna," says Amanda Martinez Byrne, director of individual and corporate giving at The Anti-Cruelty Society. "Ginger Belle seemed to be instantly comfortable with her new family. She was running with the girls one moment and crawling in their lap for a photo the next." And that was it.
Related: For Birthday, Boy With Cancer Asks Friends to Donate to Shelter Rather Than Buy Him Gifts
Since Ginger Belle has been home, the dog has had a big impact on Anna.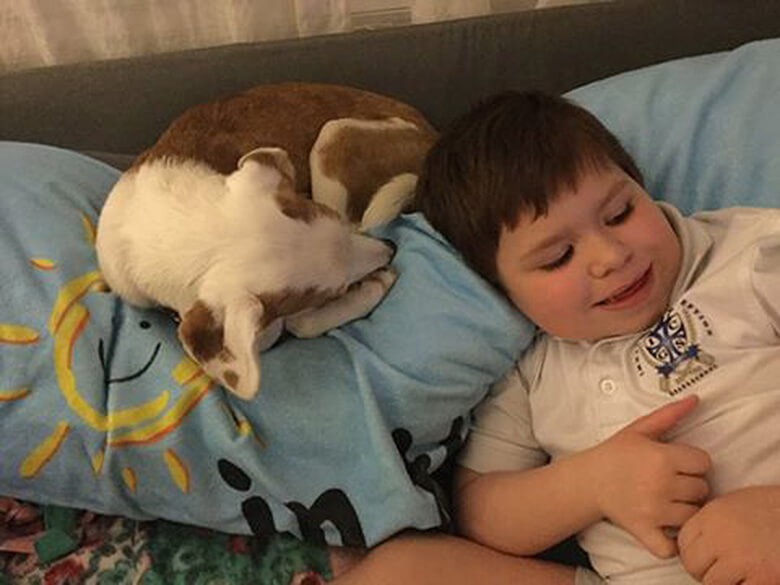 In a Facebook post on The Anti-Cruelty Society's page, "Anna's mom reports back that they "won the puppy lottery! We could never have dreamed we would get such a playful, sweet, and cuddly dog. Anna is like a brand new kid around her. This 'Bear Hug' was truly the best medicine for her and our whole family."
Related: Blowing in the Wind: Photographer Captures Dog's Personality in Beautiful Series