Instead of presents for her birthday, an 11-year old decided to help raise money for a dog in need.
Like many, Liberty Miller of Pennsylvania heard about Libre, the puppy found on a breeder's farm in Pennsylvania barely alive.
While the dog was rescued by Speranza Animal Rescue and is under the care of Dillsburg Veterinary Center, the road to recovery is long — and expensive.
Related: Dog Left to Die in Box of Car Parts Makes Miraculous Recovery
Miller decided to do her part to help Libre and asked her friends and family to donate to the dog's cause in lieu of gifts. The girl managed to raise $250, and when Dr. Ivan Pryor of the center heard of this good deed, he became overcome with emotion. "I didn't know Liberty before this, but I'm just really proud of her," Pryor told 21 News.
The puppy has come a long when since he was rescued but still has a ways to go. "I feel happy. Very, very, very happy. He needed a lot of help and I knew it would help him a lot," Liberty told the outlet.
Found of July 4, Libre was in a kennel by himself in a backyard on a breeder's farm clinging to life. He was found suffering from a severe case of demodectic mange, along with being emaciated, dehydrated and barely breathing. There was also reportedly maggots on the dog.
Related: The Top 100 Worst Puppy Mills Revealed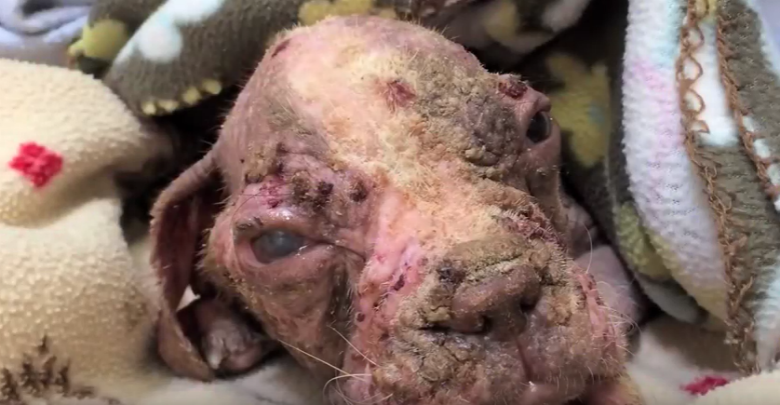 His story made headlines after the local SPCA in Lancaster County Refused to press charges, citing lack of evidence for neglect or cruelty charges. Animal advocates called for the resignation of the director, Susan Martin, and more than 400 people protested outside the facility earlier this month.
Related: After SPCA Director Refuses to Press Charges Against Breeder Who Reportedly Left Dog for Dead, Protesters Call for Her Resignation
While the board of directors stand by Martin's decision, the Humane Society has opened up its own investigation and last week Senator Richard Alloway said he would be introducing legislation to strengthen Pennsylvania's animal cruelty laws, so offenders face harsher penalties for offenses. It will be known as Libre's Law.
As for Libre, he is being adopted by the woman who rescued him, the founder of Speranza Animal Rescue,  and has helped the dog heal. "I just really connected with him. I don't know why, because I've rescued so many dogs," Janine Guido told York Dispatch. "I get butterflies before I visit him. Something about Libre really captured my heart."
Main image via Local 21 News.