If you thought this was the year the Labrador would be dethroned as the most popular dog in the U.S., think again.
For a record-breaking 26th consecutive year in a row, the Labrador Retriever is the top dog for 2016, according to the American Kennel Club.
"The Labrador Retriever has a strong hold on the top spot, and doesn't show signs of giving it up anytime soon," AKC Vice President Gina DiNardo said on its website. "The Lab is such a versatile dog that it's no wonder it makes a great companion for a variety of lifestyles. Keep your eye on the Rottweiler, though.  It's been quietly winning hearts over the past decade."
Related: How Our Presidents Have Inspired Us to Name Our Dogs
The German shepherd, golden retriever, bulldog and beagle rounded out the top five — no surprises there. But what was a bit unexpected is the rottweiler continued rise in the list. The loyal, confident breed nabbed the number eight spot, the highest ranking for the loving rottie since 1997, when it snagged the no. 2 spot.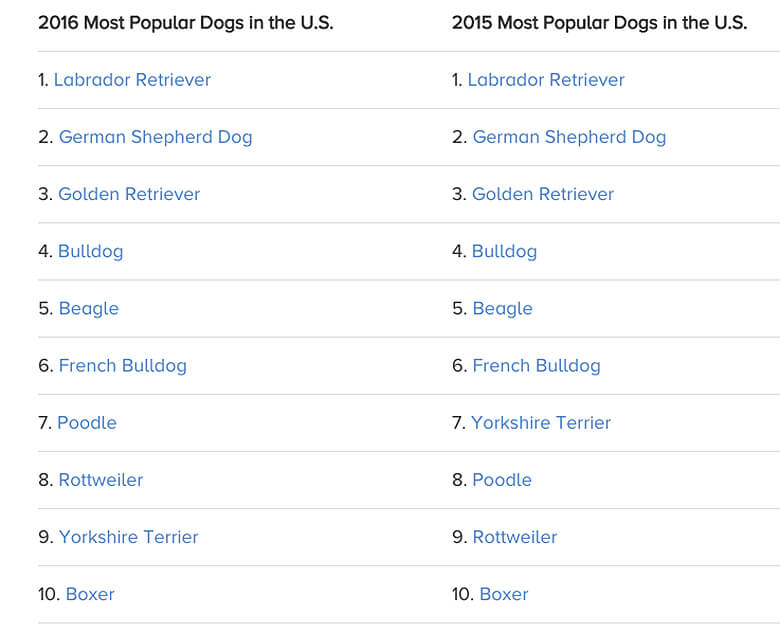 Other standouts include the terrier group. The russell terrier climbed 14 spots from 104 to 90; the rat terrier jumped to 96th from 101; the parson russell terrier rose two spots to the 109th position and the dandie dinmont terrier is now in the 167th position, up five spots from 172nd.
Related: Dog Named Rumor Gets Best in Show
And while the Labrador is the most popular dog in the U.S., some major metropolitan cities had their own top dog. In San Francisco and New York City, the French bulldog is the most popular breed, whereas in Los Angeles it is the bulldog.
Here is the list of the top 100 below.
Retrievers (Labrador)
German Shepherd Dogs
Retrievers (Golden)
Bulldogs
Beagles
French Bulldogs
Poodles
Rottweilers
Yorkshire Terriers
Boxers
Pointers (German Shorthaired)
Siberian Huskies
Dachshunds
Great Danes
Doberman Pinschers
Australian Shepherds
Miniature Schnauzers
Pembroke Welsh Corgis
Cavalier King Charles Spaniels
Shih Tzu
Boston Terriers
Pomeranians
Havanese
Shetland Sheepdogs
Brittanys
Spaniels (English Springer)
Bernese Mountain Dogs
Mastiffs
Spaniels (Cocker)
Chihuahuas
Vizslas
Pugs
Maltese
Weimaraners
Newfoundlands
Miniature American Shepherds
Collies
Border Collies
Basset Hounds
Cane Corso
West Highland White Terriers
Rhodesian Ridgebacks
Retrievers (Chesapeake Bay)
Shiba Inu
Bichons Frises
Akitas
Belgian Malinois
Bullmastiffs
Bernards
Soft Coated Wheaten Terriers
Portuguese Water Dogs
Bloodhounds
Papillons
Australian Cattle Dogs
Airedale Terriers
Spaniels (English Cocker)
Bull Terriers
Scottish Terriers
Alaskan Malamutes
Whippets
Chinese Shar-Pei
Dalmatians
Dogues de Bordeaux
Pointers (German Wirehaired)
Samoyeds
Wirehaired Pointing Griffons
Great Pyrenees
Miniature Pinschers
Cardigan Welsh Corgis
Cairn Terriers
Lhasa Apsos
Italian Greyhounds
Irish Wolfhounds
Chow Chows
Old English Sheepdogs
Setters (Irish)
Chinese Crested
Greater Swiss Mountain Dogs
Giant Schnauzers
Coton de Tulear
American Staffordshire Terriers
Staffordshire Bull Terriers
Bouviers des Flandres
Anatolian Shepherd Dogs
Standard Schnauzers
Border Terriers
Retrievers (Nova Scotia Duck Tolling)
Basenjis
Retrievers (Flat-Coated)
Russell Terriers
Tibetan Terriers
Keeshonden
Pekingese
Norwegian Elkhounds
Leonbergers
Rat Terriers
Brussels Griffons
Borzois
Neapolitan Mastiffs
Related: The 10 Best States to Be a Dog